SmashFund Review: $149 a month chain-recruitment

A marketing video on the SmashFund website identifies Rob Towles as CEO of the company. On his LinkedIn profile, Towles also cites himself as SmashFund's Founder.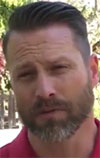 Rob Towles (right) was CEO and primary shareholder of Efusjon, an energy drink MLM that went bust in 2010. A year earlier one of their affiliates filed a lawsuit against the company, alleging it to be a pyramid scheme.
The lawsuit was settled confidentially in 2010. A few months later Efusjon closed its doors.
Efusjon, or rather its product line, resurfaced as LabActive in 2013. Who owned LabActive wasn't disclosed on the website, however DSA records at the time revealed Rob Towles was behind the company.
Our BehindMLM review of LabActive revealed the business opportunity to be heavily geared towards affiliate autoship recruitment.
Today the LabActive website is non-responsive, although when the company was abandoned is unclear.
On his LinkedIn profile Towles lists his location as California in the US. This is presumably where SmashFund is being operated from.
Read on for a full review of the SmashFund MLM opportunity.
The SmashFund Product Line
SmashFund has no retailable products or services, with affiliates only able to market SmashFund affiliate membership itself.
Bundled with SmashFund affiliate membership is access to an inhouse social network.
The SmashFund Compensation Plan
SmashFund affiliates are paid $50 every month for every affiliate they recruit.
Residual recruitment commissions are paid out via a unilevel compensation structure.
A unilevel compensation structure places an affiliate at the top of a unilevel team, with every personally recruited affiliate placed directly under them (level 1):

If any level 1 affiliates recruit new affiliates, they are placed on level 2 of the original affiliate's unilevel team.
If any level 2 affiliates recruit affiliates, they are placed on level 3 and so on and so forth down a theoretical infinite number of levels.
Commissions are straight-forward, with a SmashFund affiliate paid $4 per affiliate recruited into their unilevel team.
The SmashFund compensation plan does not state if there is a level cap on how many levels deep unilevel commissions are paid out on.
Joining SmashFund
Affiliate membership with SmashFund is $149 a month
Conclusion
Under the guise of operating a crowdfunding platform, SmashFund offer participation in a chain-recruitment scheme.
SmashFund affiliates pay $149 a month, which qualifies them to earn commissions when they recruit others who do the same.
Residual commissions are paid out at $4 a pop, creating an entirely closed-loop of chain-recruitment.
Nothing is marketed or sold to retail customers, meaning all commissions paid out through SmashFund are tied to recruitment.
The crowdfunding platform is pseudo-compliance, with deeper inspection revealing it to have nothing to do with commissions paid.
As per SmashFund's compensation plan documentation, affiliates can
change out (their) passions & projects freely within (their) profile while keeping (their) network and backers in place.
The "network" is their downline and "backers" affiliates they've recruited. Irrespective of what crowdfunding project is launched by an affiliate, or how many times they change the project, commissions are tied to recruited affiliates – whether they support the project or not.
This entirely negates any claim of legitimacy behind SmashFund's crowdfunding platform.
As with all pyramid schemes, once recruitment of new affiliates dies down so too will commissions paid out within the SmashFund ecosystem.
This will manifest itself by way of affiliates at the bottom of the company-wide unilevel being unable to recruit new affiliates.
Unable to justify $149 a month, they'll stop paying this fee which means affiliates above them stop getting paid.
As more lower-tier affiliates drop out, eventually their uplines will also be unable to justify $149 a month.
They stop paying their fee too and those above them stop getting paid. As this effect slowly trickles up the SmashFund company-wide affiliate genealogy, eventually an irreversible collapse is triggered.
At that point SmashFund affiliates who haven't recouped affiliate fees they've paid in via recruitment, lose out.
Mathematically for a small number of SmashFund affiliates to make money, the majority of participants must lose it.