Skyllex Review: $50 to $10 million Russian Ponzi fraud

Skyllex provide no information on their website about who owns or runs the company.
The Skyllex website domain ("skyllex.com") was first registered on July 31st, 2015. The registration was last updated on June 2nd, 2016.
The Skyllex domain registration is set to private, providing no information about who owns it.
Despite the registration of SKYLLEX PTY LTD (ACN: 612 788 600) with the Australian Securities & Investments Commission, Skyllex otherwise appears to be run by anonymous Russians.
Evidence supporting this is as follows:
Russia is the first offered language on the Skyllex website
posts on the official Skyllex Facebook page are predominantly in Russian
the sole admin of the official Skyllex Facebook page is "Peter Waidman", an evidently bogus account that predominantly follows Russian accounts
two company "representatives" are provided on the Skyllex website, both from Russia
Skyllex has Odnoklassniki and VKontakte social media profiles (two of the largest social networks in Russia)
the corporate address provided on the Skyllex website belongs to the Australian Securities Exchange Ltd (ASX)
the Skyllex website was designed by a Russian developer

The hyperlink for the Skype support contact on the Skyllex website reveals the name "Tomas Jankauskas".
Further research reveals Skyllex affiliates citing Jankauskas as "General Director" of the company.
On the official Skyllex YouTube channel, Jankauskas has been hosting official corporate webinars in Russian since July 2016. Webinar footage reveals Jankauskas is using a Russian-language desktop and webinar platform: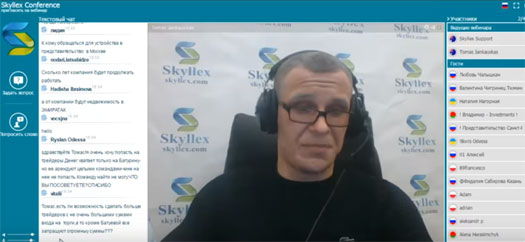 For all intents and purposes, Tomas Jankauskas appears to be running Skyllex. Why this information is not provided on the Skyllex website is unclear.
What is clear is that other than a shell company registration, Skyllex exists in Australia in name only.
As always, if an MLM company is not openly upfront about who is running or owns it, think long and hard about joining and/or handing over any money.
Skyllex Products
Skyllex has no retailable products or services, with affiliates only able to market Skyllex affiliate membership itself.
The Skyllex Compensation Plan
Skyllex affiliates invest money on the promise of advertised ROIs of up to 1100%.
Ascent – invest $50 to $1000 and receive a 150% ROI after 30 days
Glimpse – invest $1000 to $15,000 and receive a 155% ROI after 25 days
Inspiration – invest $10,000 to $100,000 and receive a 150% ROI after 60 days
Gold Flow – invest $250 to $7500 and receive a 1100% ROI after 90 days
Money Maker – invest $15,000 to $60,000 and receive a 600% ROI after 45 days
Fast Coin – invest $2000 to $3500 and receive a 225% ROI after 60 days
Sever A1 – invest $10 to $6000 and receive a 130% ROI after 30 days
Server A2 – invest $500 to $500,000 and receive a 280% ROI after 90 days
Server A3 – invest $1000 to $00,000 and receive a 376% ROI after 120 days
Brent Oil – invest $50,000 to $50,000 and receive a 1330% ROI after 160 days
WTI Oil – invest $100,000 to $10,000,000 and receive a 2685% ROI after 190 days
A "VIP Money Vertex" plan is also available starting at $500,000. ROI payouts for the VIP Money Vertex plan are customized and not disclosed.
Residual Commissions
Skyllex pay residual commissions out via a unilevel compensation structure.
A unilevel compensation structure places an affiliate at the top of a unilevel team, with every personally recruited affiliate placed directly under them (level 1):

If any level 1 affiliates recruit new affiliates, they are placed on level 2 of the original affiliate's unilevel team.
If any level 2 affiliates recruit new affiliates, they are placed on level 3 and so on and so forth down a theoretical infinite number of levels.
Skyllex cap payable unilevel levels at six, with commissions paid out as a percentage of funds invested across these four levels.
How much of a percentage is paid out is determined by how much a Skyllex affiliate and their recruited downline invests:
invest at least $1000 and generate at least $10,000 in downline investment volume and earn 7% on level 1, 4% on level 2, 2% on level 3 and 1% on level 4
invest at least $5000 and generate at least $25,000 in downline investment volume and earn 8% on level 1, 4% on level 2, 2% on level 3 and 1% on level 4
invest at least $20,000 and generate at least $100,000 in downline investment volume and earn 9% on level 1, 5% on level 2, 2% on level 3 and 1% on level 4
invest at least $100,000 and generate at least $1,000,000 in downline investment volume and earn 10% on level 1, 6% on level 2, 3% on level 3 and 2% on level 4
invest at least $500,000 and generate at least $2,000,000 in downline investment volume and earn 10% on level 1, 6% on level 2, 3% on level 3, 2% on level 4 and 1% on levels 5 and 6
Residual commissions on "mining plans" (Server A1 to A3), Brent Oil and WTI Oil are paid out via a separate 5-level deep unilevel plan as follows:
level 1 – 9%
level 2 – 5%
level 3 – 3%
level 4 – 2%
level 5 – 1%
Joining Skyllex
Skyllex affiliate membership is free, however affiliates must invest between $50 to $10,000,000 to participate in the attached income opportunity.
Conclusion
The ruse behind Skyllex's ROI payouts is real estate, "trader exchange", cryptocurrency mining and oil investment.
Naturally there's no verifiable proof of any of that taking place. Furthermore Skyllex fails the basic Ponzi logic test.
If Tomas Jankauskas and friends were able to legitimately generate a 2685% ROI every 190 days (that's 5158% annually), why on Earth would they be wasting their time running a Ponzi scam?
Even a modest $10,000 loan would turn into over fifty thousand dollars within a year. Compound that and within a few years Jankauskas would be wealthy beyond his wildest dreams.
Unfortunately all Skyllex are doing are using newly invested funds to pay off existing investors.
The ROI amounts on the upper tier plans look impressive, but due to the restrictive amounts required they're unlikely to be invested in.
Most of the funds invested into Skyllex will be in the lower plans, providing Jankauskas a much more manageable reserve.
Unfortunately the laws of mathematics still restrict Skyllex from paying out more than is invested, meaning once that reserve is exhausted the scheme will collapse.
With most investment plans spanning one to six months and Skyllex having launched mid last year, it's unlikely the scheme will see the year out.
With respect to the ASIC registration, at the time of publication all Skyllex has filed is an "Application For Registration as a Proprietary Company" on June 6th, 2016.
Skyllex Pty Ltd isn't a public company, so other than paying an annual fee they don't have to do anything to keep the registration active.
With Skyllex obviously not based out of Australia, why bother registering with ASIC in the first place you might ask?
Here's why:
Our activity is totally legal and regulated by the Australian Securities and Investments Commission.
ASIC are unlikely to detect a Russian Ponzi scheme using offshore banking channels to conduct fraud. At least not before they've swindled a fair amount of money and investors stop getting paid.
Furthermore registering with a securities regulator does not equate to absolute legality. There's nothing stopping a company from registered with ASIC and committing Ponzi fraud. Moreso if the company is being run offshore with bogus filed details.
By the time Skyllex collapses and ASIC deregister the company it'll be too late, with most Skyllex investors having lost money in the process.
Update 9th March 2017 – Turns out QBE Insurance, Australia's largest insurance company, reported Skyllex to ASIC back in January.
Skyllex popped up on QBE's radar after Skyllex began claiming affiliate deposits were "protected" by the insurer.
there appears to be no such business in the ASX building and QBE says it does not provide deposit insurance and has no record of any relationship with the company.

The company is also not connected to the ASX, despite listing it on its website among "partners" that also include the Singapore, New Zealand, London and New York exchanges.

"Having recently had this matter drawn to our attention, we moved swiftly to raise our concerns with ASIC," a QBE spokesman said.

An ASIC spokesman declined to comment.

The ASIC database shows Skyllex does not possess an Australian financial services licence, which is required to offer investments to retail customers in this country.

Nor is it an authorised representative of a company that does hold a licence.

The company's sole director and shareholder, Tom Jankauskas — who on company paperwork claims to live in the ASX building — could not be reached yesterday.

Attempts to reach the Sydney phone number provided on Skyllex's website were met with a recorded message saying the call could not be connected.

While Skyllex's corporate video, posted in July last year, claims that it had been operating its online trading branch "a bit more than one year", company records show Mr Jankauskas registered Skyllex only the previous month (June, 2016).
Why, almost two months later, Skyllex is still registered with ASIC is unclear.