Secrets of Success Review: Funding Russell Brunson's library

Secrets of Success operates in the marketing tools MLM niche.
The company is headed up by Russell Brunson, who is based out of the US.

BehindMLM came across Brunson in 2017, as founder and CEO of Click Funnels.
Due to the lack of differentiation between retail customers and affiliates, as per FTC guidelines, Click Funnels operates as a pyramid scheme.
MLM companies Brunson has promoted include Pure Leverage (gifting scheme) and Rippln.
Read on for a full review of Secrets of Success' MLM opportunity.
Secrets of Success' Products
Secrets of Success markets a $97 a month membership.
This membership provides access a marketing funnel… to sell more Secrets of Success memberships.
Also included is a copy of Napoleon Hill's books Think And Grow Rich, Secrets of Master Salesmanship and Applied Psychology.
Not disclosed are upsells hidden behind the $97 monthly membership.
The one upsell Brunson discloses in a Secrets of Success marketing video is ticket sales to speaking events held by the company.
Brunson details an in house production facility, in which Secrets of Success members will be able to by seat licenses.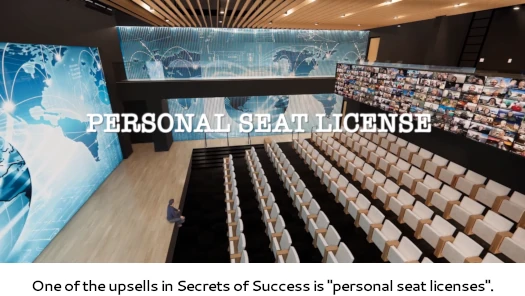 When Secrets of Success holds speaking events, seat license holders can opt to
purchase tickets to the event and use the seat(s)
purchase tickets to the event and sell the seat(s) to others
do nothing and have Secrets of Success sell the seats
Each seat license comes with streaming tickets which can also be sold. License holders can also hold their own events, which Brunson claims will be recorded in 3D.
Brunson claims seat licenses will be limited but, crucially, costs are not disclosed.
What else Secrets of Success hides behind the $97 entrance fee is unclear.
Secrets of Success' Compensation Plan
Secrets of Success affiliates earn commissions on $97 a month membership sales.
These commissions are paid down two levels of recruitment (unilevel):
level 1 (personal sales): $40 a month
level 2 – 10% (~$10 a month?)
Joining Secrets of Success
Secrets of Success affiliate membership appears to be free.
Secrets of Success Conclusion
Russell Brunson markets Secrets of Success heavily on the back of Click Funnels.
My last startup we launched (you've probably heard of it… ha ha – ClickFunnels, paid out over $100 MILLION in commissions it's first 10 years).

This should do similar, and I want YOU to get your part of the $100 million…
This is problematic due to Click Funnels business model – and the same concerns apply to Secrets of Success.
Put simply; if the majority of Secrets of Success members paying $97 a month are also affiliates, it too operates as a pyramid scheme.
Perhaps I'm not understanding but, as far as I can see, the only reason a Secrets of Success member would continue to pay $97 a month for is access to the marketing funnel.
One possibility is access to a library Brunson bangs on about.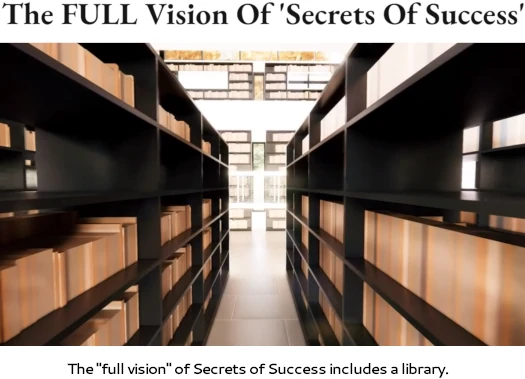 Supposedly Brunson has or wants to build a library full of works from "great minds".
Access to said library could be bundled with the $97 a month but this isn't specified.
If the funnel is used to market Secrets of Success, retail within the company is dead.
In MLM retail customers cannot earn commissions, if they do they are affiliates (see FTC v. Herbalife and FTC v. Vemma).
If there is another reason for Secrets of Success members to continue paying $97 a month, it's not disclosed on the company's website.
Pending clarification that Secrets of Success is retail viable, approach with caution.