Rising Money Review: six-tier $3 matrix Ponzi cycler

Rising Money are set to launch later this month and operate in the advertising MLM niche.
Jang Bahadur Singh is credited as the admin of the opportunity, with the Rising Money domain registration listing an address in New Delhi, India.

Singh (right) appears to have been navigating the MLM underbelly for a while now, with his Facebook profile revealing he is a member of several suspect groups.
Opportunities with advertising lines such as "Turn $11 into $34,538,030 in 90 days" and "TURN $1 TO A MILLION DOLLAR!!!" are featured, among other groups openly advertising various HYIP and cash gifting schemes.
Likely having lost money as an affiliate in these schemes, Singh is now trying his hand at playing admin.
Read on for a full review of the Rising Money MLM business opportunity.
The Rising Money Product Line
Rising Money has no retailable products or services, with affiliates only able to market Rising Money affiliate membership itself.
Once signed up, Rising Money affiliates can purchase $3 matrix positions and participate in the MLM income opportunity.
Bundled with each $3 matrix position purchase are a series of advertising credits, which can be used to display advertising on the Rising Money website itself.
The Rising Money Compensation Plan
The Rising Money compensation plan advises affiliates they can "turn $3 into $66".
This is done by purchasing a $3 matrix position and then recruiting others who do the same.
A $3 matrix position is entered into a 1×5 matrix, which requires five subsequent $3 position purchases before paying out $4.50.
In addition to $4.50, affiliates are also re-entered into a new 1×5 matrix and placed into a 2×2 Bronze Matrix.
A 2×2 matrix places an affiliate at the top of the matrix with two positions directly under them (level 1):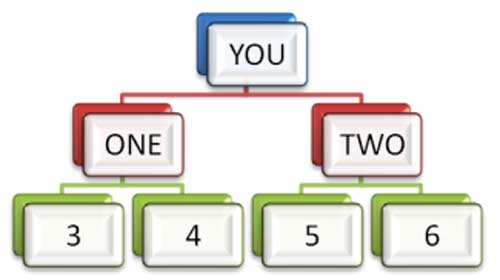 Once all positions in the matrix are filled, a cycle commission is paid out and the position moves into the next matrix level as follows:
Bronze Matrix – pays $4, re-enters into a new Bronze Matrix and cycles into a Silver Matrix
Silver Matrix – pays $15, re-enters into a new Silver Matrix and cycles into a Gold Matrix
Gold Matrix – pays $40, re-enters into a new Gold Matrix and cycles into a Diamond Matrix
Diamond Matrix – pays $100, re-enters into a new Diamond Matrix and cycles into a Platinum Matrix
Platinum Matrix – pays $502.50 and creates ten $3 matrix positions, five Bronze Matrix positions and one Silver, Gold and Diamond matrix position
Referral commissions are paid when recruited affiliates purchase $3 matrix positions and cycle out of matrices.
These commissions are paid out on personally recruited affiliates as follows:
entry into $3 position and Bronze Matrix = 50 cent commission
entry into Silver and Gold Matrix = $1 commission
entry into Diamond Matrix = $2 commission
entry into Platinum Matrix = $5 commission
Note that referral commissions are paid on both initial entry and re-entry into the matrices.
Joining Rising Money
Affiliate membership with Rising Money is free, however affiliates must purchase at least one $3 matrix position in order to participate in the income opportunity.
As such the defacto minimum cost of Rising Money affiliate membership is $3.
Conclusion
Rising Money operate a straight-forward six-tier matrix Ponzi cycler.
Affiliates initially invest $3, with $4 paid out once $15 is invested.
From there a series of five matrices operate in much the same manner,with an increasing amount of new $3 position purchases required to push commissions through.
The basic math of Rising Money requires a minimum 222 position purchases to pay out $666.
In reality this is higher however, due to referral commissions and phantom positions re-cycling through the lower-tier matrices.
Phantom positions are those created when an affiliate cycles out of a matrix-tier, and are problematic as they inject no new funds into the system but do suck money out via commission payments.
Even without phantom positions draining the system though, Rising Money still relies on a constant stream of new recruited affiliates purchasing $3 positions. Without which, the scheme will quickly collapse.
All the phantom positions do is speed up the extraction of newly invested funds to those who initially joined the scheme (Jang Bahadur Singh), who will naturally hold the largest number of generated positions.
Being a matrix-based scheme, cycling will first slow down before stalling altogether.
At that point Singh keeps funds trapped in stalled positions, with a warning posted on the Rising Money website advising:
If any member disputes against us, his/her account will be terminated on spot without any intimation and earnings will be vanished as well.
What they don't tell you however is that by the time you're having trouble withdrawing your earnings, it's already too late.
There's no money left to withdraw and Rising Money will have long-since collapsed.