RevShareMatrix Review: AdHitsMatrix admin strikes again

There is no information on the RevShareMatrix website indicating who owns or runs the business.
The RevShareMatrix website domain ("revsharematrix.com") was registered on the 27th of August 2014. The registration lists a "Farrow Williams" as the domain owner, along with an address in Warrington, UK.
Further research reveals multiple businesses operate out of this address, indicating that the owner of RevShareMatrix is simply renting a virtual mailbox.
The footer of the RevShareMatrix website reveals some curious links, pointing to "CyclerAds":

CyclerAds launched about a month ago on September 25th and saw affiliates purchase $30 revenue-sharing and matrix cycler positions.
Combining a Ponzi scheme with a pyramid scheme cycler, CyclerAds appears to have collapsed shortly after launch.
Although the error is no longer visible on the CyclerAds website, the scheme's initial launch gave away that the same owner of AdHitsMatrix was behind it:

AdHitsMatrix launched about two weeks prior to CyclerAds on September 10th. Similar to CyclerAds, AdHitsMatrix offered affiliates $20 revenue-sharing and matrix positions.
On or about September 22nd (3 days prior to CyclerAds launching) AdHitsMatrix stopped paying affiliates and collapsed. Anyone who had purchased positions with the company lost their money.
Now it appears the same admin is hoping to try his or her luck for a third time with RevShareMatrix.
Read on for a full review of the RevShareMatrix MLM business opportunity.
The RevShareMatrix Product Line
RevShareMatrix has no retailable products or services, with affiliates only able to market affiliate membership to the company itself.
The RevShareMatrix Compensation Plan
Simply log in purchase positions in our ads Shares to open your earning gate way.
As above, the RevShareMatrix compensation plan revolves around affiliates signing up and then purchasing "positions".
Each position costs $20 and is bundled with advertising credits which can be used to display advertising on the RevShareMatrix website with.
What is actually being purchased are revenue-sharing positions, which RevShareMatrix claim will pay out a "2%-3% daily" ROI for 70 days (140%-210%).
Matrix Cycler Commissions
Positions in RevShareMatrix's cyclers must be purchased with funds withheld from revenue-sharing positions.
RevShareCycler do not disclose how much of a percentage of the ROI they pay out on the revenue-sharing positions they withhold.
$20 is required to buy into the matrix cyclers, with there being five matrices in total to cycle through.
The matrices used are 2×1, 2×2, 2×3, 2×4, 2×5 and a 2×6.
A 2×2 matrix places an affiliate at the top of the matrix with two positions directly under them (level 1):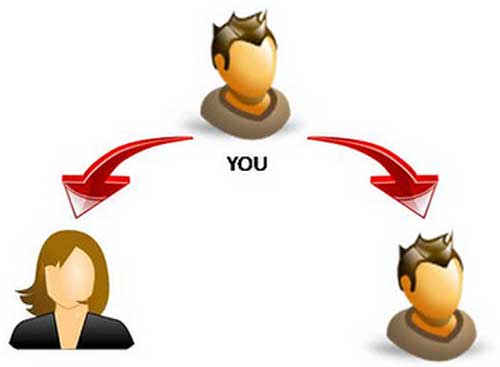 A 2×2 matrix increases the matrix level by one, adding two new positions under each position at level 1. A 2×3 matrix increases the matrix levels one more level, adding another two positions per positions on the second level.2×4 and 2×5 matrices add one additional level to this configuration respectively.
Commissions are paid out when all positions in a matrix are filled (referred to as a cycle), along with entry into a higher-level matrix.
Matrix 1 (costs $20, 2×1) – pays out $5 and provides entry into Matrix 2
Matrix 2 (costs $35, 2×2) – pays out $20 and provides entry into Matrix 3
Matrix 3 (costs $70, 2×3) – pays out $80 and provides entry into Matrix 4
Matrix 4 (costs $300, 2×4) – pays out $1200 and provides entry into Matrix 5
Matrix 5 (costs $3000, 2×5) – pays out $3000
Any matrix level can be bought into as per the prices above. But remember, matrix commissions can only be purchased with funds withheld from revenue-sharing positions.
Referral commissions are paid out when personally recruited affiliates cycle out of matrices as follows:
Matrix 2 – $5
Matrix 3 – $20
Matrix 4 – $80
Matrix 5 – $1000
Joining RevShareCycler
Affiliate membership with RevShareCycler is free, however all affiliates will need to spend at least $20 on a revenue-sharing position to participate in the RevShareMatrix income opportunity.
Conclusion
Call me cynical, but the UK business registrations and virtual office addresses screams Indian scammers. The obviously fake domain registration names only support this.
Irrespective of whether it's due to incompetence or the calculated launching of reload scams, it's clear that whoever is behind RevShareMatrix and CyclerAds and AdHitsMatrix before it has a history of launching scams that collapse shortly after launch.
In the case of RevShareCycler, you have a straight-up Ponzi scheme combined with a pyramid scheme element in the matrices (otherwise known as a Ponzi/pyramid hybrid).
The revenue-sharing is funded entirely by affiliates on the promise of ROIs paid out of funds deposited by subsequent investors.
An undisclosed portion of those funds must then be routed through the matrix systems, which in turn rely on recruitment of new affiliates who purchase revenue-sharing positions to cycle over.
Existing affiliates are unlikely to continue to invest without seeing some sort of initial return, which requires ongoing recruitment.
Like all Ponzi and pyramid schemes, once new recruit collapses RevShareCycler will be unable to meet its daily ROI liabilities. When that happens the matrix cyclers also collapse and it's all over.
AdHitsMatrix collapsed in about a week, CyclerAds a few weeks. RevShareCycler is not likely to be any different.