Residual 500 Review: PLR library, ad-credits & pyramid recruitment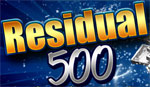 Residual 500 provide no information on their website about who owns or runs the business.
The Residual 500 website domain ("residual500.com") was privately registered on February 25th, 2017.
As always, if an MLM company is not openly upfront about who is running or owns it, think long and hard about joining and/or handing over any money.
Residual 500 Products
Residual 500 has no retailable products or services, with affiliates only able to market Residual 500 affiliate membership itself.
Bundled with Residual 500 affiliate membership are advertising credits and access to a Private Label Rights product library.
The Residual 500 Compensation Plan
Residual 500 affiliates pay a monthly subscription that provides them a position in a 2×6 matrix.
A 2×6 matrix places an affiliate at the top of a matrix, with two positions directly under them:

These two positions form the first level of the matrix. The second level of the matrix is generated by splitting these two positions into another two positions each (4 positions).
Levels three to six of the matrix are generated in the same manner, with each new position housing twice as many positions as the previous level.
Commissions are paid out as affiliates are recruited into the 2×6 matrix as follows:
level 1 – $1 a month per position filled (2 positions in total)
level 2 – 50 cents a month per position filled (4 positions in total)
level 3 – $1 a month per position filled (8 positions in total)
level 4 – 50 cents a month per position filled (16 positions in total)
level 5 – $1 a month per position filled (32 positions in total)
level 6 – $7 a month per position filled (64 positions in total)
Direct recruitment commissions are paid at a rate of $1 per affiliate recruited, paid out down five levels of recruitment ($5).
Joining Residual 500
Residual 500 affiliate membership is $18 a month.
Conclusion
No matter what you bundle with payment of affiliate fees, paying affiliates to recruit affiliates in MLM is pyramid fraud.
Nowhere is this more evident than in the "monthly income calculator" Residual 500 provide on their website.
By punching in how many affiliates they can recruit and how many those recruited will recruit, the calculator spits out potential monthly earnings.
As with all pyramid schemes, once affiliate recruitment dies down so too will commissions paid out.
Being a matrix-based recruitment scheme, this will manifest itself by way of those at the bottom of the company-wide matrix ceasing to pay their monthly $18 fee.
This will see those above them stop getting paid, and if they can't recruit new affiliates soon enough they too will also stop paying $18 a month.
This effect will slowly trickle up the Residual 500 affiliate genealogy, until eventually an irreversible collapse is triggered.
As per Residual 500's refund policy;
We cannot and will not allow any refunds.

The moment you make a deposit, you agree to our No Refund Policy and you agree to never request a refund as this would be a fraudulent act on your part and would cause us to sue you to the fullest extent of the law.

You are purchasing Non-Refundable Advertising credits
The end result of the inevitable collapse is the majority of Residual 500 affiliates losing money.