Reliable Income Club Review: 2×1 cycler gifting through PayPal

Reliable Income Club provide no information on their website about who owns or runs the business.
The Reliable Income Club website domain ("reliableincome.club") was registered on December 30th, 2016. Linda Martin of "Advertising Connections 4u" is listed as the owner, with an address in the US state of Colorado also provided.
Advertising Connections 4u was a matrix-based cash gifting scheme launched mid last year. Today the Advertising Connections 4u website is unresponsive, suggesting the scheme has long since collapsed.
Due to the lack of information provided on the Reliable Income Club website and generic nature of the name, I wasn't able to put together an MLM history on Linda Martin.
As always, if an MLM company is not openly upfront about who is running or owns it, think long and hard about joining and/or handing over any money.
Reliable Income Club Products
Reliable Income Club has no retailable products or services, with affiliates only able to market Reliable Income affiliate membership itself.
The Reliable Income Club Compensation Plan
Reliable Income Club affiliates purchase positions in a two-tier 1×2 matrix cycler.
A 1×2 matrix places a Reliable Income Club affiliate at the top of a matrix, with two positions directly under them: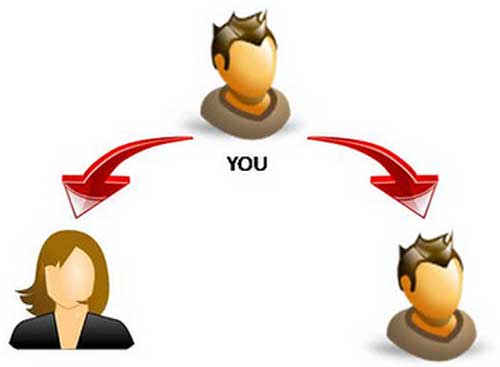 These two positions are filled via position purchases by directly and indirectly recruited Reliable Income Club affiliates.
Once both positions are filled a "cycle" is generated and a commission paid out.
How much of a commission is paid out is determined by which of the two cycler tiers offered a position cycles out of:
Tier 1 (positions cost $20) – $20 commission paid out and generates a new Tier 1 matrix position
Tier 2 (positions cost $40) – $40 commission paid out and generates a new Tier 2 matrix position
Joining Reliable Income Club
Reliable Income Club affiliate membership is free, however affiliates must purchase one or more cycler positions to participate in the attached income opportunity.
This pegs Reliable Income Club affiliate membership at $20 (Tier 1), $40 (Tier 2) or $60 for a position in both cycler tiers.
Conclusion
Reliable Income Club appears to be another attempt at gifting after Advertising Connections 4u failed.
The business model sees Reliable Income Club affiliate gift funds to each other via PayPal, which puts affiliates in a precarious position.
As per a March 19th news update on the Reliable Income Club website;
I went in and changed the amounts to pay to $21 and $42. Too many people were sending Goods and Service and did not add extra to cover the fees, so the people who received ended up with not enough funds to go to the next level.

We need to be careful of this. We should use Goods and Services so that Paypal gets their fees to keep them happy.

Many of us, including myself have been sending $20 using Family and Friends, but we should use Goods and Service.
Cash gifting is most definitely a "goods and service", as defined in PayPal's Terms and Conditions. This puts every Reliable Income Club affiliate's PayPal account at risk of closure.
Leave alone the fact that cash gifting is illegal the world over.
As with all cash gifting schemes, once affiliate recruitment dies down Reliable Income Club will collapse.
At that point, bar the admin and a few early adopters, most affiliates will not have received enough to cover their initial gifting spend.