Reality Gift Review: Four-tier bitcoin cash gifting

There is no information on the Reality Gift website directly addressing who owns or runs the business.
The Reality Gift website domain ("realitygift.com") was privately registered on the 2nd of November, 2016.
If you visit the Reality Gift website without an affiliate referral code, the default upline sponsor is Virginia Carter. This is fixed and does not change.
As per the Reality Gift "about us" page on their website;
First unique thing in this program is I by myself already running a revenue share program named "Greendaypays" since last 3 months, which I believe is enough to show my knowledge about the industry.
Virginia Carter first popped up on BehindMLM earlier this month as a bogus Facebook profile tied to Easy Cycler.
Easy Cycler don't disclose who runs the company on their website. The two admins of the official Easy Cycler Facebook group are Cynthia Taylor-Iwankow and Virginia Carter.
Update 2nd December 2016 – Cynthia Taylor-Iwankow has been in touch and claims she has " zero to do with" Reality Gift. /end update
GreenDayPay preceded Easy Cycler, which matches up with what is on the Reality Gift website.
GreenDayPay was a Ponzi scheme that advertised a daily ROI of up to 5.6%. It collapsed in October.
Easy Cycler is also a Ponzi scheme, paying an advertised $12,170 ROI on $20 investments.
Alexa traffic estimates for the Easy Cycler website do not suggest that affiliate recruitment has dried up yet. Why Reality Gift has been launched so close to Easy Cycler is unclear.
Read on for a full review of the Reality Gift MLM opportunity.
The Reality Gift Product Line
Reality Gift has no retailable products or services, with affiliates only able to market Reality Gift affiliate membership itself.
The Reality Gift Compensation Plan
Reality Gift affiliates gift funds to eachother via a 2×4 matrix.
A 2×4 matrix compensation structure places an affiliate at the top of a matrix, with two positions directly under them: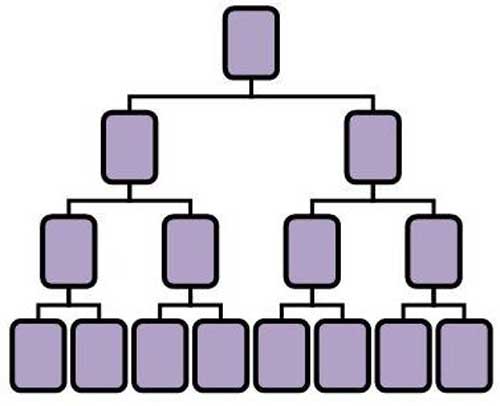 These two positions form the first level of the matrix. The second level of the matrix is generated by splitting each of the first two positions into another two positions each.
The third and fourth levels of the matrix are generated in the same manner, housing eight and sixteen positions respectively.
In total, a complete 2×4 matrix houses thirty positions.
A Reality Gift affiliate enters the compensation plan by gifting 0.06 BTC to the affiliate who recruited them.
This payment qualifies the affiliate to receive 0.06 BTC from two subsequently recruited affiliate placed in the first level of the matrix.
Subsequent gifting payments are required to unlock all four Reality Gift matrix levels as follows:
level 1 – gift 0.06 BTC to the affiliate who recruited you and receive 0.06 BTC from two subsequently recruited affiliates
level 2 – gift 0.09 BTC and receive 0.09 BTC from four affiliates
level 3 – gift 0.25 BTC and receive 0.25 BTC from eight affiliates
level 4 – gift 0.5 BTC and receive 0.5 BTC from sixteen affiliates
Note that the above payments (both received and paid) are 45 days recurring.
Joining Reality Gift
Reality Gift affiliate membership is tied to a 0.06 BTC gifting payment to the affiliate who recruited you.
Full participation in the Reality Gift compensation plan costs 0.9 BTC every 45 days.
Conclusion
It's right there in the name…
With nothing marketed or sold to retail customers, Reality Gift is straight up cash gifting.
New Reality Gift affiliates sign up and gift funds directly to the affiliate who recruited them.
This qualifies them to receive funds from affiliates recruited after them. Who receive gifted funds from affiliates who join after them and so on and so forth.
A constant source of newly recruited affiliates is required, otherwise affiliates at the bottom of the scheme will cease gifting funds into the scheme.
Once that happens those above them stop getting paid and also eventually stop gifting funds too.
As this effect slowly trickles up the Reality Gift affiliate-base, eventually an irreversible collapse is triggered.
At that point any affiliates who haven't received more than they've paid in lose out. Mathematics dictates that this will be the majority of Reality Gift affiliates.