PayAsian Review: PAYA token investment scheme

PayAsian provides no information on its website about who owns or runs the company.
PayAsian's website domain ("payasian.co") was registered in April 2018.
Singapore is cited as the registrant's country with no other details provided.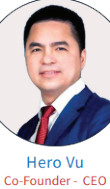 PayAsian do provide a whitepaper link on their website. In the company's whitepaper, Hero Vu (right) is cited as PayAsian's co-founder and CEO.
PayAsian's other co-founders are not disclosed.
As per Vu's PayAsian corporate bio, he's
a Bitcoin evangelist and researcher on Blockchain, with over 15 years of experience in the Fintech field.

He is also a consultant for financial firms in Singapore.
According to Vu's LinkedIn profile, he's based out of Singapore.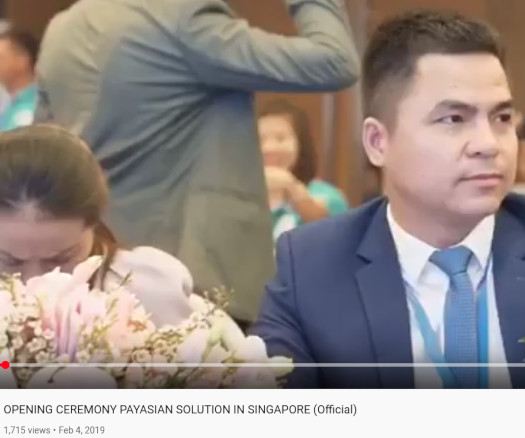 As far as I can tell PayAsian is Vu's first MLM venture.
Update 22nd December 2019 – PayAsian doesn't appear to be Hero Vu's first MLM crypto rodeo.
Following a tipoff from a reader, I was able to trace Vu promoting SunCoin in March, 2018.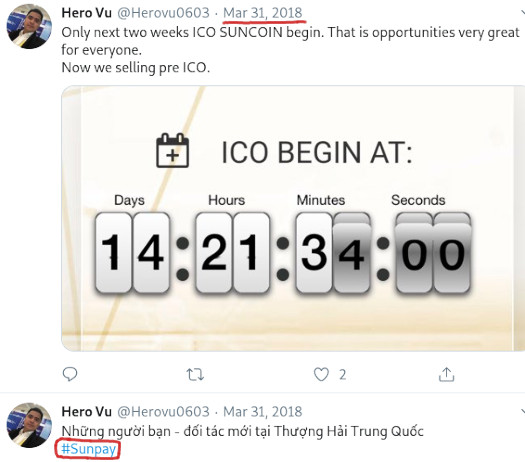 Whatever SunCoin was, it never got off the ground and collapsed. From what I was able to find, it was attached to SunPay and appears to be the precursor to PayAsian.
According to reader "jun kintanar" in the comments below, SunCoin primarily targeted Cambodian investors. Vu exit-scammed with their money when it failed to take off.
Less than a month after Vu began promoting SunCoin, PayAsian's website domain was registered (April 9th).
By late April/early May, promotion of PayAsian began in earnest.
Although Vu would likely hope nobody remembers SunCoin, reference to it today exists in PayAsian's published whitepaper (oops):
There are also two references to SunPay in the whitepaper.
All of this suggests Vu knows exactly what he's doing with PayAsian and, when the time comes, will once again exit-scam. /end update
On the regulatory front PayAsian has already attracted attention. The Philippine SEC issued a PayAsian securities fraud warning on November 14th.
Read on for a full review of PayAsian's MLM opportunity.
PayAsian's Products
PayAsian has no retailable products or services, with affiliates only able to market PayAsian affiliate membership itself.
PayAsian's Compensation Plan
PayAsian affiliates invest in PAYA tokens on the promise of "guaranteed profit".
S1 – invest $100 to $1000
S2 – invest $1001 to $5000
S3 – invest $5001 to $10,000
S4 – invest $10,001 to $25,000
S5 – invest $25,001 to $100,000
S6 – invest $100,001 or more
There are also merchant affiliate investment tiers available:
V1 – $1000
V2 – $5000
V3 – $10,000
V4 – $20,000
V5 – $30,000
V6 – not disclosed
How much a PayAsian affiliate invests directly impacts how much PAYA they can
trade in PayAsian's internal exchange;
receive in commissions and bonuses; and
withdraw (sell/transfer) through the exchange.
Note that PayAsian pays all commissions and bonuses in PAYA tokens.
Guaranteed Profit
PayAsian refer to returns paid on PAYA balances as "guaranteed profit".
Specifics aren't provided, other than there being guaranteed profit regardless of an affiliate's investment tier.
Referral Commissions
PayAsian affiliates appear to earn referral commissions down two levels of recruitment.
30% is earned on level 1 (personally recruited affiliates)
20% is earned on level 2
Residual Commissions
PayAsian pay's residual commissions via a binary compensation structure.
A binary compensation structure places an affiliate at the top of a binary team, split into two sides (left and right):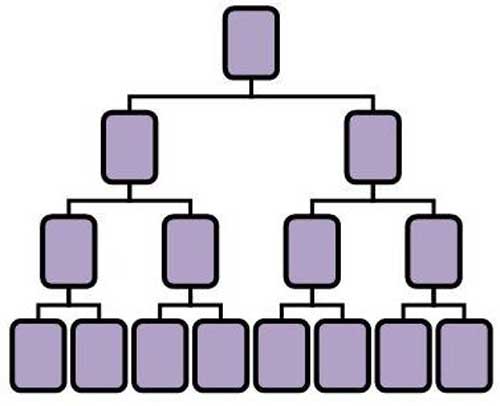 The first level of the binary team houses two positions. The second level of the binary team is generated by splitting these first two positions into another two positions each (4 positions).
Subsequent levels of the binary team are generated as required, with each new level housing twice as many positions as the previous level.
Positions in the binary team are filled via direct and indirect recruitment of affiliates. Note there is no limit to how deep a binary team can grow.
At the end of each day PayAsian tallies up guaranteed profits earned on both sides of the binary team.
Affiliates are paid 30% of guaranteed profits generated on the weaker binary team side.
Rank Leader Bonus
PayAsian affiliates earn a 10% Rank Leader Bonus based on generated weaker binary team side guaranteed profit volume.
The Rank Leader Bonus is paid out at the following milestones:
2 million PAYA received across the weaker binary team side in guaranteed profits
5 million PAYA received across the weaker binary team side in guaranteed profits
10 million PAYA received across the weaker binary team side in guaranteed profits
20 million PAYA received across the weaker binary team side in guaranteed profits
30 million PAYA received across the weaker binary team side in guaranteed profits
50 million PAYA received across the weaker binary team side in guaranteed profits
Presumably the 10% Rank Leader Bonus is paid out on binary team volume, but it is unclear what volume specifically.
Rank Achievement Bonus
There are five ranks within PayAsian's compensation plan:
L1 – recruit at least ten investing affiliates and generate at least 30,000 PAYA in guaranteed profits on your weaker binary team side
L2 – have three L1 ranked affiliates on both sides of
PayAsian rewards affiliates for qualifying at the L1 to L5 ranks as follows:
qualify as L1 and receive 3% of PAYA orders and $200
qualify as L2 and receive 6% of PAYA orders and $500
qualify as L3 and receive 9% of PAYA orders and $2000
qualify as L4 and receive 12% of PAYA orders and $10,000
qualify as L5 and receive 15% of PAYA orders and $50,000
PAYA orders aren't specified, but are believed to be direct PAYA investment by a PayAsian affiliate's downline.
Joining PayAsian
PayAsian affiliate membership is tied to a minimum $100 investment in PAYA tokens.
The more a PayAsian affiliate invests the higher their income potential.
Conclusion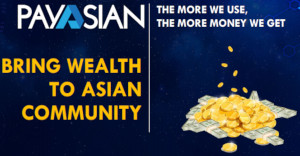 Under the guise of "bring wealth" to Asia (from where?), PayAsian plays heavily into racially targeted marketing.
The Coin of Asian Standard Payment Guaranteed.
Underneath the rhetoric though we have the same old MLM shitcoin scheme.
PayAsian's PAYA token is worthless outside of the opportunity. And considering PAYA is trading at 0.000017 BTC (~12 cents) internally as I write this, it's not worth much internally either.
PayAsian as an MLM opportunity is simply an excuse to cover the transfer of real money from gullible affiliate investors, to Hero Vu and whoever he's working with.
Vu and co create PAYA on demand, and outside of honoring here and there withdrawal requests on the exchange, don't actually pay any money out.
Commissions and bonuses are paid in PAYA, which again costs PayAsian nothing to generate.
In an attempt to keep the ball rolling a bit longer, PayAsian has come up with familiar theoretical use cases.
There's EcoChain, a merchant platform nobody is using. And 9Token, of which Hero VU is also the CEO of, a mish-mash of blockchain babble.
9Token is a cooperative development project of ECOTEK, Blockchain Center Dubai, open ecosystem Ecoworld, and Payasian.io Exchange.

BOT- BLOCKCHAIN ONE TOUCH

With Blockchain ECOCHAIN ecosystem, 9Token will release the first 9 types of transactional asset encryptions in the future, and build up the first crypto asset Exchange in the world
Does the world really need whatever the waffle above describes? Probably not.
But hey, if it'll convince a few more confused Asian boomers to hand over their life savings – why not.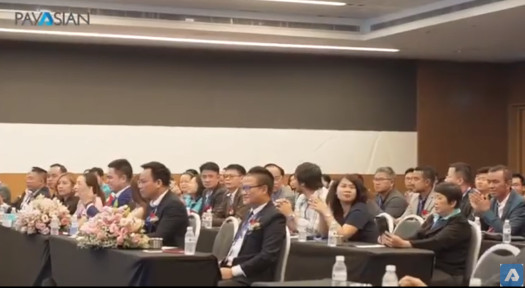 PayAsian's end-game will be the eventual decline of PAYA buyers, reducing the token to its actual $0 value.
This might happen on the internal exchange, or later on a public exchange if enough investors jump on board.
The rest of PayAsian business model is that of a pyramid scheme, as nothing is marketed to or sold to retail customers.
The only thing marketed within PayAsian is PAYA tokens. And given the representation the "wealth" behind PAYA will increase, you have yourself a securities offering.
PayAsian is naturally not registered to offer securities in Singapore, or anywhere else in the world.
This is what prompted the Philippine SEC's warning, which I'll quote from below;
As posted online, PAYASIAN SOLUTIONS PTE. LTD/PAYASIAN PTE. LIMITED CORPORATION's investment scheme, according to these persons, promises a return based on two (2) options offered under its compensation plan:

Buy, Hold and Earn Option—this is an investor's option to buy PAYA coins and hold them for 6 months, in which they will receive 30% additional PAYA rewards after Fund Blocking.

In other words, be a PAYA holder and leave to them everything, you will earn even though you don't do anything;

Referral Reward Option—this option will let investors Earn from referring others.

Simply, an investor is entitled to receive passive income from the pool of investment gathered, while active income is acquired from recruitment bonuses.
That pretty clearly lays out the investment scheme and pyramid component.
What's particularly interesting is that PayAsian was registered with the Philippine SEC, but only as a goods retailer and wholesaler.
The company conveniently left their shady investment scheme out of filings, which they eventually got caught out on.
In summary, the only funds being paid out on PayAsian's internal exchange are from new investors.
This is your classic MLM crypto Ponzi/pyramid business model.
As with all such schemes, inevitably the majority of participants will lose money.