PayAdShares Review: $2 – $35 four-tier matrix Ponzi

There is no information on the PayAdShares website indicating who owns or runs the business.
The PayAdShares website domain ("payadshares.com") was registered on the 27th of September 2014, however the domain registration is set to private.
Affiliates on social media identify the owner of PayAdShares as Brian Solomonson.
A visit to Solomonson's Facebook profile confirms as much, with Solomonson referring to PayAdShares as his "great program":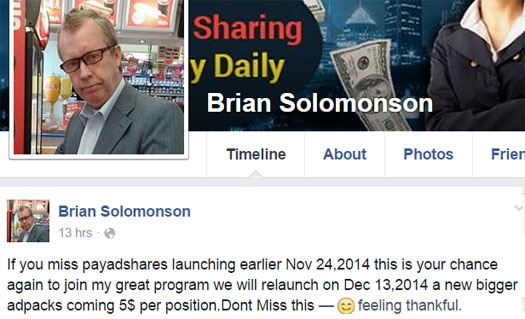 In his profile, Solomonson claims to be living out of Stockholm in Sweden. It is likely that this is where PayAdShares is being run out of.
As for a history, I was unable to find any information pertaining to other companies Solomonson might have run in the past. Ditto involvement in the industry as an affiliate.
Solomonson does reference DigAdz on his Facebook profile though, indicating at least some level of familiarity with the industry:

DigAdz sees affiliates invest amounts of $1 or more on the promise 150% ROIs. Whether or not Solomonson is an affiliate with DigAdz is unclear.
Read on for a full review of the PayAdShares MLM business opportunity.
The PayAdShares Product Line
PayAdShares has no retailable products or services, with affiliates only able to market affiliate membership to the site itself.
The PayAdShares Compensation Plan
The PayAdShares compensation plan sees affiliates either invest directly in $2 revenue-sharing positions, or "upgrade" and purchase $15 positions in a three-tier matrix system.
Revenue-Sharing
PayAdShare affiliates invest $2 amounts on the promise of an advertised 150% ROI ($3).
Advertising credits are bundled with each investment, which can be used by affiliates to display advertising on the PayAdShares website.
Matrix Positions
Matrix positions in PayAdShares are available at three levels, each coming with its own revenue-sharing plan:
Bronze ($5) – $15 position pays 3% over 50 days and entry into a 2×2 matrix (six positions) that pays $15 when filled
Silver ($10) – $15 position pays 3.5% over 50 days and entry into a 2×2 matrix (six positions) that pays $15 when filled
Gold ($20) – $15 position pays 4% over 50 days and entry into a 2×2 matrix (six positions) that pays $15 when filled
Note that an affiliate must pay the initial $5-$20 "upgrade fee", and then $15 positions to actually participate in revenue-sharing or the matrix at any given level.
Affiliates are able to purchase as many $15 positions as required at any level, with 25% of all commissions paid out only able to be spent on repurchasing new $15 positions.
Finally, the initial upgrade fee is commissionable, paying out down five levels of recruitment:
level 1 (personal recruits) – 5$
level 2 – 3%
levels 3 to 5 – 1%
Joining PayAdShares
Affiliate membership with PayAdShares is free, however affiliates must either invest $2 in revenue-sharing or upgrade ($5-$20) and then purchase a matrix position ($15) to participate in PayAdShares' income opportunity.
As such, the defacto minimum PayAdShares affiliate cost is either $2 (revenue-sharing) or $20 (Bronze upgrade plus one matrix position).
Conclusion
From the PayAdShares FAQ:
Payadshares is a passive income system so all you need to do to earn is upgrade and buy positions.

We return 3% daily on the shares purhase (sic) until the position reach 150%.
With nothing being marketed or sold to retail customers and ROIs offered on "shares" and matrix positions, PayAdShares functions as a four-tier Ponzi scheme.
The first tier is the $2 revenue-sharing. New affiliate money flows in and is used to pay out existing investors daily.
The other three-tiers are made up by the matrix system, paying affiliates a slice of those who join after them through the matrix and offering another level of revenue-sharing on top of that.
The matrix commission basically refunds an affiliate what they "put in", with funds from their initial upgrade bankrolling the subsequent ROI paid out on the position.
Mathematically the position ROI and referral commissions are being drawn from membership fees, which when you're talking about 150-200% ROIs, won't take long to drain the system.
As with all Ponzi schemes, once new affiliate investment dries up PayAdShares will find it unable to meet its daily ROI liabilities and implode.