My BitByBit Empire Review: 4 Corners reboots FortuneMaker scam

My BitbyBit Empire provide no information on their website about who owns or runs the company.
The My BitbyBit Empire website domain ("mybitbybitempire.com") was privately registered on June 8th, 2017.
Further research reveals the initial My BitbyBit Empire FAQ tied the company to 4 Corners Alliance Group:

4 Corners Alliance Group was a pyramid scheme launched in early 2013. The scam itself was a reboot of the failed Longevity 7 pyramid scheme.
That FAQ has since been deleted and replaced with a single-question FAQ that reveals nothing about the company.
In mid 2014 4 Corners tweaked their compensation plan and re-emerged as a popular alternative to the TelexFree Ponzi scheme.
4 Corners Alliance Group v2.0 appears to have collapsed in early 2016.
The original My BitbyBit Empire FAQ has since been replaced by a single-question version.
As cached by Google however, the initial FAQ appears to be a copy and paste of the FortuneMaker FAQ:

The FortuneMaker website is still online and reveals a matrix-based bitcoin gifting scheme combined with pyramid recruitment.
Alexa traffic estimates for the FortuneMaker website suggest the scam has long-since collapsed.
The FortuneMaker website domain ("fortunemaker.biz") was registered on March 17th, 2017.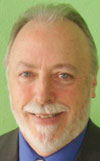 Charles Dhuey (right) is listed as the owner of the domain, with an address in Wisconsin also provided.
Dhuey runs Set You Free Enterprises and more commonly goes by the name "Chuck Dhuey".
For whatever reason, Dhuey appears determined to distance My BitbyBit Empire from himself and FortuneMaker.
At the time of publication My BitbyBit Empire is operating as an email list builder.
Prospective My BitbyBit Empire affiliates are encouraged to sign up with an "imagine getting bitcoins risk-free" marketing pitch.
Let us show you how to get the exposure you need and the income you deserve, even if you are on a limited budget, non-technical and don't feel you can recruit!

There is room for you at our table!

This is our initial rollout towards our launch in the next 30 days!
Given every incarnation of 4 Corners Alliance Group has been a matrix-based scam, it's a good bet My BitbyBit Empire will follow suit.
Seeing as this has been going on since Longevity7 way back in mid-2012, surely enough people have lost enough money in Four Corners Alliance Group schemes by now?
Guess we'll find out over the next 30 days hey…