Multi-Buy World Review: €50 EUR adcredit Ponzi with e-commerce

Multibuy World provide no information on their website about who owns or runs the company.
On its website Multibuy World claims it was initially launched in Italy as Promo Italia.
Multibuy Srl was founded 23 years ago in Italy under the name PromoIitalia and was renamed to Multibuy srl in 2014.

Today, Multi-Buy is a very successful Travel/E-Commerce Company in Italy!
This appears to be porky pies for a number of reasons:
I couldn't find any information about Promo Italia within the MLM space
the Multibuy World website domain ("multibuyworld.com") was only registered on October 31st, 2016
Multibuy World claims to be "very successful" with 150,000 customers, yet Alexa statistics for the Multibuy World website domain match the template of a newly launched and previously unknown company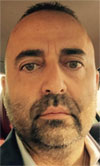 The listed owner of the Multibuy World domain is Giancarlo Santigli (right), with an address in Catania, Italy also provided.
For reasons unknown, Multibuy World provide a corporate address in Malta on their website. Needless to say it appears Multibuy World exists in Malta in name only.
On his Facebook profile Santigli cites his location as Rome, Italy, which is presumably where Multibuy World is actually being operated from.
Possibly due to language barriers, I was unable to put together an MLM history on Santigli.
As always, if an MLM company is not openly upfront about who is running or owns it, think long and hard about joining and/or handing over any money.
Multibuy World Products
Multibuy World has no retailable products or services, with affiliates only able to market Multibuy World affiliate membership itself.
Bundled with Multibuy World affiliate membership is access to an affiliates only e-commerce platform.
The Multibuy World Compensation Plan
The MultiBuy World compensation plan sees affiliates invest 50 EUR in "PR Packages".
Each PR Package invested in pays a €0.35 EUR daily ROI.
ROI payouts are paid 50% in cash and 50% in "Eurocredits", which must be used on the MultiBuy World e-commerce platform (1 Eurocredit = €1 EUR)
Residual Commissions
Multibuy World pay residual commissions via a unilevel compensation structure.
A unilevel compensation structure places an affiliate at the top of a unilevel team, with every personally recruited affiliate placed directly under them (level 1):

If any level 1 affiliates recruit new affiliates, they are placed on level 2 of the original affiliate's unilevel team.
If any level 2 affiliates recruit new affiliates, they are placed on level 3 and so on and so forth down a theoretical infinite number of levels.
Multibuy World cap payable unilevel levels at six.
Commissions are paid out as a percentage of invested funds across these six levels.
level 1 (personally recruited affiliates) – 8% (€4 EUR)
level 2 – 5% (€2.5 EUR)
level 3 – 4% (€2 EUR)
level 4 – 3% (€1.5 EUR)
level 5 – 2% (€1 EUR)
level 6 – 1% (€0.5 EUR)
Joining Multibuy World
Multibuy World affiliate membership is free, however affiliates must invest in at least one €50 EUR PR Package to participate in the attached income opportunity.
Conclusion
Multibuy World attempt to market themselves as an e-commerce platform with a successful history. Even the Italian version of the company website however was only registered at the end of October last year.
Whatever may or may not have existed prior to late 2016 clearly has nothing to do with Multibuy World's current MLM offering.
Said offering is unfortunately nothing more than an adcredit Ponzi scheme. New Multibuy World affiliates sign up and invest, with those invested funds used to pay off existing investors (Multibuy World call it "revenue sharing").
Multibuy World "recommend a minimum of" ten PR Packages for new affiliates, with the "ultimate goal" of one thousand.
The e-commerce platform exist solely to reduce ROI liabilities, by forcing affiliates to spend money on third-party services and products.
Multibuy World naturally collect commissions on these purchases, which will (presumably) be redirected back into Multibuy World's daily ROI payouts.
Anyway you cut it though, the math behind perpetual daily ROI payouts on a fixed sum of investment is not a sustainable business model.
At 0.35 EUR a day, a PR Package starts draining funds after 142 days. Alexa traffic estimates for the Multibuy World website only show activity from late February, which means initial investments will start draining the system around mid to late July.
Continued investment will prop up the system for a while longer, but from that point onwards ROI liability is going to get bigger and bigger each day.
Inevitable affiliate recruitment will drop off, which will directly reduce the new investment rate.
Once a certain threshold is crossed, Multibuy World collapses and the majority of affiliates lose money.