Movineo Review: TelexFree WCM777 Ponzi hybrid

There is no information on the Movineo website indicating who owns or runs the business.
The company claims to be headquartered in Spain, however it appears to be primarily targeted at a Brazilian demographic.
On their website, Movineo claim to be the 'first Brazilian MVNO project directed to the final customer'.
MVNO stands for "Mobile Virtual Network Operator", and is also from where Movineo derives its name (Mobile Virtual Network Operator).
Further research reveals Movineo affiliates naming an "Elias Medeiros" (sometimes credited as "Elias Rosa de Medeiros") as the owner and CEO of the company:

Medeiros' name appears as the owner of the Movineo domain registration ("movineo.com"), so this would seem to be correct.
In his Facebook profile Mederios claims to be originally from Brazil but now lives in Spain.
Numerous posts by Mederios on his Facebook timeline indicate that he was once an investor in TelexFree.
On the 1st of April Mederios wrote on his Facebook wall:
TelexFree have got to be kidding, some people of my network are not able to transfer or withdraw, all of which has more than 400 dollars in the account and pops up a message in English saying he doesn't have enough balance.

For this and other things I got out of TelexFree.
Earlier, in December of 2013, Mederios wrote:
Today is the big event of the TelexFREE… Let's wait for news?
When Mederios joined and left TelexFree is unclear.
TelexFree was a billion dollar Ponzi scheme that was shut down by the SEC back in April. It primarily targeted Brazil, the US and Portugal.
Going by the language options offered on the Movineo website, it too targets these countries.
There's also a bit of talk about WCM777 (another Ponzi scheme with a strong Brazilian investor-base), however whether or not Mederios actually joined WCM777 is unclear (he talks about criticizing the company's banking relationships).
According to his Facebook profile, Mederios founded Movineo in early 2013: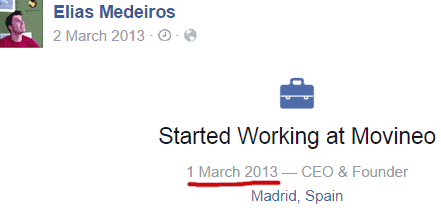 Movineo affiliate presentations however suggest it was only earlier this year (around March) that the opportunity as it's known today officially launched.
Read on for a full review of the Movineo MLM business opportunity.
The Movineo Product Line
Products currently listed on the Movineo website include: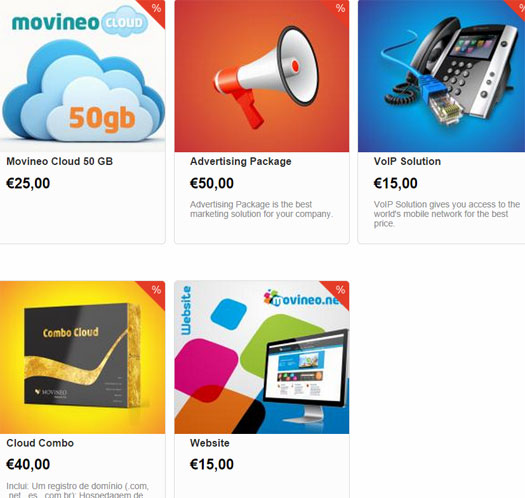 Movineo Cloud – 50gb of cloud-based storage (25 EUR / $31.76 USD)
Advertising Package – "Advertising Package is the best marketing solution for your company" (50 EUR / $63.53 USD)
VOIP Solution – "gives you access to the world's mobile network for the best price" (15 EUR / $19 USD)
Cloud Combo – "includes: One domain registration (.com, NET, .es, .com.br); Website hosting; Cloud Drive 100GB; Pack Advertising & Online Marketing; 1000 activities in the following social networks to choose from: Twitter, Google +1, Traffic Exchange, Youtube" (40 EUR / $50 USD)
Website – no information provided (15 EUR / $19 USD)
The Movineo Compensation Plan
The Movineo compensation plan revolves around affiliate signing up for 37 EUR and then investing funds into three offered packages:
Bronze – 221 EUR
Silver – 662 EUR
Gold – 1100 EUR
Service Commissions
If recruited affiliates or retail customers sign up for any of Movineo's offered services, a percentage commission is paid out.
How much of a percentage is paid out depends on the total number of customers (affiliates or retail) a Movineo affiliate has:
1 to 5 customers – 1%
6 to 8 customers – 5%
9 to 24 customers – 10%
more than 25 customers – 50%
Investment Returns
Weekly ROIs are advertised on package investments.
How much of  ROI paid out determined by how much an affiliate invests:
Bronze – 15 EUR a week ($19 USD)
Silver – 45 EUR a week ($57 USD)
Gold – 75 EUR a week ($95 USD)
ROIs are paid out for 52 weeks from the date an investment is made.
Residual Binary Commissions
Residual commissions in Movineo are paid out using a binary compensation structure.
A binary compensation structure places an affiliate at the top of two binary teams, left and right: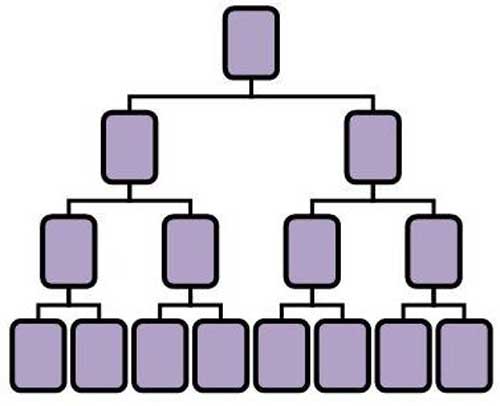 Investment package volume is tracked between these two binary teams, with an affiliate paid a percentage of matched volume.
Each investment package generates volume in the binary as follows:
Bronze – 200 points
Silver – 600 points
Gold – 1000 points
I believe points are matched on either side using a 1:1 pairing ratio, with an affiliate able to earn a percentage of the points matched.
How much of a percentage an affiliate is paid depends on how much they have invested:
Bronze – 1%
Silver – 2%
Gold – 3%
Membership Fee Commissions
Each Movineo affiliate is charged a 30 EUR a month participation fee.
Commissions on these fees are paid out using a 5×6 matrix.
A 5×5 matrix places an affiliate at the top of a matrix, with 5 positions directly under them (level 1):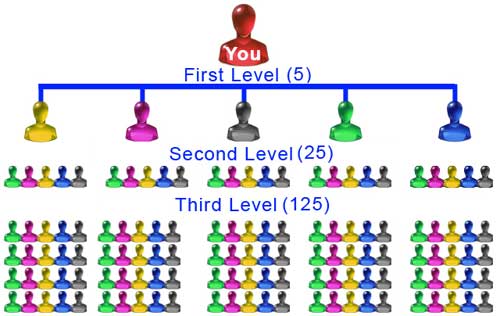 In turn these five level 1 positions branch out into another 5 positions each (level 2), and so on and so forth down a total of 6 levels.
Each filled position in the matrix represents a recruited fee-paying affiliate. These affiliates can be recruited directly or via the recruiting efforts of an affiliate's up and downlines.
Commissions are paid out as a percentage of the monthly participation fee charged, with how much of a percentage paid out per filled matrix position dependant on how much money an affiliate invests:
Bronze – 1.20 EUR per filled position
Silver – 3.60 EUR per filled position
Gold – 6 EUR per filled position
A "bonus matrix" is also mentioned in Movineo presentations, but I wasn't quite able to ascertain what it involves or how it pays out (language-barrier).
Binary Points Bonus
Movineo offer affiliates incentives upon hitting certain binary points milestones, ranging from Google Glass at 200,000 points to a luxury car at 50,000,000 points.
Joining Movineo
Basic affiliate membership to Movineo is 37 EUR.
If an affiliate wishes to participate in the Movineo compensation plan, they are also then looking at investment in one of the three offered packages.
This adds on additional initial cost to the price of Movineo affiliate membership of between 221 EUR to 1100 EUR.
Additional investment in packages will add to the cost of affiliate membership.
Finally, all Movineo affiliates are also charged a 30 EUR a month participation fee.
Conclusion
With talk of TelexFree and WCM777 by Elias Medeiros, where the inspiration behind Movineo came from is plain to see.
Simply put, if WCM777 and TelexFree had a bastard child – this would be it.
Movineo simply takes your everyday Ponzi pyramid hybrid and attaches it to a VOIP service (TelexFree) and Cloud storage (WCM777).
The offered products and services have nothing to do with the meat of the compensation plan, with any sales likely to be incidental to investment in offered packages.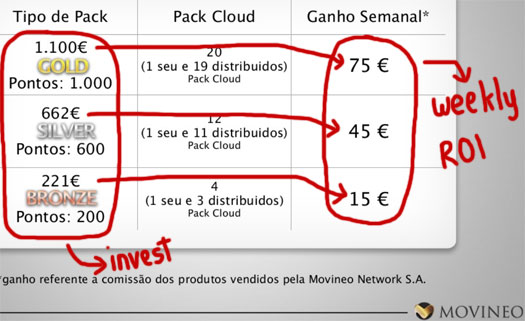 Movineo affiliates sign up for 37 EUR and then invest in packages. Movineo pay them an advertised weekly ROI for 52 weeks.
Monthly participation fees are paid, with commissions paid out on the fees encouraging existing investors to bring new ones on board.
As with any Ponzi scheme, once package investment slows down Movineo will find it unable to meet it's weekly ROI obligations.
When this happens, kaboom!
Everything else attached to this core package investment mechanic is simply smoke and mirrors. Just as it was in WCM777 and TelexFree.
That of course won't stop Movineo affiliates trying to bury you with claims of legitimacy backed by cloud-services, VOIP offerings and what not. But see Movineo for what it is (follow the flow of money), not what they're telling you it is.