MidasTrend Review: BotMidas trading bot Ponzi scheme

MidasTrend provides no information on its website about who owns or runs the company.
MidasTrend's website domain ("midastrend.com") was privately registered in April 2019.
Further research reveals MidasTrend has strong ties to Brazil. Supporting this is MidasTrend's website defaulting to Portuguese and use of the Brazilian real. Alexa also cites Brazil as the top source of traffic to MidasTrend's website (99.4%).
Given this, whoever is running MidasTrend is likely based out of Brazil itself.
As always, if an MLM company is not openly upfront about who is running or owns it, think long and hard about joining and/or handing over any money.
MidasTrend's Products
MidasTrend has no retailable products or services, with affiliates only able to market MidasTrend affiliate membership itself.
MidasTrend's Compensation Plan
MidasTrend affiliates invest Brazilian reals on the promise of advertised returns.
Bot 1 – invest R$130 and receive R$380
Bot 2 – invest R$380 and receive R$800
Bot 3 – invest R$800 and receive R$1300
Bot 4 – invest R$1300 and receive R$3000
Bot 5 – invest R$3000 and receive R$8000
Bot 6 – invest R$8000 and receive R$80,000
Note MidasTrend does not provide a timeline for return completion.
Residual commissions on invested funds are paid both via binary and 5×6 matrix compensation structures.
Residual Commissions (binary)
A binary compensation structure places an affiliate at the top of a binary team, split into two sides (left and right):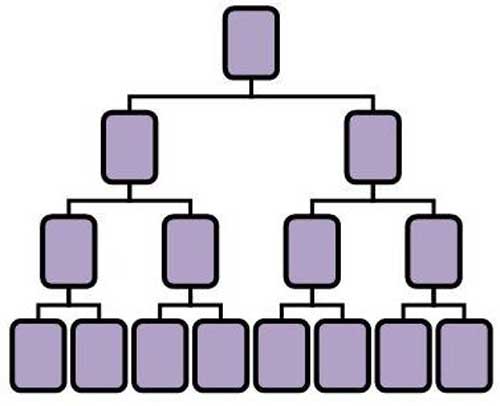 The first level of the binary team houses two positions. The second level of the binary team is generated by splitting these first two positions into another two positions each (4 positions).
Subsequent levels of the binary team are generated as required, with each new level housing twice as many positions as the previous level.
Positions in the binary team are filled via direct and indirect recruitment of affiliates. Note there is no limit to how deep a binary team can grow.
At the end of each day MidasTrend tallies up new investment volume on both sides of the binary team.
Affiliates are paid 10% of funds invested on their weaker binary team side.
Once paid out on funds are matched with the stronger side and flushed. Leftover volume on the stronger binary team side is carried over.
Residual Commissions (5×6 matrix)
A 5×6 matrix places a MidasTrend affiliate at the top of a matrix, with five positions directly under them: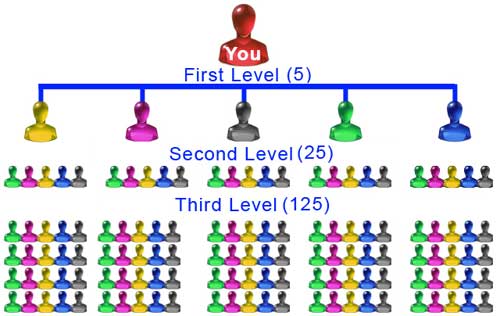 These five positions form the first level of the matrix. The second level of the matrix is generated by splitting these five positions into another five positions each (25 positions).
Levels three to six of the matrix are generated in the same manner, with each new level housing five times as many positions as the previous level.
Positions in the matrix are filled via recruitment of MidasTrend affiliates.
Each MidasTrend affiliate must pay a R$24.90 monthly fee. MidasTrend takes this fee and uses it to pay commissions on filled matrix positions as follows:
R$0.50 per position filled on level 1 (5 positions)
R$1 per position filled on level 2 (25 positions)
R$1.50 per position filled on level 3 (125 positions)
R$2 per position filled on level 4 (625 positions)
R$2 per position filled on level 5 (3125 positions)
R$3 per position filled on level 6 (15,625 positions)
Residual matrix commissions are paid monthly, for as long as affiliates in the matrix continue to pay their $R24.90 monthly fee.
Joining MidasTrend
MidasTrend affiliate membership is R$24.90 a month.
Full participation in the attached income opportunity requires an additional R$130 to R$8000 investment.
Conclusion
MidasTrend represents it generates external revenue via "BotMidas".
Meet BOTMIDAS, a high performance software (robot) that does the metric analysis for you.

With  the result of great partnerships that MIDASTREND has around the world.

This product brings you a unique opportunity, where our robot will operate with assertiveness and in a customized way, providing extraordinary results on a daily basis.
BotMidas is supposedly a trading bot, built with "state-of-the-art Asian technology", although what BotMidas supposedly trades is not disclosed.
In any event, there is no evidence of BotMidas actually existing. Nor is there any evidence of MidasTrend using BotMidas revenue or any other external source of revenue to pay affiliates.
Furthermore, being a passive investment opportunity, MidasTrend's opportunity constitutes a securities offering.
Securities in Brazil are regulated by the Brazilian SEC. MidasTrend provides no evidence it has registered itself with the Brazilian SEC.
Thus at a minimum, MidasTrend is committing securities fraud in its largest investor market.
Of more immediate concern for potential investors, is that MidasTrend's only source of verifiable revenue is new investment.
Using new investment to pay existing affiliates a return makes MidasTrend a Ponzi scheme.
As with all MLM Ponzi schemes, once affiliate recruitment dies down so too will new investment.
This will starve MidasTrend of new return revenue, eventually prompting a collapse.
The math behind Ponzi schemes guarantees that when they collapse, the majority of investors lose money.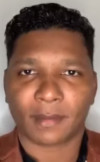 Update 16th April 2020 – MidasTrend reportedly stopped paying returns last November.
Earlier this week company President Devanir dos Santos (right), informed affiliate investors the company had been hacked.
BehindMLM published an article confirming MidasTrend's "we got hacked!" exit-scam collapse earlier today.
Update 11th May 2020 – It seems Devanir dos Santos isn't done scamming people just yet.
On April 23rd Brazilian media outlet Livecoins reported dos Santos' Midas 2.0 announcement.
This time, the promise is to create two companies, which will pay customers, the main one being Midas Trend 2.0.
The company was supposed to launch on April 27th. I haven't been able to confirm whether it actually did or not.
I had intended to publish an updated MidasTrend 2.0 review. I checked MidasTrend's website and the business model on there is the same as the original MidasTrend.
Pending further information and/or confirmation dos Santos actually launched a reload scam, I'm leaving things there.