MetaIndex Review: WRISE crypto 200% ROI Ponzi feeder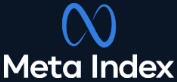 MetaIndex provides no company ownership or executive information on its website.
MetaIndex's website domain ("metaindex.fund"), was privately registered on November 26th, 2021.
Further research reveals MetaIndex marketing material citing Ricardo Zambrana as MetaIndex's CEO.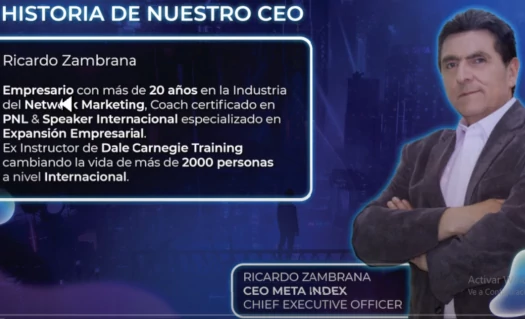 Zambrana is credited with "over 20 years" experience in network marketing.
I was ready to write Zambrana off as a Boris CEO but turns out he does have a history in MLM.
I don't know about 20 years but two years ago Zambrana was trying to pass himself off as a motivation coach: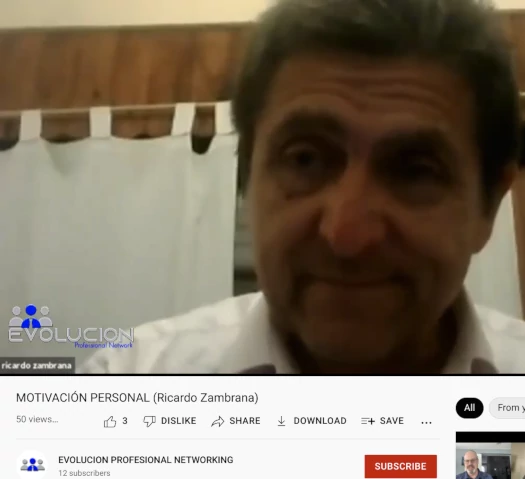 Zambrana abandoned his YouTube channel but continued to post on FaceBook…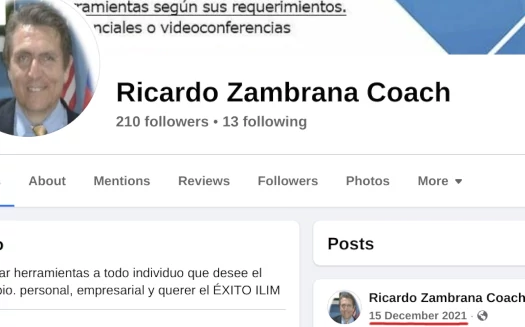 …at least up until December 2021. Evidently somewhere along the way Zambrana became a crypto bro, and here we are with MetaIndex.
The one marketing video MetaIndex's website redirects to a YouTube channel named "Wrise Brand Ambassador".
MetaIndex explains this by claiming it has " a funding partnership with wrise".
A visit to Wrise's website reveals its a 288% annual ROI crypto Ponzi scheme.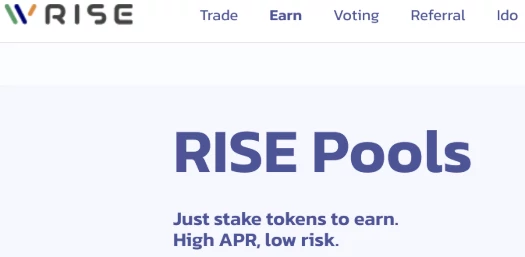 Wrise's official FaceBook page reveals the company started off as Wrapped SumCoin back in February 2021.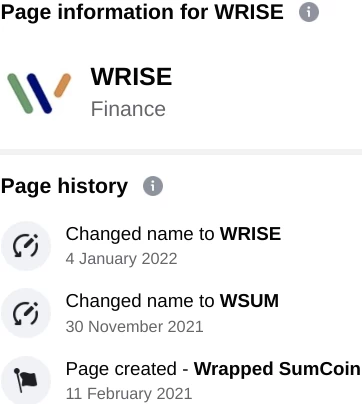 SumCoin is some shitcoin that's long-since collapsed.No idea what "WSUM" is but the current Wrise Ponzi launched on or around January 2022.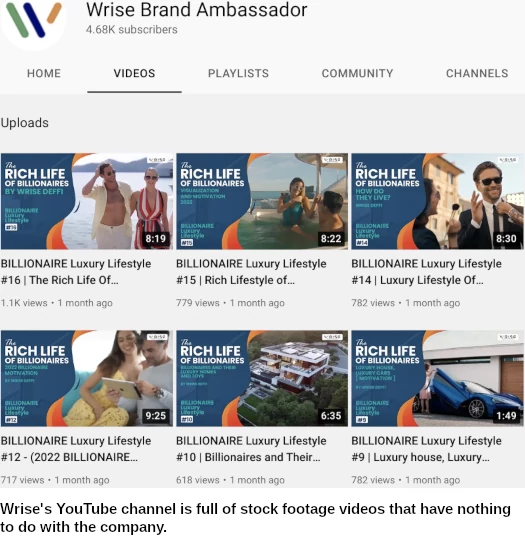 Attached to Wrise is RISE, yet another Ponzi shitcoin.
Who's running Wrise? That's not disclosed.
I'll stop short of suggesting Zambrana himself is running Wrise. If he isn't though, he definitely knows who is.
My money's on these chaps, either directly or indirectly:

Hairo Reyes, Agustin Esterling and Carlos Flores are all former GoArbit Ponzi scammers.
Esterling in particular was part of GoArbit's corporate team:
GoArbit was a simple 200% ROI MLM crypto Ponzi scheme.
As documented here on BehindMLM, GoArbit unravelled in early 2022.
It seems Reyes, Esterling and Flores cashed out before the collapse and went on to launch their own Ponzi.
Ricardo Zambrana is fronting the scheme because, y'know… bit hard to scam new victims with a trail of financial destruction behind you.
Wrise's website domain ("wrise.app"), was privately registered on January 3rd, 2022.
At time of publication website traffic to Wrise's website is too low to measure.
Alexa ranks top sources of traffic to MetaIndex's website as the Dominican Republic (68%) and the US (13%).
Read on for a full review of MetaIndex's MLM opportunity.
MetaIndex's Products
MetaIndex has no retailable products or services.
Affiliates are only able to market MetaIndex affiliate membership itself.
MetaIndex's Compensation Plan
MetaIndex affiliates invest cryptocurrency on the promise of a daily return.
Basic Plan – no fee to invest, receive 0.4% a day Monday through Friday
Gold Plan – 1.3% a day, 5% of ROI clawed back as a fee
MetaIndex investment tiers are:
$50
$100
$150
$200
$500
$1000
$2000
$3000
$5000
$10,000
Returns are capped at 200% (this includes MLM commissions). No minimum or maximum investment amounts are specified.
I believe an active investment is required to qualify for MLM commission payouts.
MetaIndex charges a 10% withdrawal fee and pays in bitcoin, tether and "various cryptocurrencies".
Returns themselves however are only calculated in tether. Note that I've only quoted tether below to keep things simple.
The MLM side of MetaIndex pays commissions on cryptocurrency invested by recruited affiliates.
MetaIndex Affiliate Ranks
There are ten affiliate ranks within MetaIndex's compensation plan:
Senior
Silver
Gold
Pearl
Emerald
Diamond
White Diamond
Black Diamond
Crown Diamond
Royal President
Rank qualification criteria is not provided.
Referral Commissions
MetaIndex affiliates earn 10% of cryptocurrency initially invested by personally recruited affiliates.
5% is paid on subsequent investment amounts.
Residual Commissions
MetaIndex pays residual commissions via a binary compensation structure.
A binary compensation structure places an affiliate at the top of a binary team, split into two sides (left and right):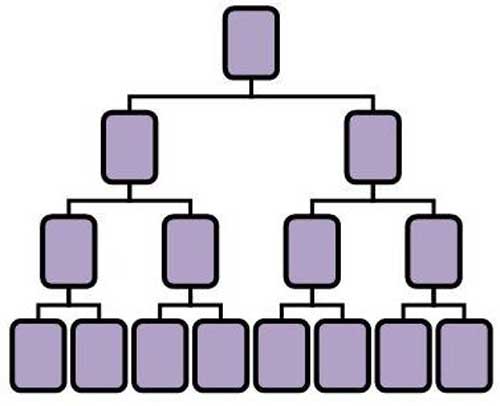 The first level of the binary team houses two positions. The second level of the binary team is generated by splitting these first two positions into another two positions each (4 positions).
Subsequent levels of the binary team are generated as required, with each new level housing twice as many positions as the previous level.
Positions in the binary team are filled via direct and indirect recruitment of affiliates. Note there is no limit to how deep a binary team can grow.
At the end of each day MetaIndex tallies up new investment volume on both sides of the binary team.
Residual commissions are paid as a percentage of cryptocurrency invested on the weaker binary team side.
Basic Plan affiliates receive a 4% residual commission rate
Gold Plan affiliates receive a 10% residual commission rate
Once paid out on, weaker volume is matched against the stronger binary team side and flushed.
Any leftover volume is carried over for up to thirty days.
Note that residual commissions are capped at 10,000 tether per day.
MetaIndex's compensation documentation states this amount can be raised via rank advancement.
Rank qualification criteria is not provided.
Joining MetaIndex
MetaIndex affiliate membership is
Basic – free
Gold – 5% of returns paid out as a fee
Gold affiliates have a higher income potential through MetaIndex's compensation plan.
MetaIndex Conclusion
MetaIndex pitches itself as a "project that promises to plummet emissions to zero".
They don't specify who's emissions or how.
Can tech advancement and conservation co-exist?

According to us, yes. We don't have another choice.

We are playing our part against climate change by investing in eco-friendly metaverse projects such as real estate, NFTs, and decentralized finance.
That's because MetaIndex has absolutely nothing to do with climate change.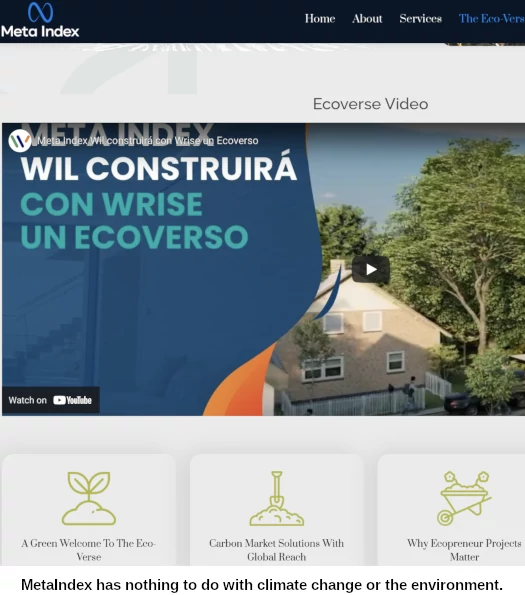 It's a simple MLM crypto Ponzi. You invest crypto, others steal your crypto and, if enough new suckers join after you, you steal their crypto.
Neither MetaIndex, Wrise or the scammers behind it are registered to offer securities in any jurisdiction. So add securities fraud onto the mix.
By way of nothing being marketed or sold to retail customers, the MLM side of MetaIndex is also a pyramid scheme.
One interesting slide I found in a MetaIndex presentation was this (English autotranslate added):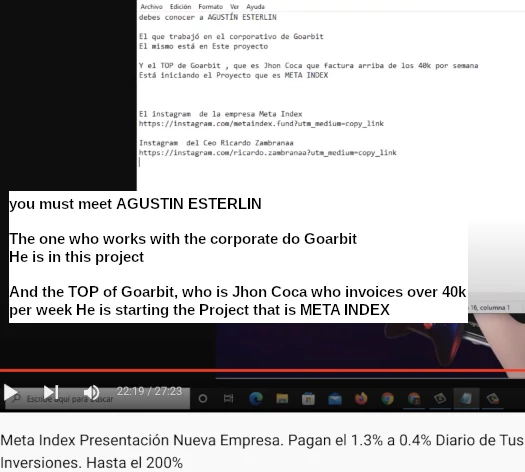 Agustin Esterlin being a GoArbit Ponzi scammer we've already covered in the intro of this review.
Jhon Coca is a new name though. Turns out he's been Ponzi scamming people for years: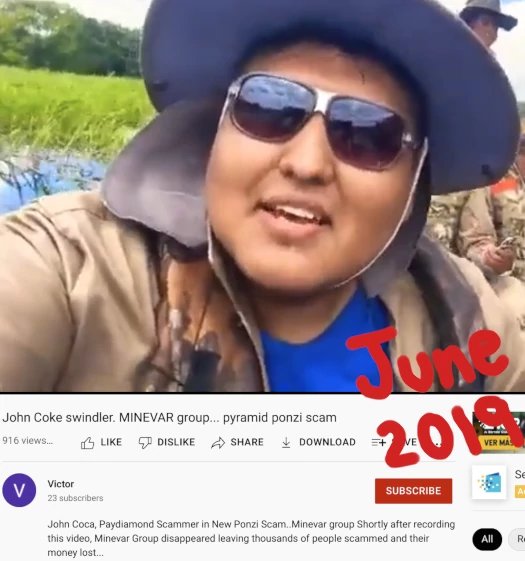 What we essentially have with MetaIndex is a GoArbit Ponzi spinoff.
A bunch of top scammers in GoArbit wanted to be at the top of their own Ponzi scheme, and so here we are.
Like GoArbit, only those running the scam and those who got in early will make any money.
This happens at the expense of everyone else.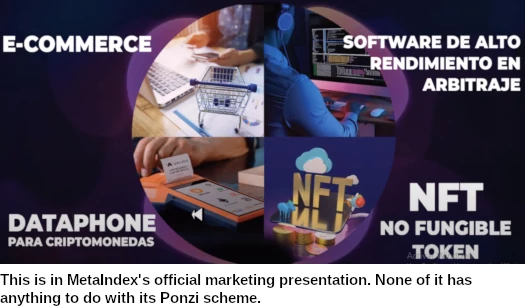 You know how MetaIndex ends. You've already seen it with GoArbit and Jhon Coca's countless other Ponzi schemes.