GoArbit execs flee to Dubai, GoFintech Group reboot

GoArbit founder Maximo Martinez has fled to Dubai.
The Ponzi schemes relocation to the MLM scam capital of the world, coincides with GoFintech rebranding and GoToken.
Although it held an office opening event back in January, GoArbit's move to Dubai was actually initiated in late 2021.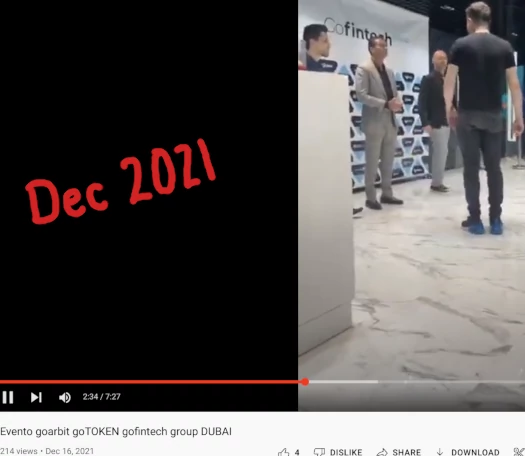 The move sees GoArbit rebranding as GoFintech Group. As of now however, GoFintech doesn't exist beyond branding and a placeholder website.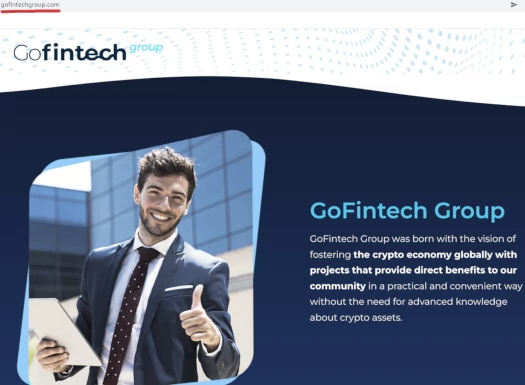 GoFintech Group's website domain was registered in November 2021.
GoToken meanwhile first debuted in mid 2021: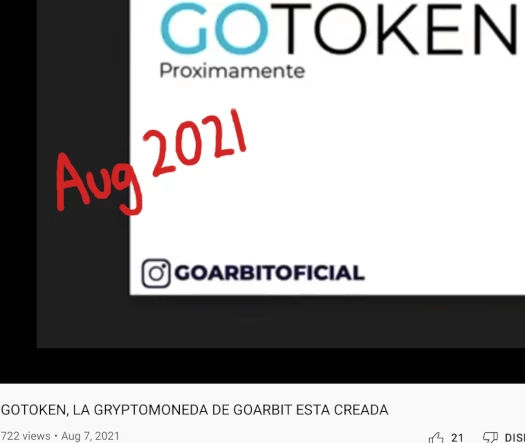 GoArbit is a simple 200% ROI Ponzi scheme. The introduction of GoToken would appear to be the beginning of a shitcoin exit-scam.
That is GoArbit starts paying out in worthless GoTokens, owing to new investment inevitably failing to cover ever-growing withdrawal liability.
Details on GoToken are sketchy. Things get even more confusing with the launch of GoArbit Coin (GoCoin) back in January.
1.6 million GoCoins were created on January 16th. By January 20th the balance had been cleaned out to just 95 GoCoins. Whatever GoCoin was, it's already over.
GoArbit's current status is equally as obscure. After the January 2022 Dubai office launch event, nothing much seems to be happening.
Traffic to GoArbit's website picked up after the January 2022 Dubai event and have held.
Alexa traffic rankings suggest GoArbit Scammers are targeting victims in Colombia (30%), Venezuela (19%) and Peru (12%).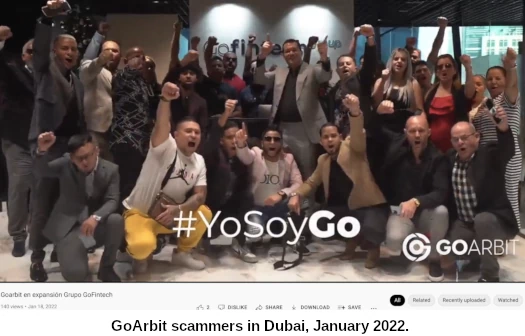 GoArbit founder and CEO Maximo Martinez claims to be born in the Dominican Republic.
As opposed to having anything to do with business operations, Martinez's move to Dubai is likely groundwork for the inevitable collapse.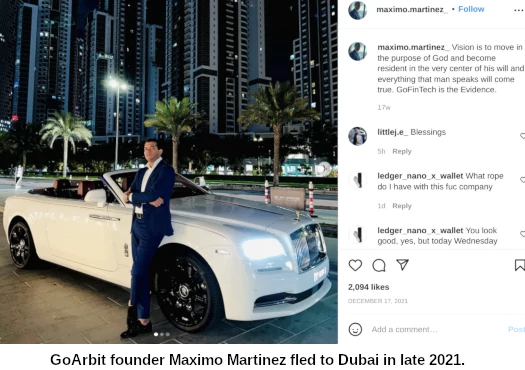 Through limited extradition treaties and non-regulation of MLM related securities fraud, Dubai provides a safe-haven for scammers like Martinez.
For investors looking for news following the Dubai January event, things look bleak.
GoArbit's website advises there is no recent news. GoArbit's official FaceBook page was abandoned in September 2021. I
t's Twitter account was abandoned in March 2020. GoArbit's official linked Instagram account appears to have been hijacked by an affiliate.
Comments left on GoArbit's FaceBook page suggest withdrawal problems began around September 2021. Whether they have been rectified or not is unclear.
Update 18th February 2023 – GoFinTech Group flopped, prompting Maximo Martinez to reboot again as GoArbit v3.0.