Mega Holdings Review: $250 domain and website hosting?

Mega Holdings claim to be incorporated in both Dubai and Hong Kong.
Prior to that the company was "relocated to Malaysia" in 2005, which matches the company's website domain registration (Feb 2005).
The Dubai and Hong Kong certificates of registration provided on the Mega Holdings website are dated 2010 and 2011 respectively, indicating that this is likely around the time the current incarnation of the company began.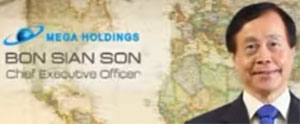 Credited as founder of Mega Holdings is Michael Cheng Tiau Kiat, with "S. S. Bon" (aka San Sian Bon) serving as CEO (right).
In his Mega Holdings corporate bio, Kiat is credited with being 'a world-renowned net worker, a millionaire entrepreneur, a great mentor and mathematician' who 'at 26, was already an independent business owner making megabucks'.
Despite the mention of Kiat being a "world-renowned net worker", I was unable to find an MLM history for him prior to Mega Holdings. Ditto San Sian Bon.
As such, it appears Mega Holdings is both Kiat and Bon's first MLM outing on the executive side of things.
Read on for a full review of the Mega Holdings MLM business opportunity.
The Mega Holdings Product Line
Mega Holdings has no retailable products or services, with affiliates only able to market affiliate membership to the company itself ($250 or $750).
Bundled with Mega Holdings affiliate membership is a website domain, hosting, email addresses and access to a "website builder".
The Mega Holdings Compensation Plan
Update 22nd August 2015 – The compensation plan analysis in this review is outdated. On August 22nd, 2016, BehindMLM published an updated Mega Holdings review. /end update
The Mega Holdings compensation plan information on the Mega Holdings website is confusing and poorly presented. Without additional information, it's not going to be of much use to anyone.
As such, I've used the information provided as a base but have also relied on affiliate presentations to put together the following analysis.
Older Mega Holdings
The Mega Holdings compensation plan revolves around affiliates purchasing one of two packages, and then recruiting others who do the same.
Mega Holdings offer affiliates two packages, Gold ($250) and Diamond ($750).
Recruitment Commissions
For each affiliate recruited Mega Holdings pay out a 5% recruitment commission.
This equates to $12.50 on the recruitment of a new Gold affiliate and $37.50 for a Diamond affiliate.
Residual Unilevel Commissions
Residual commissions in Mega Holdings are paid out using a unilevel compensation structure.
A unilevel compensation structure places an affiliate at the top of a unilevel team, with every personally recruited affiliate placed directly under them:

These affiliates form the start of "groups", with affiliates they recruit making up the second level of each group. Affiliates those on the second level of any group recruit begin the third level of that group and so on and so forth.
Sales volume is tracked based on affiliates recruited into a unilevel team, with commissions paid out on the pairing of two new affiliates recruited.
These two affiliates must be from different unilevel groups (different direct downline groups). Once paired, a recruited affiliate cannot be paired again for the purpose of commission calculation.
If they renew their affiliate membership however, these new funds can be paired within volume in other unilevel groups.
Gold affiliates are paid per $250 matched from any two groups, and Diamond affiliates $750 (either recruit two Diamond affiliates or six Gold affiliates (from within different unilevel legs)).
Note that after an affiliate has made back the money they invested in their own position, these payment quotas raise to the matching of $1250 for Gold affiliates and $3000 for Diamond affiliates.
The way these amounts work is that volume is calculated until the payable amount is reached, then the commission is paid out.
The exact amount paid out is $30 per "step", with the pairing of two Gold affiliates equating to one step and two Diamond affiliates four steps.
Steps are used to cap daily affiliate earnings, with Gold affiliates capped at 22 steps a day ($660) and Diamond affiliates 66 steps ($1980).
Vouchers
Text on the Mega Holdings compensation plan page of their website suggests that every fifth step (see unilevel explanation above) is paid to an affiliate not as $30 but as a voucher.
The only information provided about these vouchers is that they "can be used to purchase activation code".
This would suggest they are $30 discounts towards signing up as an affiliate, which Mega Holdings affiliates supposed to use as an incentive to recruit new affiliates.
Joining Mega Holdings
Affiliate membership with Mega Holdings is either $250 for Gold membership or $750 for Platinum.
Gold membership must be renewed annually and Diamond membership every three years.
The primary difference between the two affiliate options is income potential via the Mega Holdings compensation plan.
Conclusion
For a company bundling website hosting packages with affiliate positions, I have to say Mega Holdings own website design is terrible.
It's clunky and annoying to navigate, relying on irritating infinite scroll and voluminous menus that could easily be consolidated under more meaningful headers.
A prime example of this is the company information, which is unnecessarily separated into six segments.
As for the nuts and bolts of the business, what's presented under "compensation plan" on the website is sorely lacking. It's probably about 20% of what's required to adequately explain the plan and how affiliates are paid.
With that out of the way, Mega Holdings's compensation plan uses a unilevel compensation structure in the same manner countless recruitment-orientated opportunities might use a binary.
I'd imagine a binary is easier to keep track of with only two sides to match, but then as the unilevel grows deeper I guess there's more opportunity to match as you have a greater number of groups to match from – provided of course you can personally recruit a large number of affiliates and create a large number of groups to match against.
And that brings us to the central problem of Mega Holdings – a complete lack of retail.
This is just affiliate recruitment, with commissions paid directly on the recruitment of new affiliates and residually via the unilevel.
Let's face it, nobody is paying $250 retail a year for a domain name, website hosting, email addresses and a "website builder" tool.
As such, aside from the issue of there being no retail, what's really being marketed here is the compensation plan – specifically the opportunity to recruit new affiliates into Mega Holdings and get paid for it.
That paying $750 for Diamond membership over $250 for Gold increases commission caps (income potential), also adds an additional "pay to play" element to the scheme.
From what I've been able to gather, Mega Holdings primary market is Turkey. Pretty much all the affiliate marketing I saw for the company was in Turkish and Alexa currently estimates that 92.6% of Mega Holdings website traffic is from Turkey.
Given this, it's awfully strange that those running the company are based out of Hong Kong and are obviously not Turkish.
I wasn't able to work out what the connection is there, save to say that neither San Sian Bon or Michael Cheng Tiau Kiat appear to be interested in taking a public role within the company. They very much seem to be money men operating behind the scenes, content in letting their Turkish affiliates who got in early run the show.
As with all recruitment-driven schemes, things have likely slowed down in Turkey and as a result those affiliates are now looking to expand into new countries. Those efforts are co-incidentally what brought Mega Holdings to my attention.
Regardless of whether Mega Holdings does make it out of Turkey or whether or not they collapse, the core problem of the entire scheme relying on affiliate recruitment remains.
Once recruitment slows down so too do the commissions. And if those at the bottom cannot recruit new affiliates, when the time comes to renew their membership they aren't going to pay up again.
That means those above them are going to stop getting paid and they won't renew either.
Once this affect has trickled up far enough along the company-wide affiliate genealogy, an irreversible collapse is triggered.
WCM777 and Better Living Global Marketing mark two recent scams that illustrate issues with investing in MLM companies operating out of Hong Kong. When Mega Holdings affiliates run out of new suckers to recruit, one can likely expect a similar experience for all involved.
Learn from other people's mistakes. If you're not selling a product or services to retail customers then you're probably part of something you shouldn't be.
Update 22nd August 2015 – The compensation plan analysis in this review is outdated. On August 22nd, 2016, BehindMLM published an updated Mega Holdings review.