Mega Capital Review: Unique HYIP Designs script Ponzi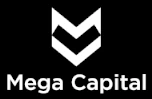 Mega Capital fails to provide ownership or executive information on its website.
Mega Capital's website domain  ("megacapitals.ltd"), was privately registered on June 12th, 2023.
In the source-code of Mega Capital we find a reference to Unique HYIP Designs;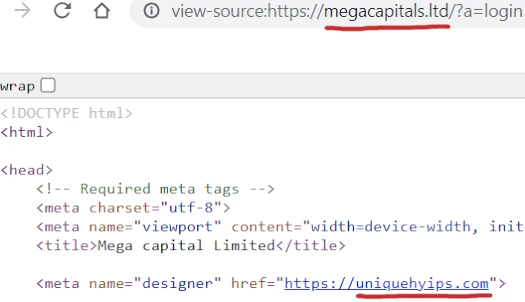 Unique HYIP Designs sells Ponzi scripts and "HYIP Packages".
"HYIP" stands for "high yield investment program". This is code for "Ponzi scheme".
Unique HYIP Designs sells a "HYIP Manager" Ponzi script for $166. Cheaper website templates and "exclusive themes" are also available.
Based on its website domain registration, Unique HYIP Design has been flogging scam scripts since late 2018.
Unique HYIP Designs' Facebook page itself is owned by "Mijanur Rahman".
On its Facebook page Unique HYIP Designs represents it is based out of Dubai. The WhatsApp support number provided on Unique HYIP Design's website however is a number from Bangladesh.
Once purchased, Unique HYIP Designs' scripts are run on a standalone server:
What do you get? Theme content (.zip file).

How to install? Download the template .zip file; Upload it to your hosting/server; Then extract it.
This appears to be how Mega Capital has been set up.
Mega Capital also has a "Megacapital Ltd" Australian shell company. Whether this was purchased through Unique HYIP Designs or separately though is unclear.
As always, if an MLM company is not openly upfront about who is running or owns it, think long and hard about joining and/or handing over any money.
Mega Capital's Products
Mega Capital has no retailable products or services.
Affiliates are only able to market Mega Capital affiliate membership itself.
Mega Capital's Compensation Plan
Mega Capital affiliates invest cryptocurrency on the promise of advertised returns:
Bronze Plan – invest $100 to $25,999 and receive 1.3% a day for 5 days
Silver Plan – invest $26,000 to $49,999 and receive 1.5% a day for 6 days
Gold Plan – invest $50,000 to $99,999 and receive 2% a day for 11 days
Diamond Plan – invest $100,000 and receive 5% a day for 21 days
Mega Capital pays referral commissions on invested cryptocurrency via a unilevel compensation structure.
A unilevel compensation structure places an affiliate at the top of a unilevel team, with every personally recruited affiliate placed directly under them (level 1):

If any level 1 affiliates recruit new affiliates, they are placed on level 2 of the original affiliate's unilevel team.
If any level 2 affiliates recruit new affiliates, they are placed on level 3 and so on and so forth down a theoretical infinite number of levels.
Mega Capital caps payable unilevel team levels at four.
Referral commissions are paid out as a percentage of cryptocurrency invested across these four levels, based on how much an affiliate has invested:
Bronze Plan tier affiliates earn 5% on level 1 (personally recruited affiliates), 3% on level 2, 2% on level 3 and 1% on level 4
Silver Plan tier affiliates earn 6% on level 1, 3% on level 2, 2% on level 3 and 1% on level 4
Gold Plan tier affiliates earn 7% on level 1, 3% on level 2, 2% on level 3 and 1% on level 4
Diamond Plan tier affiliates earn 10% on level 1, 3% on level 2, 2% on level 3 and 1% on level 4
Joining Mega Capital
Mega Capital affiliate membership is free.
Full participation in the attached income opportunity requires a minimum $100 investment.
Mega Capital solicits investment in various cryptocurrencies.
Mega Capital Conclusion
Mega Capital represents it generates external revenue via trading:
We are an international financial company engaged in investment activities, which are related to trading on financial markets and cryptocurrency exchanges performed by qualified professional traders.
This is of course baloney. Mega Capitals runs on a Unique HYIP Designs Ponzi script that simply recycles invested funds to pay affiliate withdrawals.
BehindMLM first came across Unique HYIP Designs in 2021 with King Finance.
King Finance's Ponzi ruse was "bitcoin mining". The Ponzi business model however was the same.
As with all MLM Ponzi schemes, once affiliate recruitment dries up so too will new investment.
This will starve Mega Capital of ROI revenue, eventually prompting a collapse.
The math behind Ponzi schemes guarantees that when they collapse, the majority of participants lose money.