Maya Group Review: Virtual share market tied to pyramid recruitment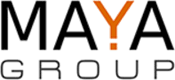 Maya Group describe themselves as a "software startups investment and development company". No information about who owns or runs the company is provided on the Maya Group website.
A photo of two men sitting in what appears to be a Maya Group office is provided but nothing about who they are.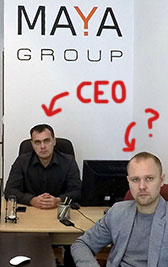 The man in the black shirt One of the men is Andrey Seregin, listed owner of the Maya Group website domain ("maya-group.me").
The domain itself was first registered back in 2014 and last updated on November 7th, 2016.
On his personal LinkedIn profile, Seregin cites himself as CEO of Maya Group since 2014.
Possible due to language-barriers, I was unable to put together an MLM history for Seregin, although Maya Group does appear to be his first MLM venture.
Read on for a full review of the Maya Group MLM opportunity.
Maya Group Products
Maya Group has no retailable products or services, with affiliates only able to market Maya Group affiliate membership itself.
The Maya Group Compensation Plan
Maya Group affiliates invest in virtual shares the company sells for €10.10 EUR. Maya Group generate 200 virtual shares out of thin air each week.
Virtual shares can also be purchased from other Maya Group affiliates via an internal marketplace, with the price per share capped at €20 EUR.
After 180 days, affiliates can also sell their virtual shares back to Maya Group for €10 each.
Affiliates can transfer up to €1000 EUR into their share purchase balance.
Maya Group claim to distribute 10% of daily company-wide generated revenue equally among affiliate shareholders.
Maya Group charge affiliates a 20% fee on any commission withdrawals.
Residual Commissions
Maya Group pay residual commissions on deposits into recruited affiliate's share purchase balances.
Residual commissions are paid out via a unilevel compensation structure, capped at three levels of recruitment:

level 1 (personally recruited affiliates) – 25%
level 2 – 5%
level 3 – 1%
Joining Maya Group
Maya Group affiliate membership is free.
Full participation in the attached income opportunity however requires investment in at least one €10.10 EUR virtual share.
Conclusion
Selling virtual shares and paying a dividend on them is obviously a securities offering, yet Maya Group offer no evidence of regulatory registration in any jurisdiction.
An LLC registration for "Maya Group" in Montenegro exists, however the stated activity of the business is "computer programming". Maya Group is not registered to offer securities in Montenegro or anywhere else in the world.
The ruse behind Maya Group's daily ROI also fails to pass the Ponzi logic test.
As per the Maya Group website;
At the initial stage of services development of the company it was enough to seed investments. But, nevertheless, these resources was enough to run, and launch to market during 2015, two services.

Currently both of these services are generate stable profits, and another service is in development stage.

Since 2016, the company Maya Group is ready to give its investors 10% of the net profit, and starts a new stage of development – equity crowdfunding, the so-called people's investments.
The "services" Maya Group is purportedly generating revenue from are Posting Blues, Landing Jazz and Likes Rock.
Posting Blues is a social media spam tool that nobody was using until January, 2017 (around the time Maya Group began to grow).
The website is predominantly used by people in Russia and the Ukraine, most of which are likely Maya Group investors.
Landing Jazz is a landing page creator service that has been in steady decline throughout 2016. The decline has continued in 2017.
Likes Rock is another social media spam tool, again in steady decline throughout 2016 and 2017.
The notion that any of these enterprises are generating revenue enough to sustain dividends in a virtual share scheme is laughable.
But even if we assume this is the case, with the services having already been developed prior to Maya Group soliciting public investment, why is the company now soliciting investment and sharing revenue?
Surely if Posting Blues, Landing Jazz and Likes Rock were already profitable, Maya Group would simply continue to run the services and keep generated revenue as profit.
Why the whole unregistered securities virtual share offering?
The answer is Maya Group are either wholly paying out or subsidizing virtual share ROI payouts with newly invested funds.
Even a partial subsidy still makes Maya Group a Ponzi scheme. The referral commissions are tied to recruitment of new affiliate investors, adding an additional pyramid layer to the scheme.
As with all Ponzi schemes, once affiliate recruitment dies out so too will newly invested funds. This will see Maya Group's daily ROI tank, resulting in an eventual collapse.
At that point affiliates who haven't recurred what they paid for shares lose out. The math behind a Ponzi scheme guarantees this will ultimately be the majority of Maya Group affiliates.