Matrix Pro Leads Review: Pay to play lead generation

Matrix Pro Leads cites itself as "a division of Print Buyers Club Inc.".
Print Buyers Club is a Florida corporate. Both it and Matrix Pro Leads are owned and operated by CEO Billy Hayes.
Specifically, Matrix Pro Leads claims to be
an emergent of Print Buyers Club Inc, a West Palm Beach, Florida based network marketing tools provider with over 12 years of experience in delivering world-class service in the multi-level, business opportunity, and network marketing industry.
Print Buyers Club operates as Print Founders and has its own website up.
Print Founders' website states the company provides "tools designed to explore your business".
In the "network marketing" section of Print Founders' website, a combination of MLM gifting, pyramid and Ponzi schemes are featured: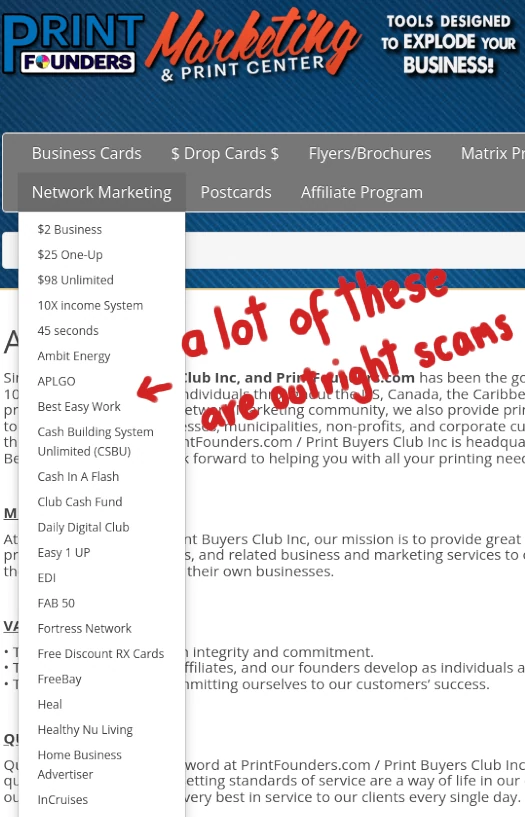 These are grouped with otherwise legitimate MLM companies.

I wasn't able to ascertain whether Hayes (right) is/was a promoter of these schemes. His participation in at least some of them is a likely probability.
Whereas Print Founders markets services to promote other MLM companies, Matrix Pro Leads is its own MLM income opportunity.
Read on for a full review of Matrix Pro Leads' MLM opportunity.
Matrix Pro Leads
Matrix Pro Leads markets leads
to help those participating in network marketing and other home-based businesses find others to help promote their products and services.
The company claims it's "scoured the entire internet to provide only the best-qualified leads". No specifics are provided.
Our Business Opportunity Buyer leads are proven to convert! And the best part? Our quality Business Opportunity Buyer Leads start at only $0.24 per lead and you are protected by our special Matrix Pro Leads 'Dual-Layer' guarantee.
Leads sold my Matrix Pro Leads span direct mail, email and call/SMS.

direct mail leads are $30 for 100, $70 for 250, $135 for 500 and $240 for 1000
email leads are $30 for 100, $70 for 250 and $135 for 500
call/SMS leads are $40 for 100, $80 for 250, $145 for $500 and $248 for 1000
The "dual-layer guarantee" referenced above pertains to
a guarantee against returned direct mail (50 cent refund per lead); and
two-for-one replacement of bad email or phone number leads.
Matrix Pro Leads' website references a "monthly lead subscription program", however details are not provided.
Matrix Pro Leads' Compensation Plan
Matrix Pro Leads affiliates are paid on the sale of leads to retail customers and recruited affiliates.
Note that lead order volume is calculated at a 1:1 ratio against the cost of leads ordered.
MLM Commission Qualification
To qualify for MLM commissions, a Matrix Pro Leads affiliate must purchase leads and "maintain monthly activity requirements".
Monthly acitvity requirements see Matrix Pro Leads affiliates forced to purchase $30 or more of leads every 30 days.
Matrix Pro Lead affiliates who don't purchase leads each month only earn single-level commissions
First Order Bonus
The First Order Bonus is paid on the first lead order placed by a retail customer or personally recruited affiliate.
A 33% commission on first order volume is paid out through the First Order Bonus.
Residual Commissions
Matrix Pro Leads pays residual commissions via a 3×10 matrix.
A 3×10 matrix places an affiliate at the top of a matrix, with three positions directly under them: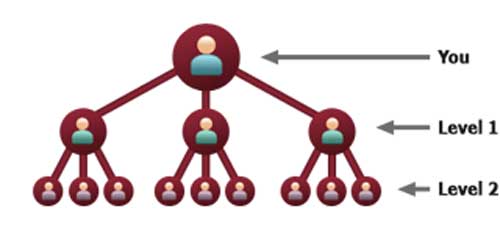 These three positions form the first level of the matrix. The second level of the matrix is generated by splitting these first three positions into another three positions each (9 positions).
Levels three to ten of the matrix are generated in the same manner, with each new level housing three times as many positions as the previous level.
Commissions are paid as a percentage of lead orders placed by directly and indirectly recruited affiliates placed into the matrix as follows:
level 1 lead order volume – 33%
levels 2 to 9 lead over volume – 3%
level 10 lead order volume – 8%
Joining Matrix Pro Leads
Matrix Pro Leads affiliate membership is $4.95 a month.
Conclusion
In line with the gifting, pyramid and Ponzi schemes exhibited on Print Founders' website, Matrix Pro Leads sets itself up to operate as a pyramid scheme.
This is achieved by way of mandatory lead purchases to qualify for MLM commissions.
This is known as "pay to play" and is a regulatory red flag.
Outside of this, and again ignoring the fraudulent business opportunities featured on Print Founders' website, Matrix Pro Leads otherwise markets a legitimate product – leads.
To avoid Matrix Pro Leads falling foul of the FTC Act, greater transparency of lead generation is required.
Purchasers of leads should know how the leads they're purchasing are generated. Information such as average amount of returned or bad leads also wouldn't go astray.
Seeing as there's a guarantee in place, this information should be easy enough to provide.
Although it's not a given, there's a tendency for lead generation MLM opportunities to operate as closed loops.
By that I mean the leads purchased from Matrix Pro Leads are used to pitch Matrix Pro Leads.
There's nothing inherently wrong with that, until forced lead purchases are factored in.
If Matrix Pro Leads is full of affiliates purchasing leads each month to qualify to earn commissions on recruited affiliates, also purchasing leads to qualify for commissions, this is your classic pyramid scheme.
The use of leads to drive recruitment into the pyramid scheme creates the closed loop.
Given the voluminous amount of outright scams featured on Print Founders' website, some of which owner Billy Hayes may or may not have experience with, approach with caution.