Market America Review: Shop.com e-com w/ exclusive products

Market America are headquartered in North Carolina and operate in the e-commerce MLM niche.
The company was founded in 1992 by husband and wife James Howard and Loren Ridinger.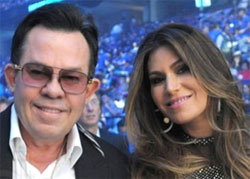 James Ridinger, more commonly known as JR Ridinger, serves as Market America's Chairman and CEO.
Loren Ridinger serves as Executive Vice President.
Prior to founding Market America Ridinger was a top Amway affiliate.
In addition to the US, today Market America operates in Canada, Australia, Taiwan, Hong Kong, Philippines, the United Kingdom, Mexico, Singapore, Spain and Malaysia.
Market America was initially launched as a publicly traded company.
In 1999 the SEC filed a complaint against Ridinger, alleging he
violated the antifraud and other provisions of the federal securities laws in connection with an unregistered distribution of Market America stock and other activities.
Ridinger settled the matter and paid $2 million in disgorgement, interest and civil penalties.
Two years after the SEC charges and settlement, Ridinger purchased all outstanding shares and took Market America off the public market.
Over the years Ridinger has developed somewhat of an oddball reputation within the MLM industry.
As part of an episode on multilevel marketing, John Oliver's Last Week Tonight aired footage of Ridinger shouting at a mock grave onstage at an undated Market America event.
Read on for a full review of the Market America MLM opportunity.
The Market America Product Line
Market America themselves don't manufacture any products or offer any in-house services.
Instead the company
forms long-lasting relationships with vendors and manufacturer … that will produce consistent quality products from year to year.

Every year, new products and product lines are being created to stay ahead of the competition.

And since only limited quantities are stored in-house at any given time, this cuts down on consumer cost and ensures the freshest potency.
In addition to offering exclusive products and services, Market America also operate the "shop.com" website.
Through shop.com Market America run an e-commerce platform that offers
millions of additional products and services from well-known stores like Target, Nike, Apple and more.

The cost is the same as it would be shopping directly from the store's site, but Market America is able to pay Cashback, whereas individual sites do not.

Brands listed on the Market America website include
Isotonix – "offers the fastest and most efficient delivery system of all nutraceutical supplements"
TLS Weight Loss Solution – "a total lifestyle approach to weight management"
Heart Health – "contains advanced ingredients clinically proven to benefit your heart"
Ultimate Aloe – "promotes normal digestion and supports a healthy immune system"
Pet Health – "supplements with essential vitamins and minerals essential for dogs and cats"
NutriClean – "designed to cleanse and detoxify the colon while providing friendly bacteria to the gut"
Cellular Laboratories – "revolutionary anti-aging skincare line designed to support your skin on the cellular level"
Timeless Prescription – "formulas that go beyond basic skin care to offer advanced anti-aging and acne care"
Fixx – "superior products that contain specialized ingredients for instant hair and skin therapy"
Pentaxyl – "enhanced with Matrixyl complex and Argireline to help reduce the appearance of wrinkles, skin discoloration and stretch marks"
Royal Spa – "everything you need to turn your ordinary shower routine into a luxurious spa experience"
MatriSkin – "a serum that helps improve skin's luminosity and firmness in as little as one month"
Snap – "cuts through dirt, grime and germs to leave your home spotless without harming the environment"
Prime – "promotes clear vision, keen hearing, healthy bones and joints, ageless skin and more"
Custom Cocktail – "combines all your favorite Isotonix products in one canister and a single serving"
Motives – an "award-winning cosmetics line defined by its creator", Loren Ridinger
MA Web Centers – "provides a solution for businesses that goes beyond just a website, integrating social media marketing, SEO/SEM, e-mail marketing tools, site statistics, fully functional e-commerce, and an easy-to-use system for maintaining an online presence without requiring special technical skills"
Shop Financial – "provides you a financial GPS to help you plan the quickest route to zero debt!"
Lumiere De Vie – "designed to promote the natural healing process of all skin types"
DNA Miracles – "provides the highest quality body and wellness products, designed for babies, children and expectant mothers"
Market America do not provide retail pricing for any of their products or services on the company website.
The Shop.com platform does provide retail pricing for some of their products.
I was able to get retail pricing for the DNA Miracles line, for example, but when I punched in "Shop Financial" third-party calculators and sports memorabilia came up.
The Market America Compensation Plan
The Market America compensation plan tracks generated volume via the sale of products and services through replicated sales pages and the Shop.com e-commerce portal.
Commissions are paid out via a binary compensation structure, which focuses on volume attached to Business Development Centers.
Shop.com Cashback
Market America affiliates earn Shop.com cashback on their own purchases and that of their personally referred customers.
Retail Commissions
In addition to cashback, each product purchased by retail customers through Shop.com and replicated Market America sales portals generates a retail commission.
Market America split 30-50% of this commission with the affiliate who referred the customer.
MLM Commission Qualification
To qualify for MLM commissions, a Market America must be both qualified and activated.
A qualified affiliate is one that has generated 200 BV.
BV stands for "Business Volume" and in Market America is generated via the purchase of "exclusive products" by an affiliate and their referred retail customers.
An activated affiliate must first be qualified, and have recruited at least two qualified affiliates.
Residual Commissions
Market America pay residual commissions via a binary compensation structure.
A binary compensation structure places an affiliate at the top of a binary team, split into two sides (left and right):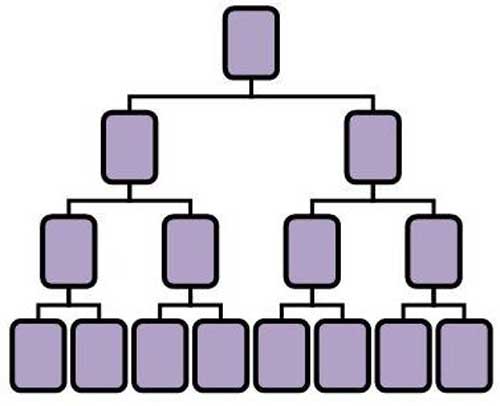 The first level of the binary team houses two positions. The second level of the binary team is generated by splitting these first two positions into another two positions each (4 positions).
Subsequent levels of the binary team are generated as required, with each new level housing twice as many positions as the previous level.
Positions in the binary team are filled via direct and indirect recruitment of affiliates. Note that there is no limit to how deep a binary team can grow.
When a Market America affiliate signs up, they are given the first three positions in their binary team (the top position and both positions on level 1).
These positions are referred to as "Business Development Centers".
Commissions are paid based on BV and IBV generated on both sides of the binary team.
BV as previously discussed is sales volume generated via the purchase and sale of Market America's "exclusive products".
IBV is sales volume generated via the sale of "partner store products". That is products purchased from third-party merchants.
At the end of each week Market America tallies up generated GV within a binary team for that week.
For every 1200 BV and IBV matched on both sides of the binary team, a $300 commission is paid out.
BV and IBV are tallied up separately, both paying out 300 if the above matched qualification criteria is met.
Unmatched BV and IBV is carried over and used the following week.
Once 5000 accumulated BV and IBV is reached, a $600 commission is paid out and accumulated BV and IBV resets to zero.
This is known as "completing a commission cycle" and is calculated separately for each Business Development Center an affiliate owns.
Management Bonus
To qualify for the Management Bonus a Market America affiliate must complete a commission cycle (5000 matched BV and IBV) in a week.
Once qualified a $600 Management Bonus is paid out per commission cycle completed position matched on both sides of the binary team.
Note the Management Bonus is capped at $3600 per week per Business Development Center.
Additional Business Centers
A Market America affiliate receives a new Business Development Center the first time an existing Business Development Center reaches the 5000 BV and IBV cycle completed milestone.
Joining Market America
Market America affiliate membership is $129.95.
"Fast Start" packs are also available for $399, each bundled with various Market America exclusive products and services.
Conclusion
I would have preferred a straight PDF of Market America's compensation plan, but instead I had to sit through a twenty-two minute presentation video.
The goods news however is that once you get past eleven minutes of sales waffle, Market America's compensation plan is pretty straight-forward.
The business model in general focuses on the sale of Market America branded ("exclusive") products and third-party products through the Shop.com e-commerce portal.
Shop.com works the same as any other e-commerce platform. It's stocked with third-party merchant products and as a bonus offers cashback.
The marketing angle sees "shopping annuity" mentioned a lot in Market America's promotional material. This involves replacing your current shopping habits with the purchase of goods and services through Market America where applicable.
Obviously for affiliates there's a vested financial interest to do so, the question is whether non-affiliates are going to use Market America's platform.
As a Market America affiliate this is going to be your biggest challenge. Getting non-affiliates to try the portal and replicated Market America sales pages, and then continue to purchase from them.
In addition to cashback on their own purchases, Market America also offer retail customers a percentage of cashback generated by customers they refer. Depending on how much that actually works out to, it could be a strong marketing tool to drive changing over to Market America's platforms.
In their marketing material, Market America define acceptable affiliate purchases as 200 BV a month.
The "getting started as an affiliate" guide explicitly recommends affiliates should
personally purchase and use ≥ 200 BV worth of product monthly after one month.

Personally purchase and use ≥ 10 IBV from Market America's products monthly and purchase ≥ 5 IBV from Partner
Stores for a total of 15 personal IBV.
The overall monthly BV target is set at 500 BV, 300 BV of which should be generated via retail sales.
Each Independent UnFranchise Owner in your organization should be creating ≥ 500 BV and ≥ 200 IBV each month.
(≥ 200 BV Personal and ≥ 300 BV Repeat Sales).
To what extent these are mere recommendations versus being actively enforced by Market America is unclear.
The potential for chain-recruitment is obvious though, as nowhere in the business are there any retail volume qualifiers.
200 personal BV and 300 retail BV is a 40%/60% ratio. Market America could address the potential for chain recruitment by applying a hard 40%/60% personal/retail volume requirement for commission qualification.
As it stands though it's difficult to gauge company-wide whether the 300 BV retail requirement is actually happening or whether it's just lip-service.
As a prospective affiliate, what you can do is query the sales volume your potential upline is generating each month.
It's expected that the potential upline affiliate is purchasing Market America product each month. And alone there's nothing wrong with that.
What you want to find out is whether they're generating at least 60% in retail volume each month to match it.
This isn't optional, nor is it an arbitrary percentage I've plucked from thin-air. It's in Market America's own affiliate guideline materials, which ever affiliate should be adhering to.
Failure to generate the required retail PV is indicative of chain-recruitment, which if happening enough company-wide would mean Market America is operating as a product/service based pyramid scheme.
The only exception I'd make is for new affiliates, who will need some time to build up their retail volume. After three months though if their personal spend still dwarfs retail volume (and there's no sign of growth), it's likely they've fallen into the trap of continuing to spend money chasing a dream.
Compliance aside, this is the greatest pitfall you have to watch out for when signing up for an e-commerce MLM opportunity.
When marketed and run properly, Market America presents itself as a robust opportunity with a massive catalog of products and a simple, yet effective compensation plan.
One neat feature of Market America's plan was to place generated BV within the binary team. On a micro-level this can boost the confidence of new team members, but also be used to drive volume deeper throughout a binary team than would occur organically.
Tightening Market America's compensation plan with retail volume requirements would cement legitimacy. As it stands though the onus is on potential affiliates to gauge whether the person trying to recruit them is running their business in compliance.
Good luck!
Update 1st September 2022 – JR Ridinger passed away on August 30th. He was sixty-three years old.
Ridinger's death was confirmed on Market America's Facebook page, in an announcement that described Ridinger's passing as "sudden".
Reporting from Page Six attributes Ridinger's death to "a pulmonary embolism on a (chartered) yacht in Croatia.
As I understand it, under the guidance of its corporate team, Market America will continue to operate.