Mag Markets Review: 4XC securities fraud clone scheme

Mag Markets provides no information on their website about who owns or runs the company.
Mag Markets' website domain ("magmarkets.com") was privately registered in December 2020.
Mag Markets' domain was registered through a German registrar. The company's website also has native German language elements:

In an attempt to appear legitimate, Mag Markets claims its "regulated by the FSC".
The company follows the regulated laws highlighted by the Financial Supervisory Commission (FSC).

MAGMarkets is operating under the legal umbrella of Geomatrix Ltd, which is audited by BDO and under the €20000 Financial Commission's Compensation Fund.
Geomatrix Ltd is a shell company incorporated in the Cook Islands. Mag Markets appears to have obtained a financial license in the Cook Islands through Geomatrix.
For the purpose of MLM due-diligence, this is meaningless. Mag Markets has no business operations in the Cook Islands.
The Cook Islands is one of those tiny South Pacific nations scammers love to incorporate in, primarily because there's little to no active MLM regulation.
MLM companies incorporating shell companies to launder money through is a due-diligence red flag.
As always, if an MLM company is not openly upfront about who is running or owns it, think long and hard about joining and/or handing over any money.
Mag Markets' Products
Mag Markets has no retailable products or services.
Affiliates are only able to market Mag Markets affiliate membership itself.
Mag Markets' Compensation Plan
Mag Markets charges a fee to access their passive trading bots.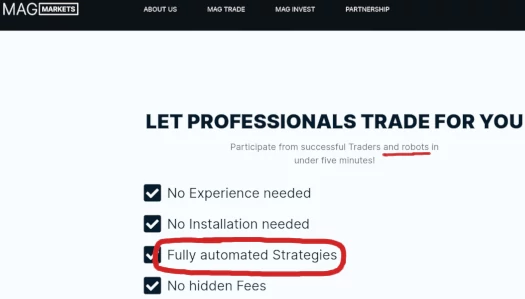 Classic – $100 ("classic account for new traders")
mBTC/mETH – $100 ("the crypto accounts")
Raw Account – $1000 ("the raw account for more experienced traders")
VIP – $5000 ("for high-net-worth individuals")
Specific differences between the accounts, with respect to trading, are not provided.
Referral Commissions
Mag Markets pays referral commissions via a unilevel compensation structure.
A unilevel compensation structure places an affiliate at the top of a unilevel team, with every personally recruited affiliate placed directly under them (level 1):

If any level 1 affiliates recruit new affiliates, they are placed on level 2 of the original affiliate's unilevel team.
If any level 2 affiliates recruit new affiliates, they are placed on level 3 and so on and so forth down a theoretical infinite number of levels.
Mag Markets limits referral commissions down five unilevel team levels.
For every client who signs up through your unique Affiliate link, you – the 'Master Affiliate – will earn a commission based on traded Lots by each referral.

If one of your referred traders refers another trader to the platform, the Master Affiliate will continue to earn a further commission per lot traded.
Referral commissions are paid on funds invested and fees charged. Specific commission rates are not provided.
Joining Mag Markets
Mag Markets affiliate membership costs between $100 to $5000 (see compensation intro above).
Conclusion
Mag Markets is your typical passive trading bot securities fraud scheme.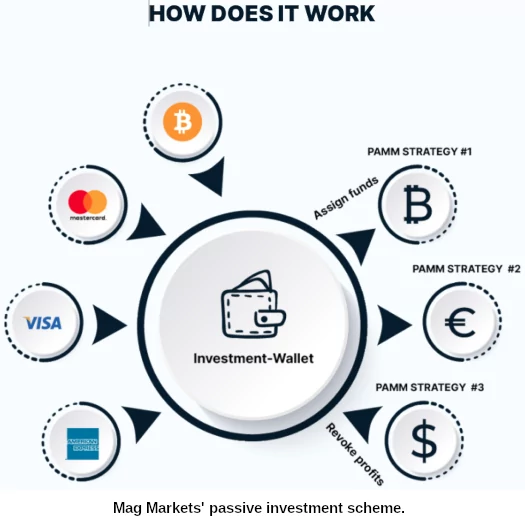 The company admits as much by blocking US residents from accessing their website.
This is an attempt at pseudo-compliance, owing to the US' SEC being the world's most active securities regulator.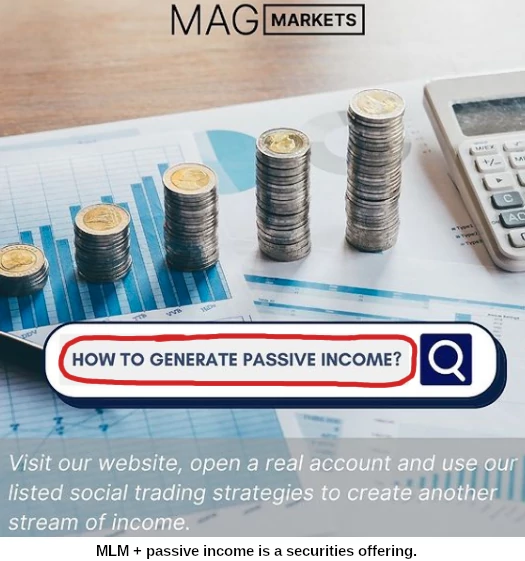 In Mag Markets' pseudo-compliance message, the company inadvertently discloses a tie to "4XC".

4XC stands for "4XCube", another passive investment trading bot securities fraud scheme.
Mag Markets is a clone of 4XC's business opportunity. 4XC has the same Cook Islands Geomatrix shell company setup.
Both Mag Markets and 4XC companies are likely run by the same scammers.
What 4XC has that Mag Markets doesn't have is a YouTube channel, on which we find 4XC CEO Joao Monteiro.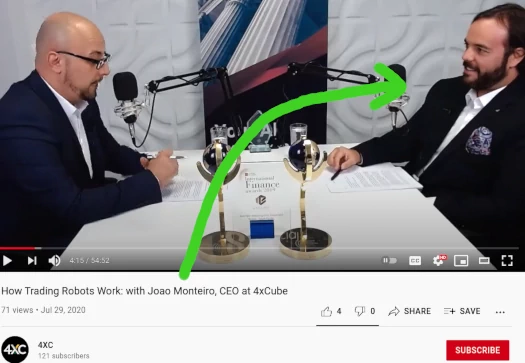 Monteiro (right) is a Portuguese citizen living in Cyprus. Like the Cook Islands, Cyprus is another scam-friendly jurisdiction with no active regulation of MLM fraud.
Monteiro's LinkedIn profile details his involvement in several trading companies, dating back to 2008.
Absent is 8topuz, yet another forex "ai trading" scheme.
8topuz offers an easy to access AI-based automated investment system to effectively help you grow your wealth regardless of your knowledge in trading.

Current 8topuz clients are obtaining an average 2 to 4% monthly return on investment using our AI algorithms.
Investing into 8topuz will set you back $500, $10,000 or $100,000+.

Like 4XC and Mag Markets, 8topuz is a tangled mess of shell companies:
8topuz Wealth Fintech LLC is registered in Saint Vincent and Grenadines under Company Number 717LLC2020

8topuz Wealth Fintech Ltd is registered in Cyprus under Company Number HE396701 and an official trading partner of FX Capital. FX Capital MA Ltd is not independently regulated by the FCA.

FX Capital MA Ltd is a signal provider to Pelican Trading.

Pelican Trading is a trading name of London & Eastern LLP, authorized and regulated by the Financial Conduct Authority in the UK, ref 534484.

Registered address: 85 Great Portland Street, First Floor, London, W1 W7LT.

8topuz is an Investment Advisor for Coeus Capital BV, a private limited liability company incorporated under the laws of the Netherlands, with the Dutch Chamber of Commerce Register under the number 81976763.
Such are the hoops one must jump through to obtain banking channels to run your fraudulent business.
Anyway, a visit to 8topus' official Facebook page reveals a "partnership" between 8topus and the notorious UAE Al Qasimi royal crime family.
BehindMLM is familiar with the Al Qasimis through their ties to the even more notorious OneCoin Ponzi scheme.
There's probably more to the Joao Monteiro Al Qasimi rabbit-hole, but for the purpose of Mag Markets due-diligence, I'll leave it there.
The "but we can't touch your money!" securities fraud model ends in one of two ways;
either the admin rigs trades in their favor and exit-scams; or
Either way gullible investors lose their money. And best of luck trying to recover anything from Monteiro's web of dodgy jurisdiction shell companies.
Update 1st September 2022 – MagMarkets collapsed on August 28th.
The company has wiped trading accounts in the hopes of launching a reboot.