Lusate Review: Daily returns MLM crypto Ponzi

Lusate fails to provide ownership or executive information on its website.
Lusate's website domain ("lusate.com"), was first registered in 2015. The private registration was last updated on April 11th, 2023.
Lusate's current website was created between March and May 2021. I believe the website sat dormant until the attached MLM opportunity, details of which are completely absent on Lusate's website, was launched relatively recently (late 2022, early 2023).
Even if we take Lusate's website creation date at face value, the company has thus been around for a maximum of two years.
On its website Lusate falsely claims it was "founded in 2011.
As to who is running Lusate, our first clue is the use of Yandex Translate on its website.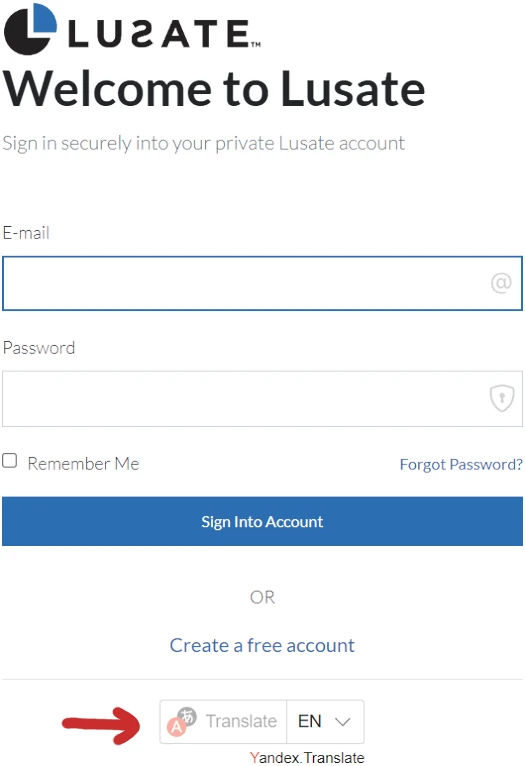 Website traffic to Lusate's website began to pick up in March 2023. In April 2023 SimilarWeb tracked 98% of Lusate website traffic originating from Belarus.
For reference, Lusate website traffic was dead in February 2023. In March it was still negligible, climbing to around ~7000 total visits for April.
Belarus being the primary source of that traffic and use of Yandex Translate, strongly suggests Lusate is being operated by eastern Europeans. Typically this means Russians and/or Ukrainians.
In an attempt to appear legitimate, Lusate provides a corporate address in Ireland on its website.
This address is currently being used by the company Slack. The address has nothing to do with Lusate.
As always, if an MLM company is not openly upfront about who is running or owns it, think long and hard about joining and/or handing over any money.
Lusate's Products
Lusate has no retailable products or services.
Affiliates are only able to market Lusate affiliate membership itself.
Lusate's Compensation Plan
Lusate affiliates invest USD equivalents in cryptocurrency.
This is done on the promise of advertised returns:
Nano – invest $100 to $14,999 and receive 0.7% a day for 4 months (0.85% a day if returns are reinvested)
Micro – invest $15,000 to $49,999 and receive 0.9% a day for 4 months (1% a day if returns are reinvested)
Macro – invest $50,000 to $249,999 and receive 1.1% a day for 6 months (1.25% a day if returns are reinvested)
Mega – invest $250,000 or more and receive 1.3% a day for 6 months (1.5% a day if returns are reinvested)
Retirement – invest $5000 or more and receive 2.2% a day for 18 months (note withdrawals are only permitted once every 8 months)
Lusate pays referral commissions on invested cryptocurrency down three levels of recruitment (unilevel):

level 1 (personally recruited affiliates) – 10%
level 2 – 5%
level 3 – 3%
Joining Lusate
Lusate affiliate membership is free.
Full participation in the attached income opportunity requires a minimum $100 investment.
Lusate solicits investment in various cryptocurrencies.
Lusate Conclusion
Your first red flag with Lusate is the lack of ownership and/or executive information details provided on its website.
The second red flag is Lusate hiding its passive returns investment opportunity.
Instead of providing information on its investment plans, Lusate's website is presented as a generic investment firm website, complete with bogus partnerships: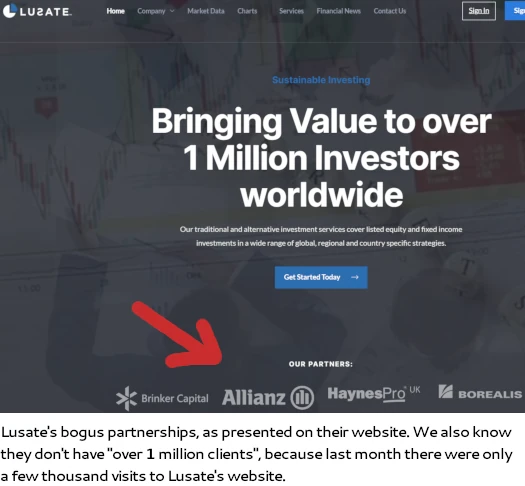 While Lusate hides anything of relevance to its investment scheme, one thing they do claim to do is have access to $190 billion dollars.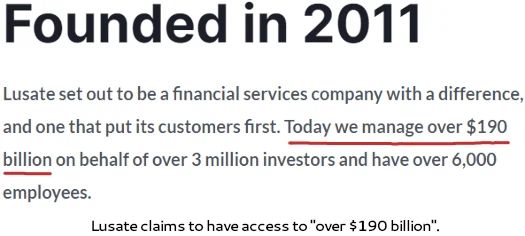 Today we manage over $190 billion on behalf of over 3 million investors and have over 6,000 employees.
And here's where Lusate's Ponzi ruse falls apart.
Between February 2nd and March 5th, Lusate pitched investment plans topping out at 2.6% a day.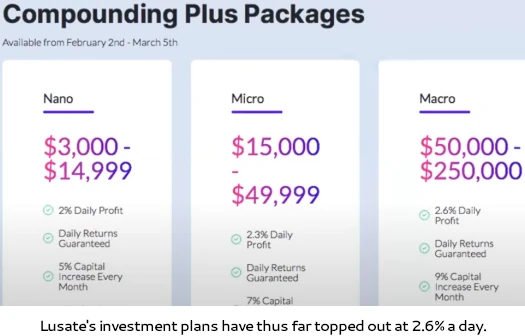 2.6% of $190 billion is $4.9 billion. And apparently Lusate can conjure up this amount daily.
Naturally this raises the question: Why does Lusate need your money?
With access to that amount of money and daily returns, Lusate certainly wouldn't be locale limited to Belarus and running a hidden investment opportunity behind a generic investment themed WordPress website.
In reality, all Lusate are doing is running a bog-standard Ponzi scheme.
As with all MLM Ponzi schemes, once affiliate recruitment has dried up so too will new investment.
This will starve Lusate of ROI revenue, eventually prompting a collapse.
The math behind Ponzi schemes guarantees that when they collapse, the majority of participants lose money.