JDE Jewels: Custom-made knockoff jewelry with pyramid recruitment

JDE Jewels claim they 'started customizing fine jewelry pieces in 1998'.
The JDE Jewels website domain meanwhile was only registered in 2016.
Other than incorporation in the Philippines in 2014, to what extent JDE Jewels existed prior to 2016 is unclear.
Whatever operations might have existed though don't seem to resemble JDE Jewels' current MLM business model.

Daisy Seterra Estrada (right) is named as founder of the company on the JDE Jewels website. A corporate address in Quezon City, Philippines is also provided.
As per Estrada's corporate bio, she's
a graduate from DLSU with a Biology major and from the Ateneo Graduate School of Business with a Master's Degree in Business Administration.
To what extent Estrada is involved in the day-to-day running of JDE Jewels is unclear. Posts on Estrada's Facebook profile suggest she is currently chasing a career in television acting.
Update 25th June 2018 – Following publication of this review, Daisy Estrada has provided us with additional information about JDE Jewels' history and operation.
Update 25th June 2018 – Within a few hours of this review going live, Daisy Estrada reached out to us with some additional info and clarifications.

JDE Jewelry started out as a small jewelry manufacturer way back in 1998 wherein all our sales were made within Quezon City.

We were just categorized as a sole proprietor and catered to just friends and family and their referrals.

I was just coming out of college and was focusing on getting work experience to enroll for an MBA degree, so we (my husband and I), put JDE at the back burner until we have the necessary experience to grow and develop the business.

After our corporate stint, having built our business experience and skills we decided to take JDE Jewelry to the next level and incorporated it in 2014.

Seeing the necessity of having an internet presence, we registered the domain in 2016.

This was after we had upgraded our workforce and equipment and applied for membership to the Guild of Philippine Jewelers.

I am involved in television and film as a freelance actor which also serves as an additional platform to promote our jewelry business.

I am however, involved in the day to day operations, managing our employees and dealing with customers.
Read on for a full review of the JDE Jewels MLM opportunity.
JDE Jewels Products
JDE Jewels market a range of jewelry spanning yellow gold, white gold and rose gold across a variety of settings.
There is also a section on the JDE Jewels website where visitors can upload their own designs, suggesting some level of customization is available.
Basic product information is provided for each jewelry piece, however JDE Jewels do not provide pricing.
This might be because the company appears to be in the business of manufacturing knockoff inspired pieces.
We do not have any stocks on inventory.

Although we showcase the images on the website, these are just references of commissioned works we were asked to create.

Sometimes, the customized pieces of jewelry we were asked to create involves consultations with our clients thru a series of emails and several rough drafts by our clients if they sent us illustrations of their own design.

Usually, our clients send us pictures of jewelry they saw either online or from a magazine, then they send their specific changes to make it their own personalized jewelry.

All jewelry are hand crafted and manufactured upon confirmation of the order after the customer agree to the quoted price sent thru email.
Furthermore JDE Jewels jewelry is not available for retail purchase, only JDE Jewels affiliates may place orders.
The JDE Jewels Compensation Plan
JDE Jewels affiliates sign up and make a mandatory jewelry purchase.
Commissions are earned when they then recruit others who do the same.
A $50 direct recruitment commission is paid out when an affiliate's first two personally recruited affiliates sign up and make their first jewelry purchase.
Residual Commissions
JDE Jewels appear to track residual commissions via a 2×12 matrix.
A 2×12 matrix places a JDE Jewels affiliate at the top of a matrix, with two positions directly under them.

These two positions form the first level of the matrix.
The second level of the matrix is generated by splitting these first two positions into another two positions each (4 positions).
Levels three to twelve of the matrix are generated in the same manner, with each new level housing twice as many positions as the previous level.
As per a compensation plan description on the JDE Jewels website;
You are entitled to receive rebates on all initial purchases made by all your downlines upto the 12th level.

That's a total headcount of over 8,000 persons in your network.
A 2×12 matrix houses 8190 positions.
To qualify for residual commissions, a JDE Jewels affiliate must purchase jewelry and then personally recruit at least two affiliates who do the same.
The JDE Jewels website quotes a 2% commission on jewelry purchased by directly and indirectly recruited affiliates placed in their matrix.
Level Bonuses
JDE Jewels affiliates earn cash bonuses upon filling certain levels of their 2×12 matrix.
fill level 3 (8 positions) = $750 bonus
fill level 6 (64 positions) = $2250 bonus
fill level 9 (512 positions) = $12,000 bonus
fill level 12 (4096 positions) = $35,000 bonus and a "vacation voucher"
Joining JDE Jewels
JDE Jewels affiliate membership is tied to the purchase of one of the company's jewelry pieces.
No pricing is provided on the JDE Jewels website.
Conclusion
JDE Jewels is your classic product-based MLM pyramid scheme.

Retail isn't possible as all customers have access to the compensation plan upon purchasing a jewelry piece.
This makes every JDE Jewels customer an affiliate, meaning commissions are paid out directly and residually on recruitment.
Paying recruitment commissions in MLM without significant retail equivalent volume makes JDE Jewels a pyramid scheme.
With respect to the jewelry itself, I can't speak to the craftsmanship quality or pricing as no indication of either is provided.
Jewelry images presented on the JDE Jewels website look legit enough, however are ultimately meaningless without adequate product descriptions and pricing.
I'm also not sure whether trademark comes into play. Jewelry is a pretty competitive niche and if JDE Jewels are banging out replicas for clients, this might attract the attention of the companies they are replicating designs of.
One example is JDE Jewels' "Tiffany setting":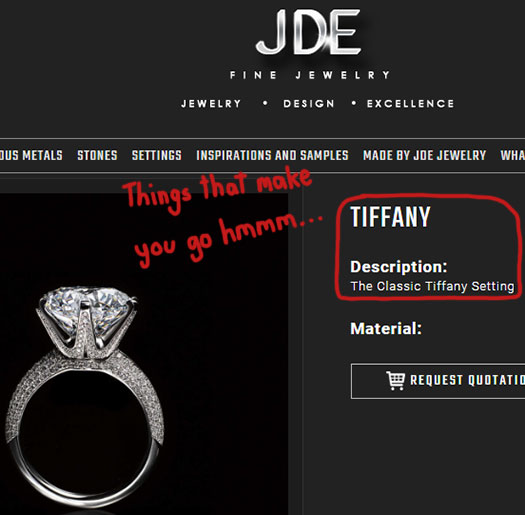 The specific Tiffany setting is a trademarked design. In 2013 Tiffany went after Costco for infringing on its trademark.
In February 2013 Tiffany & Co. filed a trademark infringement lawsuit against Costco Wholesale Corp. over Costco's practice of selling prong setting engagement rings described as "Tiffany setting" rings.

The lawsuit alleged that Costco was unlawfully using the "Tiffany" trademark to describe products that were not made or licensed by Tiffany & Co.
Sound familiar?
Costco's "generic use" defense was rejected and Tiffany went on to win the lawsuit in 2015.
Apparently there are entire malls dedicated to selling knockoffs in the Philippines, so that might explain why JDE Jewels are getting away with it.
In addition to being anti-consumer by way of failing to provide detailed information on pricing and their manufacturing process, JDE Jewels also fail to provide refunds.
JDE Jewelry does not accept returns because jewelries made are custom made.
One could argue that Philippine law only covers returns and exchanges when goods purchased are defective (which JDE Jewels do honor). Of note is JDE Jewels do ship internationally, which means their refund policy might come as a shock to customers living in countries with stronger consumer laws.
At the very least JDE Jewels' "no refunds" policy should be taken into consideration before purchase by any potential customers.
My take?
Custom-made or not, as far as the MLM industry goes not having a refund policy is a regulatory red flag. Especially when you're forcing affiliates to purchase products to qualify for commissions.
Perhaps when you're running what is essentially a product-based pyramid scheme though, regulatory compliance isn't a primary concern.
Update 25th June 2018 – Within a few hours of this review going live, Daisy Estrada reached out to us with a response to several issues raised above.
About pricing, as much as we would like to set prices on our website, we cannot.

As a bespoke jeweler, our prices depend on the materials,  complexity of the design and other fine details our customer may request.

Product information will be communicated to the customer during the  collaboration stage.

As members of the Guild, we are also privy to the trademarks, copyright and intellectual property rights of designers.

We sincerely apologize for the use and reference to the exclusive trademark owned by Tiffany & Co.

It was an honest mistake and was in no way
intentional.

This may sound cliche' but when we asked the developers to create content, we have inadvertently overlooked that particular detail.

Part of the process of creating bespoke jewelry is to find inspiration and sometimes the average consumer only relates to designs that are hip and  are already in the market by way of pictures that are available on the internet.

As such, we then suggest and veer away from trademarked designs and  advise our customers to be original and more creative.

JDE Jewelry is first and foremost a custom jeweler but we are now seeing the value in offering our own exclusive range of jewelry that are going to be available on the website.

Repairs are allowed for damaged goods and are free of charge, but once a customer agrees to a design and pricing for a commissioned work, once a mock up or a rendering is accepted, it is final.

Please understand that before it reaches that stage, several consultations with the customer has already  been met and confirmed.
I've also updated the compensation plan information to better reflect the $50 commission is paid out on an affiliate's first two recruits only.