iSexy Party Network Review: RedPoint e-commerce portal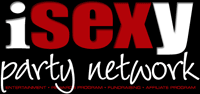 iSexy Party Network operate in the eCommerce MLM niche and are based out of Georgia in the US.
Heading up iSexy Party Network is Founder and CEO, Blaine Klingaman.
One thing I noticed was a copyright message on the footer of the iSexy Party Network website, claiming that "iSexy Party Network, LLC" has been around since 1995.
The iSexy Party Network website domain was only registered in 2014, suggesting that the current iteration definitely hasn't been around for 20 years.
Furthermore I looked up iSexy Party Network LLC on the Georgia Corporations Division website, only to discover the business was registered in April, 2015.

Klingaman has been promoting various "iSexy" branded opportunities on his Facebook profile since 2012, but they don't appear to be similar to iSexy Party Network's e-commerce offering.
Not sure what the story is there with that copyright notice, but it's pretty misleading to claim you've been around 20 years when you haven't.
On the MLM history side of things, Klingaman has been affiliate with GBG, NuSkin and Vemma.
Read on for a full review of the iSexy Party Network MLM business opportunity.
The iSexy Party Network Product Line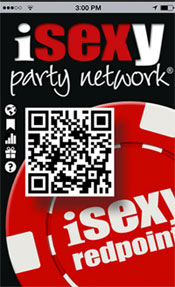 iSexy Party Network run an e-commerce portal, which their affiliates market to third-party merchants.
Examples of merchants provided on the iSexy Party Network include 'bars, bar related businesses, eateries, coffee shops, retail stores, nail and hair salons, accommodations and more'.
Signing up as a iSexy Party Network is free, however businesses must be willing to promote the company offline (a window sticker) and online (an iSexy Party Network ad banner on the merchant's website).
The basic idea behind the platform is merchants sign up to the network and then start offering their customers "RedPoints".
How a merchant rewards RedPoints to their customers is up to them, but iSexy Party Network bill them at a rate of 1 cent per RedPoint issued.
Accumulated RedPoints can then be redeemed at a "gift store" hosted on the iSexy Party Network website:
The dollar value of one iSexy Redpoint is one-tenth of one cent. If you do not have enough iSexy Redpoints, you may pay the balance with an Online Payment.
At the time of publication there are 323 gifts advertised in the store across a broad range of categories.
Customers collect RedPoints via an iSexy Party Network phone app. The app is free and also provides a directory of participating merchants for them to visit.
Merchants can also offer discount vouchers through the app, at a cost of $19.69 per month per coupon offered to customers.
The iSexy Party Network Compensation Plan
Commissions in iSexy Party Network are paid on the fees merchants pay for distributed RedPoints to their customers.
Merchants pay a 1 cent fee per RedPoint handed out, with iSexy Party Network using a unilevel compensation structure to pay commissions with.
A unilevel compensation structure places an affiliate at the top of a unilevel team, with every personally recruited affiliate placed directly under them (level 1):

If any level 1 affiliates go on to recruit new affiliates they are placed on level 2 of the original affiliates unilevel team.
If any level 2 affiliates recruit new affiliates they are placed on level 3 and so on and so forth down a theoretical infinite number of levels.
iSexy Party Network cap payable unilevel levels at three, with commissions paid as a percentage of the fees merchants pay for RedPoints:
level 1 (merchants personally signed up) – 10%
level 2 (merchants personally recruited affiliates signed up) – 5%
level 3 (merchants level 2 affiliates signed up) – 3%
Joining iSexy Party Network
Affiliate membership with iSexy Party Network is free.
Conclusion
It's an easy sell, simply find Nightclubs, Bars, Eateries, Coffee Shops, Retail Stores, Nail and Hair Salons, Accommodations, etc., that are seeking the best online, on location and B2B cross promotion money can't buy, who also want to maximize their revenue, build a stronger and more loyal customer base!
iSexy Party Network offer up a pretty solid marketing opportunity, with affiliates marketing to a readily identifiable customer base (third-party merchants).
That said the success of an iSexy Party Network does heavily rely on the type of businesses they can pitch the eCommerce platform to. It then secondarily relies on how effective these businesses are at pushing iSexy Party Network app usage onto their customers.
In that sense an affiliate could sign up a bunch of merchants but then have little RedPoint activity to show for it. That an affiliate's own efforts aren't the sole determiner of commissions paid out is something to keep in mind.
Also keep in mind that if you're living in an area with active iSexy Party Network affiliates, marketing the platform might be rough.
At the time of publication most of the merchants participating are based out of Georgia, which is a likely reflection of Blaine Klingaman's own marketing efforts. There are two international merchants participating though, one in Berlin and one in Paris.
The iSexy Party Network compensation plan is straight-forward enough, rewarding affiliates for attracting merchants with customers who engage with the RedPoint concept.
Recruitment isn't an issue, with commission paid out solely on businesses paying for RedPoints.
One thing that did strike me as odd with the mall was the following disclaimer:
Each iSexy Redpoints Gift Mall Store is independently owned, operated and the responsibility of its owner.

Store Owners reserve the right to change Prices & Redpoint Values and add or delete gifts whenever necessary at their sole discretion.
I take it "store owners" are affiliates, which was unexpected. I first though the iSexy Party Network mall was a central offering, but that doesn't seem to be the case.
This could mean differences between offerings at various malls might turn off users of the app. Which could lead to problems since user adoption of the app and accumulation of RedPoints is pretty much the core of the business.
If the malls aren't attractive, customers of merchants have no incentive to collect RedPoints.
As a prospective iSexy Party Network affiliate, first check you're comfortable mentioning the name of the business in public.
Then, have a scout around to see if there's already an affiliate active in you area. The easiest way to do this is through the app (check for signed merchants in your area).
If both of those aren't a problem, the next step might be to test the waters with a few local businesses. If they sound interested, sign up as an affiliate and go from there.
Good luck!