GBG Review: "Copyrighted" phantom matrix positions?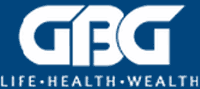 GBG seems to have origins dating back to 1996, with its latest incarnation launching around 2007 and seeing the company market dietary supplements.
The Founder of GBG is Stuart Finger. For reasons unknown however Finger doesn't run GBG, but instead is listed on the company website as a master distributor.
Heading up GBG as CEO is Michael Kahn. Not that I have anything against Kahn, but I did think it somewhat odd to have the founder of an MLM company only on board as a Master Distributor.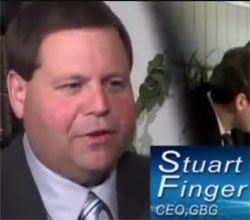 Research indicates that at one time Finger (right) was serving as GBG CEO, but I wasn't able to find any information revealing why he stepped down.
I also couldn't help but notice the other two Master Distributors listed had the same "Finger" surname – indicating that some of Stuart Finger's family are on board as affiliates only (again slightly odd).
Nowhere is this better highlighted than in the GBG marketing video used to introduce the company, which features Stuart Finger talking about launching GBG. He repeatedly refers to it as "his" company, yet he's not running it.
In the marketing video, titled "Stu's message", Finger claims to have started GBG after being successful in other MLM opportunities but having a downline that failed to duplicate his success. He states he created the GBG compensation plan to specifically address this issue.
As per Finger's "Master Distributor" GBG corporate bio,
Stuart has been a successful network marketer for more than 20 years but was frustrated with other network marketing companies' degree of difficulty. He could never help enough other people achieve the level of success he enjoyed.

Finally, in 1996, he started his own network marketing company designed for everyone to experience true financial independence.

Under Stuart's watch, the original GBG grew from a small telecommunications business to a thriving network marketing company that has benefited tens of thousands of independent, successful GBG representatives across the United States.
Prior to GBG, the company was called International Teamworks Inc (ITI) and from what I've been able to gather, resold telecommunications services provided by "TTI National". 
This account dated August 1999 (in protest of ITI affiliate marketing tactics) clarifies the origins of Finger's company:
"Phenomenal Growth" and "Superior Compensation;" that's the ITI "story," but it's time to get the TRUTH out to the public.

ITI is a small marketing company out of Vacaville, California. It was founded by Steve & Stuart Finger, former Excel Reps.

ITI has no products or services of their own. They often claim that they market services for MCI WorldCom. The TRUTH of the matter is that they market LD services for a small reseller called TTI National.
The company Excel mentioned above refers to Excel Communications, another player in the MLM telecommunication niche at the time. I'm guessing that's the company Finger refers to in GBG marketing videos that his downline was unable to earn in.
Today the GBG website domain is registered to "Globus Holdings, LLC", this would appear to be a parent company of GBG itself (registered in Nevada). But how it's been around for I can't say.
As for Michael Kahn, he would appear to be an "in-house" success story:
Michael joined GBG in 1998, having never done network marketing before. GBG is his one and only networking "home." As one of GBG's most successful Team Leaders, Michael has experienced tremendous success and has also helped thousands of others to do the same.

Over the years GBG has awarded him "MVP", "Top Gun", "National Corporate Trainer", "#1 Income Earner", "#1 Team Recruiter", "#1 Personal Recruiter", and many more awards.
Kudos to GBG for training and promoting one of their own. That's something we should be seeing more of in the industry at large.
Oh and finally, if you're curious – GBG stands for "Guided By God".
There's no mention of this anywhere on the GBG website, which is thankfully doesn't rely on this religious connection to market the company. But the name does result in affiliate marketing spiels like this:
Christian Business Opportunity

GBG – GUIDED BY GOD!

Yes! GBG is a Christian Business Opportunity and the GBG Family Team is a team of people dedicated to your success in this business.

As a Christian, I was delighted to find out that the Founder and CEO of GBG, Stuart Finger was a Christian and that GBG stood for GUIDED BY GOD.

Some people upon finding this out, ask, "what God?" Stuart Finger, a believer in Jesus Christ as his Saviour, called the company Guided By God because as he says, "GBG is not 'Guided By Stu Finger', it's 'Guided By God!'"
I've personally don't have anything against religion, but I do think it's inappropriate to market business opportunities on the premise of legitimacy by religious association (be it Christianity or another faith).
That said, religious marketing doesn't seem to be a core focal point of the company itself. At least not publicly, as evidenced by the GBG website.
Read on for a full review of the GBG MLM business opportunity.

The GBG Product Line
Two products are listed on the GBG website, a "10-in-one-chewable" and "MA+ IGP".
The 10-in-one-chewable (actual name of the product), is a marketed as a "10-in-ONE Super Formula".
The ten formulas that make up the product include:
multi-vitamin & mineral
cardiovascular
anti-stress
super-antioxidant
immune enhancer
memory and mood enhancing
energizer
digestive aid
bone & joint and
vision support
The second product, "MA+ IGP" (again, actual name), 'stimulates your body's own natural antioxidant system!'
No prices are provided on the GBG website, with the company only stating that 'pricing and packaging may also be different in certain countries.'
An "Order Now" link features on the site, however if one clicks on it a visitor is blocked with the following message:
You must find a distributor to enroll under.
The reason behind this appears to be a lack of a retail offering, with the GBG compensation plan stating that
By buying any one product, you become a Gold Member.
"Gold member" is how GBG refer to their affiliates.
The only place I found mention of GBG's product prices was in their compensation plan, where it is revealed a bottle of the 10-in-one formula is $39.97. The price of MA+ IGP is not disclosed.
The GBG Compensation Plan
GBG claim their compensation plan uses a "Copyrighted Regenerating Matrix".
GBG Master Distributor, Stuart Finger, spent years researching hundreds of pay plans and attempting to find one that would benefit the average person while still offering unlimited income to the leaders.

He finally invented one himself that "fixes" the standard forced matrix so that it not only works for the average networker but now, for the first time ever, it can create more wealth for the "hitters" than ever before.

GBG had it copyrighted so no other company can ever duplicate it.
Recruitment Commissions
The more people you enroll, the bigger your Continuing Enroller Bonus will become.
With every purchase of GBG product qualifying a customer as a "Gold member" affiliate, defacto recruitment commissions are paid out when a new affiliate is recruited.
For Gold members, $10 is paid out whenever a GBG customer places their first order (and becomes an affiliate). Subsequent orders by recruited affiliates generate an additional $5 commission.
For Platinum members, $20 is paid out on the recruitment of a new affiliate (a product order is placed). $10 is paid out on every subsequent order made.
Note that these commission amounts appear to be fixed, regardless of the size of the order placed.
Residual Matrix Commissions
GBG offer affiliates residual monthly commissions by way of a 2×30 matrix.
A 2×30 matrix places an affiliate at the top of two matrix positions (level 1). In turn, these two positions branch out into another two positions each (level 2) and so on and so forth down a theoretical infinite number of levels.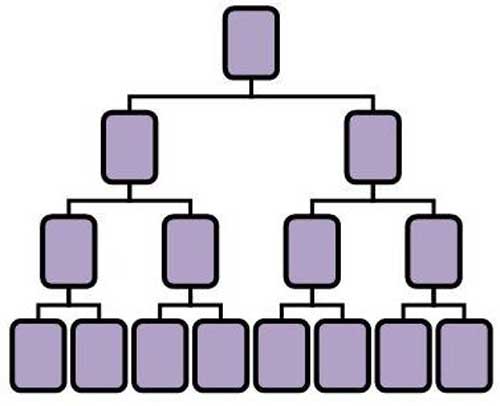 Filled position in the matrix represents a recruited affiliate, with commissions paid out when affiliates order GBG product.
Typically all filled positions in an MLM matrix represent a recruited affiliate, however in GBG additional phantom positions are created with the recruitment of each new affiliate.
Every time you enroll a new person into GBG (after your first two) you not only get paid a Fast Start Enroller Bonus, you also receive a new position in your matrix right above the new person that you just enrolled.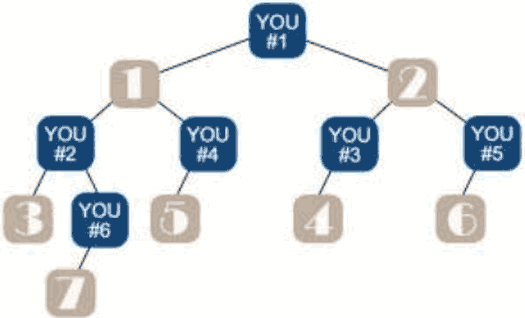 These phantom positions effectively permit a GBG affiliate to double up on commissions received from the same sales volume, with the more affiliates personally recruited resulting in more phantom matrix positions.
Matrix commissions are paid on sales volume of GBG product orders made by recruited affiliates, with how much being paid out determined by what level of the matrix an affiliate falls on.
recruit 2 affiliates as a Gold affiliate (but a product)- 25 cents on levels 1 to 5, 50 cents on levels 6 to 9 and $2.50 on level 10.
recruit 2 affiliates as a Platinum affiliate (buy a Platinum pack) – 50 cents on levels 1 to 5, $1 on levels 6 to 9 and $5 on level 10
Managing Platinum (recruit 1 Platinum affiliate) – 50 cents on levels 1 to 5, $1 on levels 6 to 9, $5 on level 10 and $1 on levels 11 and 12
Executive Platinum (recruit 2 Platinum affiliates) – 50 cents on levels 1 to 5, $1 on levels 6 to 9, $5 on level 10, $1 on levels 11 and 12 and 50 cents on levels 13 to 15
Presidential Platinum and above (recruit 3 Platinum affiliates) – 50 cents on levels 1 to 5, $1 on levels 6 to 9, $5 on level 10, $1 on levels 11 to 15 and 25 cents on levels 16 to 30
Platinum Promotion Bonus
Higher Bonuses can be earned by Presidential Platinums who continue to Personally Enroll More Platinums!
When a GBG affiliate's personally recruited affiliate's recruit two Platinum affiliates of their own, a Platinum Promotion Bonus is triggered for the affiliate who recruited them.
Eg. I recruit A, A recruits two new Platinum affiliates, I get paid.
How much is paid out depends on what level of the 2×30 matrix the affiliate who recruited the two new Platinum affiliates is placed:
Gold affiliates – $2.50 on levels 1 to 10
Platinum affiliates – $5 on levels 1 to 5, $15 on levels 6 to 8, $25 on level 9 and $30 on level 10
Managing Platinum – $5 on levels 1 to 5, $15 on levels 6 to 8, $25 on level 9, $30 on level 10 and $2.50 on levels 11 and 12
Executive Platinum – $5 on levels 1 to 5, $15 on levels 6 to 8, $25 on level 9, $30 on level 10 and $2.50 on levels 11 to 15
Presidential Platinum – $5 on levels 1 to 5, $15 on levels 6 to 8, $25 on level 9, $30 on level 10 and $2.50 on levels 11 to 30
Presidential Executive Platinum – $5 on levels 1 to 5, $15 on levels 6 to 8, $25 on level 9, $30 on level 10 and $5 on levels 11 to 30
Joining GBG
The cost of GBG affiliate membership is at a minimum $39.97 a month.
Platinum affiliate membership is $399.97.
The main difference between Platinum and regular Gold affiliate membership is the doubling of matrix commissions.
Conclusion
There are several glaring issues with GBG's compensation plan and business model.
For starters, retail doesn't technically exist, with "Gold membership" being offered to anyone who purchases a product. Gold members have access to the compensation plan and can earn commissions, and are therefore participants in the business opportunity (affiliates).
Thus it is impossible to retail GBG's products.
One might argue that choosing not to recruit any new affiliates differentiates affiliates from retail customers, however this is not the case. An affiliate who chooses not to recruit and earn commissions is still an affiliate.
Most revealing is the absence of product costs and even that of the Platinum pack on the GBG website. This information is simply not provided to the public, with GBG instead providing basic product information and flogging the merits of their "copyrighted" compensation plan.
Not good enough.
Through independent research I was able to ascertain the Platinum packages offered (there's more than one), cost $399.97. I've read this was once an annual fee (circa 2010), however I'm not sure if that's still the case.
In any event the Platinum package in and of itself isn't problematic, it's how it's integrated into the GBG compensation plan that's the issue.
By paying $399.97, a GBG affiliate effectively doubles their commissions on the recruitment side of things as well as in the matrix.
This introduces a strong pay-to-play component into the GBG business model, which is nowhere better illustrated than in the GBG compensation plan summary:

Recruitment is also an issue, with affiliates indirectly compensated through the matrix based on how many Premium affiliates they recruit. Infact the Platinum Promotion Bonus solely pays an affiliate for doing nothing more than encouraging their personal recruits to recruit $399.97 fee-paying affiliates of their own.
They do the same, their recruits do the same, yadayadayada nobody is selling anything to retail customers.
The phantom matrix positions offered (referred to as "pay points") are also another form of recruitment incentives, with a new one appearing each time a new affiliate is recruited.
Pay Points are like income earning "clones" of your original position.
And if somebody wants to inform me of where you go to "copyright" MLM compensation plans, I'm all ears.
In a nutshell, the core thrust of the GBG business opportunity is to pay your $399.97 entrance fee and start recruiting other affiliates who do the same.
When you place your first order, you will have the OPTION to upgrade to a Platinum Membership with a Platinum Package, which is the fastest way to access the more lucrative Platinum Pay Plan. "
Then as long as everyone then keeps spending $39.97 a month, everyone gets paid.
Finally, as if the motivation behind GBG product questions wasn't already questionable enough, the company also forces affiliates to purchase at least $39.97 worth of product each month to qualify for commissions:
GBGallows everyone in any position or rank to earn the full amount available to them by just purchasing any one product per month for as low as $39.97.
Sign up with your $399.97 fee and pay your monthly $39.97 fee to qualify to earn commissions of others you recruit who do the same.
As with all recruitment-driven schemes, once those at the bottom of GBG pay plan struggle to recruit new affiliates, they'll likely stop paying their monthly commission qualification fee.
Once that happens, those above them will find their matrix income shrink, or dry up altogether if enough people stop paying.
Once the point of no return is tipped (the effect has trickled far up enough along the company-wide matrix), kaboom.
Sitting at the top of a 2×30 matrix (2-3 billion position capacity) with god knows how many phantom matrix positions he's double-dipping from, that's one healthy money spinner for founder Stuart Finger and his co-Master Distributor family members.
For everyone else… yeah. Good luck with that.