Inwell Review: $5 to $10,000 investment & annual ROIs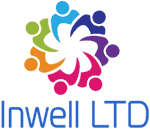 There is no information on the Inwell website indicating who owns or runs the business.
The Inwell website domain ("inwell.biz") was registered on the 29th of August 2015, however the domain registration is set to private.
Inwell claim to be registered in the UK, with a Certificate of Incorporation of a Private Limited Company for "Inwell LTD" provided on their website.
It should be noted that UK registration requires little more than payment of a fee and a rented mailbox – no physical presence in the UK is required.
Another document on the Inwell website lists a "Scott Jameson" as the company Director.
I'm flagging this generic Anglo-Saxon name as likely a false identity however, with Inwell instead likely run by an individual or individuals in Russia.
The first clue is that an Inwell marketing presentation video on the company website is only available in English and Russian.
The English presentation has been dubbed over, with slides from the Russian video used: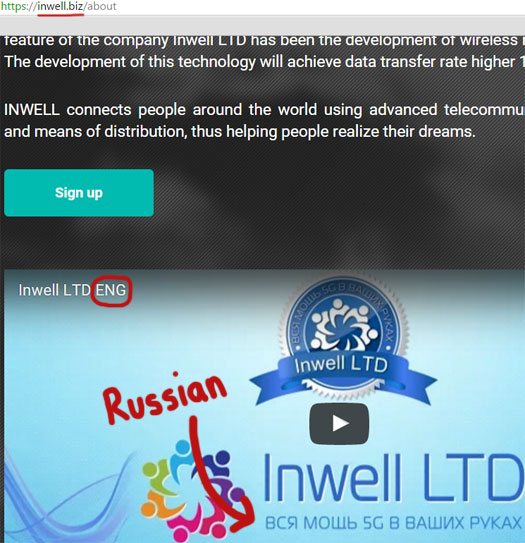 Alexa traffic estimates support this, with Russia and the Ukraine making up 79.2% of all traffic to the Inwell website.
Furthermore, "Scott Jameson" doesn't appear to exist outside of Inwell's UK registration documents.
As always, if an MLM company is not openly upfront about who is running or owns it, think long and hard about joining and/or handing over any money.
The Inwell Product Line
Inwell has no retailable products or services, with affiliates only able to market Inwell affiliate membership itself.
The Inwell Compensation Plan
The Inwell compensation plan sees affiliates invest between $5 to $800, with commissions paid when they recruit other affiliates who do the same.
Recruitment Commissions
Recruitment commissions are paid when Inwell affiliates recruit new affiliates, with how much of a commission paid out determined by how much is spent by the newly recruited affiliate.
How much the affiliate receiving the commission is also a factor:
sign up as a Starter affiliate ($50) = receive $5 per affiliate recruited (any package)
sign up as a Premium affiliate ($500) = receive $5 per Starter affiliate recruited and $40 for all others
sign up as a Lux affiliate ($2000) = receive $5 per Starter affiliate recruited, $40 for a Premium affiliate and $160 for a Lux or Elite affiliate
sign up as an Elite affiliate ($10,000) – receive $5 per Starter affiliate recruited, $40 for a Premium affiliate, $160 for a Lux affiliate and $800 for an Elite affiliate
Residual Commissions
Residual commissions in Inwell are paid out via a binary compensation structure.
A binary compensation structure places an affiliate at the top of a binary team, split into two sides (left and right):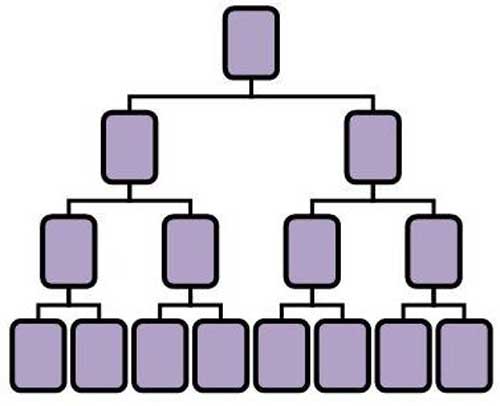 Funds spent by new affiliates are tracked on both sides of the binary, with commissions paid out using a 1:1 matching ratio.
That is, for each invested amount matched on both sides of the binary, a commission is paid out.
How much of a commission is paid out is determined by how much the matched affiliates invested, as well as the affiliate receiving the commission:
Starter affiliate = paid $5 per affiliates matched (any package)
Premium affiliate = paid $5 per Starter affiliates matched and $50 on all other package matches
Lux affiliate = paid $5 per Starter affiliates matched, $50 per Premium affiliate match and $200 per Lux and Elite affiliate match
Elite affiliate = paid $5 per Starter affiliates matches, $50 per Premium affiliate match, $200 per Lux affiliate match and $1000 per Elite affiliate match
Note that in order to qualify for binary commissions, an Inwell affiliate must recruit at least two new affiliates.
Rank Achievement Bonus
A single match in an Inwell affiliate's binary team is referred to as a "cycle".
Cycles are tallied up over the life of an affiliate's account, with cash bonuses paid out upon reaching a set number of cycles in a week:
Sapphire (100 cycles) – $1000
Emerald (150 cycles) – $2000
Ruby (200 cycles) – $3000
Diamond (250 cycles) – $5000
Blue Diamond (500 cycles) – $10,000
Red Diamond (1000 cycles) – $20,000
Note that these are one-time payments. An affiliate can't qualify for a rank achievement bonus payout twice.
Passive ROIs
Upon investing in a package, Inwell affiliates are paid the following monthly passive ROIs:
Starter ($50) – $8 a month ($96 ROI)
Premium ($500) – $85 a month ($1020 ROI)
Lux ($2000) – $360 a month ($4320 ROI)
Elite ($10,000) – $2000 a month ($24,000 ROI)
Monthly ROIs made with Inwell are paid out for 12 months.
Elite Diamond Pool
If an Inwell affiliate achieves 1500 cycles in a week, they qualify as an "Elite Diamond".
Elite Diamond affiliates (and above) in turn qualify for a share of "up to 2%" in Inwell's global investment volume.
Joining Inwell
Affiliate membership with Inwell is tied to investment in one of the four offered packages:
Starter – $50
Premium – $500
Lux – $2000
Elite – $10,000
Investment packages are good for a year, with the primary difference between them being income potential through the Inwell compensation plan:
Starter affiliates are capped at $250 in weekly commissions
Premium affiliates are capped at $10,000 in weekly commissions
Lux affiliates are capped at $50,000 in weekly commissions
Elite affiliate earnings are not capped
Conclusion
With no external source of revenue and nothing being marketed or sold to retail customers, Inwell offer up a Ponzi pyramid hybrid.
The Ponzi scheme is obvious, with affiliates investing up to $10,000 on the promise of advertised $24,000 annual ROIs.
This is tied to a pyramid scheme backend, which directly (recruitment commissions) and indirectly (binary commissions) pays affiliates to recruit new investors.
This is essential as without a constant stream of newly invested funds, Inwell will collapse.
Pay to play is also a concern, with how much an affiliate invests determining their monthly ROI and direct and indirect recruitment commission amounts.
On paper the Inwell ROIs offered are pretty pie in the sky, with the recruitment commissions only further draining available funds.
My guess is the annual ROI is not withdrawable until it's paid out in full. Otherwise, no matter how much invested, Inwell is going to collapse after a few months.
You're looking at 200%+ paid out in ROIs, with funds also paid out through the binary on top of the direct recruitment commissions offered.
That's a lot of liability per investment made (even by Ponzi standards), which means the owner(s) are probably banking on investors not realizing the scheme is going under until it's too late.
At that point whoever is running Inwell out of Russia disappears, along with everyone's money.