Infinity Pi Review: Pi token Ponzi scheme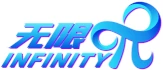 Infinity Pi fails to provide ownership or executive information on its website.
Infinity Pi's website domain ("infinitypi.io"), was privately registered on August 11th, 2023.
Of note is Infinity Pi's use of Chinese in its logo and marketing materials: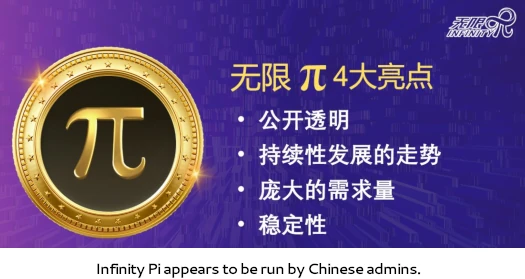 This strongly suggests whoever is running Infinity Pi has ties to China.
As always, if an MLM company is not openly upfront about who is running or owns it, think long and hard about joining and/or handing over any money
Infinity Pi's Products
Infinity Pi has no retailable products or services.
Affiliates are only able to market Infinity Pi affiliate membership itself.
Infinity Pi's Compensation Plan
Infinity Pi affiliates invest tether (USDT). This is done on the promise of advertised returns:
invest 500 USDT and receive 500 Pi tokens (locked) and 0.7% a day
invest 1000 USDT and receive (not disclosed) Pi tokens (locked) and 0.8% a day
invest 2000 USDT and receive 2500 Pi tokens (locked) and 0.9% a day
invest 5000 USDT and receive 5000 Pi tokens (locked) and 1% a day
Locked Pi tokens are unlocked across for stages via company-wide investment quotas. These quotas start tracking after October 20th.
Note that Infinity Pi pays returns in Pi Coin, which must be converted back into USDT for a return to actually be realized.
Infinity Pi caps returns at 360% on all four investment tiers. This includes the daily ROI, as well as MLM commissions paid out.
After the 360% cap is reached, reinvestment is required to continue earning.
The MLM side of Infinity Pi pays on recruitment of affiliate investors.
Infinity Pi Affiliate Ranks
There are six ranks within Infinity Pi's compensation plan.
Along with their respective qualification criteria, they are as follows:
V1 – invest 500 USDT or generate 20,000 USDT in downline investment volume
V2 – invest 2000 USDT or recruit two V1 or higher ranked affiliates
V3 – invest 5000 USDT or recruit two V2 or higher ranked affiliates
V4 – recruit three V3 or higher ranked affiliates
V5 – recruit three V4 or higher ranked affiliates
V6 – recruit four V5 or higher ranked affiliates
Referral Commissions
Infinity Pi affiliates receive a 15% commission on tether invested by personally recruited affiliates.
Residual Commissions
Infinity Pi pays residual commissions via a unilevel compensation structure.
A unilevel compensation structure places an affiliate at the top of a unilevel team, with every personally recruited affiliate placed directly under them (level 1):

If any level 1 affiliates recruit new affiliates, they are placed on level 2 of the original affiliate's unilevel team.
If any level 2 affiliates recruit new affiliates, they are placed on level 3 and so on and so forth down a theoretical infinite number of levels.
Infinity Pi caps payable unilevel team levels at five.
Referral commissions are paid out as a percentage of daily returns (in Pi token), paid out across these five levels as follows:
level 1 (personally recruited affiliates) – 10%
level 2 – 4%
levels 3 to 5 – 2%
Note that each level must be unlocked through recruitment of Infinity Pi investors:
recruit one affiliate to unlock level 1 of the unilevel team
recruit two affiliates to unlock level 2 of the unilevel team
recruit three affiliates to unlock level 3 of the unilevel team
recruit four affiliates to unlock level 4 of the unilevel team
recruit five affiliates to unlock level 5 of the unilevel team
Global Claim Fee
Infinity Pi charges a 5% withdrawal fee on returns paid out.
2.5% of this 5% fee is placed into a Global Claim Fee pool.
invest 500 USDT and qualify for one share in the Global Claim Fee pool
invest 2000 USDT and qualify for two shares in the Global Claim Fee pool
invest 5000 USDT and qualify for three shares in the Global Claim Fee pool
Although not specified, it's assumed the Global Claim Fee pool is paid out monthly.
Team Reward
Team Reward is a rank-based bonus paid on downline investment.
V1 ranked affiliates earn a 5% Team Reward
V2 ranked affiliates earn a 10% Team Reward
V3 ranked affiliates earn a 20% Team Reward
V4 ranked affiliates earn a 30% Team Reward
V5 ranked affiliates earn a 40% Team Reward (reduced to 5% on V5 and higher ranked affiliates)
V6 ranked affiliates earn a 50% Team Reward (reduced to 5% on V6 ranked affiliates)
Note that the Team Reward is paid out on in Pi tokens.
Joining Infinity Pi
Infinity Pi affiliate membership is free.
Full participation in the attached income opportunity requires a minimum 500 USDT investment.
Infinity Pi
There's not much to Infinity Pi. It's a simple MLM crypto Ponzi scheme, seemingly run by Chinese scammers.
Infinity Pi doesn't have an external revenue ruse, it's just invested tether being recycled to pay withdrawals.
Tether is invested, which Infinity Pi's admins, early investors and top recruiters steal.
In order for this to happen, the majority of Infinity Pi investors must take a loss.
Inside Infinity Pi we have Pi token, a buffer against anyone else stealing invested tether first.
Pi token is a BEP-20 shit token. BEP-20 tokens are created in a few minutes at little to no cost.
As with all MLM Ponzi schemes, once affiliate recruitment dries up so too will new investment.
This will starve Infinity Pi of ROI revenue, eventually prompting a collapse.
The math behind Ponzi schemes guarantees the majority of participants lose money.