Icanget2 Review: Send messages via an app? Tell me more!

Icanget2 launched earlier this year and operate in the mobile app MLM niche.
Heading up Icanget2 is Founder and CEO, Michael Glaspie.
Glaspie has been marketed on the internet for a number of years. Numerous marketing material around the internet (likely published by Glaspie himself) claims his online marketing career dates back as far as 1998.
Glaspie's marketing beginnings appear to have started with a company called Webnet.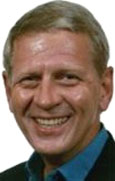 Reads one "CEO bio" for Glaspie (right):
Michael T. Glaspie is Chairman and Founder of one of the nation's largest privately held internet service companies.

He started Webnet International as the foundational organization for the development of independent, yet synergistic Internet companies covering the gamut of advertising resources commonly used for effective, targeted web advertising.
Marketing companies attributed to Glaspie include Spam Terminator, MySiteInc, BannersGoMLM, Banner Co-op, Free Links Network, Free Marketing Info and Block Spam Now.
Having previously built a telecommunications organization from scratch to an $18 million+ per annum success story, Michael now devotes himself to helping others "figure it out" by teaching hopeful "netpreneurs" how to market any product, service, program or opportunity on the net.
More recently, Glaspie was "helping others figure it out" through Team Vinh. The Team Vinh website states Glaspie was "a friend and equity partner" in the company.
A Team Vinh newsletter cites Glaspie as being on Team Vinh's Board of Directors, as head of their "marketing consortium".
Late last year the SEC shut down Team Vinh, revealing it to be a $3 million dollar Ponzi scheme. How much money Glaspie made in Team Vinh is unclear.
The Icanget2 Facebook page was created on or around February 5th, 2016. This suggests that the company only came about following regulatory action taken against Team Vinh.
Read on for a full review of the Icanget2 MLM business opportunity.
The Icanget2 Product Line
Icanget2 has no retailable products or services, with affiliates only able to market Icanget2 affiliate membership itself ($14.95 a month).
Bundled with Icanget2 affiliate membership is access to a "Silent Salesman" mobile app.
Think of our Silent Salesman smartphone app as a world-wide Mobile Marketing tool. But it's also a customer retention tool. And it is a communication method that beats the socks off email marketing… every time!

Use your app to provide up to date information to your customers. Change your app's content whenever you wish. Use it to offer monthly, weekly, or even daily specials.

Send out notifications whenever you like to push traffic back to your app or website or storefront!
In a nutshell, people download an Icanget2 affiliate's branded Silent Salesman app. The affiliate can then bombard them with marketing material.
The Icanget2 Compensation Plan
The Icanget2 compensation plan pays affiliates to recruit new affiliates, both directly and residually via a 2×14 matrix.
Recruitment Commissions
Icanget2 affiliates are paid $3 a month for each affiliate they personally recruit.
Residual Commissions
Residual commissions in Icanget2 are paid out via a 2×14 matrix-based compensation structure.
A 2×14 matrix places an affiliate at the top of a matrix, with two positions directly under them: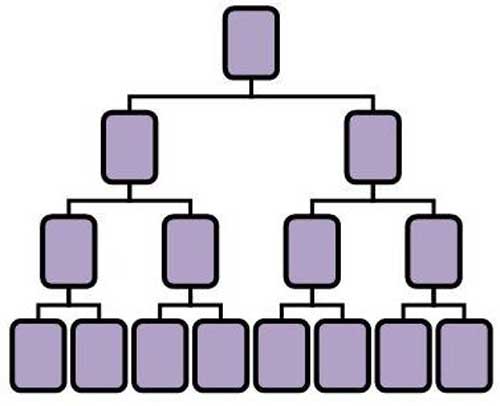 These two positions form the first level of the matrix, with the second level generated by splitting each of the two positions into another two positions each.
The third level of the matrix is generated in the same manner, holding eight positions.
Each subsequent level of the matrix is generated based on this design, with a full 2×14 matrix housing 32,766 positions.
Commissions are paid out as positions in the matrix are filled. Positions in the matrix are filled via the direct and indirect recruitment of new Icanget2 affiliates.
How much of a commission is paid out is determined by what level of the matrix recruited affiliates are placed on:
levels 1 to 10 – 25 cents per month per affiliate recruited
levels 11 and 12 – 50 cents per month per affiliate recruited
level 13 – $1 per month per affiliate recruited
level 14 – $1.50 per month per affiliate recruited
If an affiliate fills their initial 2×14 matrix, they are placed into a new 2×14 matrix. Commissions are still paid out on their existing matrix.
Joining Icanget2
Affiliate membership with Icanget2 is $14.95 a month.
Conclusion
From the Icanget2 website;
Would you like to earn up to $36,351 per month (or more) by inviting just two people (or less) into a $14.95/mo program?
With nothing being marketed to or sold to retail customers, Icanget2 serves up a chain-recruitment scheme.
You pay $14.95 a month to qualify to earn commissions when you recruit others who do the same. So long as everyone continues to pay $14.95 a month – you get paid.
This is in line with Glaspie's Icanget2 bio, which openly boasts about his recruitment prowess:
Apparently word has gotten around that I am the only person in the world that has put more than 11,000 people into a single network marketing program and that program sold for $79 and $49 to be a member.

And all of these people were direct signups, not downline. To my knowledge no one has stepped forward or even come close to this record. And this record is not something I have made up but has been told to me many times by network marketing company owners.

I am also told that I am the only person in the world to put more than 5,000 people into a network marketing program, and in fact I've done that with two different companies. And each of those programs were over $49 to join and over $49 a month to stay a member. Again, directly sponsored people.
What's the best retail didn't exist in any of those opportunities either?
With respect to Icanget2's app, it doesn't appear to be anything of note. Essentially it allows owners to build a cell-based notification list.
The ability to create groups you can send messages to is a staple feature in a number of free communication apps currently available.
Quite clearly this is a product that exists to push the Icanget2 income opportunity, when it should be the other way around.
As with all such schemes, once recruitment dries up those at the bottom of the Icanget2 company-wide matrix will realize they're losing money each month.
That means they'll stop paying their monthly fees, which means those above them will stop getting paid.
Those affiliates also stop paying their monthly fees, with this effect trickling up the company-wide matrix until an irreversible collapse is triggered.
The bottom level of the matrix is always the largest, ensuring that when the collapse hits most affiliates will have lost money.
Oh and I wouldn't at all be surprised if Icanget2 was preloaded with a bunch of ex-Team Vinh investors either…