Hedger Tech Review: Hedger insurance coin?

Hedger Tech operates in the cryptocurrency MLM niche. Other than an email address, the company provides no contact information.
Hedger Tech don't provide management details on their website, but their whitepaper cites Leo Bathan as Chairman and CEO.

Bathan doesn't have a digital footprint outside of the Hedger Tech whitepaper, which I'm flagging as highly suspicious.
Either Bathan doesn't exist or is being represented by someone with a different name (typically a stolen image or an actor is used).
The Hedger Tech website domain ("hedger.tech") was privately registered on May 18th, 2018.
Hedger Tech also run Hedger Mining, through which affiliate investment is solicited through.
The Hedger Mining website domain ("hedgermining.com") was privately registered on September 14th, 2018.
As always, if an MLM company is not openly upfront about who is running or owns it, think long and hard about joining and/or handing over any money.
Hedger Tech Products
Hedger Tech has no retailable products or services, with affiliates only able to market Hedger Tech affiliate membership itself.
The Hedger Tech Compensation Plan
Hedger Tech affiliates invest funds on the promise of an advertised ROI.
Starter – invest $500 or more and receive a 19.58% monthly ROI
Bronze – invest $2500 or more and receive a 21.25% monthly ROI
Silver – invest $5000 or more and receive a 23.33% monthly ROI
Gold – invest $10,000 or more and receive a 27.5% monthly ROI
Executive – invest $25,000 or more and receive a 29.58% monthly ROI
Champion – invest $50,000 or more and receive a 31.67% monthly ROI
Director – invest $100,000 or more and receive a 33.75% monthly ROI
Hedger Tech investment is coordinated through the company's Hedger Mining website.
Although not explicitly clarified by Hedger Tech, I believe ROIs are paid in Hedger Coin.
Hedger Coin is an ethereum based erc-20 altcoin Hedger Tech created. It holds no value outside of Hedger Tech itself.
Referral Commissions
Hedger Tech pays referral commissions via a unilevel compensation structure.
A unilevel compensation structure places an affiliate at the top of a unilevel team, with every personally recruited affiliate placed directly under them (level 1):

If any level 1 affiliates recruit new affiliates, they are placed on level 2 of the original affiliate's unilevel team.
If any level 2 affiliates recruit new affiliates, they are placed on level 3 and so on and so forth down a theoretical infinite number of levels.
Hedger Tech cap payable unilevel team levels at four.
Referral commissions are paid as a percentage of funds invested across these four levels as follows:
level 1 (personally recruited affiliates) – 25% (payable 30 days from investment date)
level 2 – 20% (payable 60 days from investment date)
level 3 – 15% (payable 90 days from investment date)
level 4 – 10% (payable 120 days from investment date)
Joining Hedger Tech
Hedger Tech affiliate membership is free.
Full participation in the attached MLM opportunity however requires a minimum $500 investment.
Conclusion
Hedger Tech markets their Hedger shitcoin as an "insurance coin".
We will make Hedger as the go-to cryptocurrency hedge instrument, an"insurance coin," for investors to manage its cryptocurrency risks.
The basic idea is you convert bitcoin into Hedger Coin (HDR) and are thus "insured" from bitcoin volatility.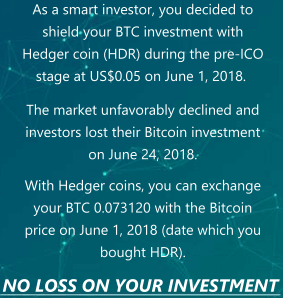 Hedger Tech's official explanation as to how this works is on the right. See if you can spot the glaring problem.
As per the example, you exchange 0.073120 BTC into HDR on June 1st.
BTC declines throughout the month, but Hedger Tech still pays you the June 1st exchange rate when you exchange back into BTC on June 24th.
This works on the assumption Hedger Tech locks away deposited BTC and simply returns it when the time comes.
That's not the case though. And even if it was, the investor still takes a loss because their BTC isn't worth what it was on June 1st.
In summary: Hedger Tech's "insurance" claims are a load of baloney.
On top of that Hedger Tech are committing securities fraud via their Hedger Mining investment scheme.
Hedger Tech affiliates invest funds on the promise of very specific ROI amounts.

The company claims to generate external ROI revenue via
an established business model used by industry experts in insurance and hedge funds.
Naturally Hedger Tech fails to provide evidence of any such business models existing.
What you're left with is new investment being the only verifiable source of revenue entering Hedger Tech.
The use of newly invested funds to pay existing affiliates a ROI makes Hedger Tech a Ponzi scheme.
Not withstanding securities fraud by way of Hedger Mining passive returns.
On their website Hedger Tech provides no indication they have registered their Hedger Mining securities offering with regulators in any jurisdiction they operate in.
Cagayan Economic Zone Authority (CEZA) is touted as a regulatory partner on the Hedger Tech website.
From what I can tell CEZA is just a free trade economic zone being set up within the Philippines.
While CEZA has ties to the Philippine government, it is not a securities regulator. Nor does CEZA have any jurisdiction outside of the designated zone itself.
The only "insurance" Hedger Tech offers is to themselves, by way of internal manipulation of their HDR shitcoin.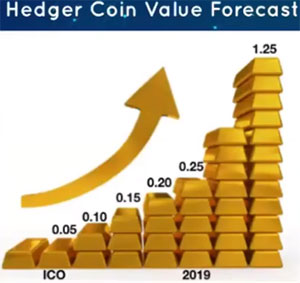 Naturally Hedger Coin is pitched to affiliates as having an ever-increasing value.
In reality Hedger Coin, which costs Hedger Tech little to nothing to generate, is used to manipulate what it owes to investors on paper.
And when it all goes to crap (invested funds are exhausted), Hedger Tech's anonymous owners exit-scam by either
dropping the internal value of Hedger Coin to zero and doing a runner; or
getting HDR listed on some dodgy public exchange and doing a runner.
Either way invested funds are lost. All Hedger Tech's bagholder affiliates will have to show for their investments are worthless HDR.
Seeing as Hedger Tech can't be straight about its management or even from where the company is operated from, it appears to have been built from fraud in mind from the ground up.
This ensures maximum losses for the Hedger Tech's investors. It also leaves them with little to no recourse for recovery on collapse.
Update 6th February 2021 – Hedger Tech was part of Kristijan Krstic's $70 million dollar+ Ponzi empire.
Krstic was arrested in Serbia on behalf of US authorities in mid 2020.