Health Wealth Club Review: My Global Negocio concept reboot

The Health Wealth Club website names Edwin Ramos as admin of the company.
Ramos is based out of the Philippines and first popped up on BehindMLM's radar in 2014, as admin of Blessing4All.
Blessing4All was a short-lived pyramid Ponzi hybrid.

In 2016 Ramos (right) launched Royalty Crowdfunding, a seven-tier cash gifting scheme.
Earlier this year in April Ramos was promoting My Global Negocio, which appears to be a nutrition based MLM. My Global Negocio marketing cites Edwin Ramos as co-owner of the company.
At the time of publication the My Global Negocio website is offline, suggesting the company has since collapsed.
Read on for a full review of the Health Wealth Club MLM opportunity.
Health Wealth Club Products
Health Wealth Club has no retailable products or services, with affiliates only able to market Health Wealth Club affiliate membership itself.
Health Wealth Club does market a food supplement range, however only affiliates can purchase the products.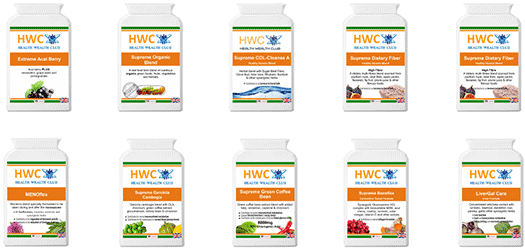 The supplements themselves are manufactured by an unnamed third-party.
We source only the best and reliable Product manufacturer.

Our products are manufactured in the UK under GMP (Good Manufacturing Practice) and ISO 9001 standards and so are quality assured.
Supplement categories listed on the Health Wealth Club website include:
alkalising products
antioxidant supplements
cleanse and detox
colon cleansers
digestive aids
heart health
immunity support
joint support
muscle mass & sports
omega oils
organic products
probiotics
protein powders
vegetarian and vegan
weight management
women's health
A full catalog for each category with pricing is available on the Health Wealth Club website.
VIP affiliates are given access to an ebook library as well as ad credits, which can be used to display advertising on the Health Wealth Club website.
The Health Wealth Club Compensation Plan
The Health Wealth Club compensation plan sees affiliates paid to recruit new affiliates who purchase Health Wealth Club products.
The simplest way to explain the Health Wealth Club compensation plan is to break it down into how free affiliates and paid VIP affiliates receive commissions.
Free Affiliates
Health Wealth Club free affiliates receive
$5 when a personally recruited affiliate signs up or "upgrades" to VIP membership
5% commission on product purchases by personally recruited affiliates
VIP Affiliates ($38)
Recruitment of a VIP affiliate generates a $5 commission.
A VIP affiliate passes up their first two VIP affiliate recruitment commissions to the first VIP affiliate in their upline.
They then keep each $5 commission from their third VIP affiliate recruited onward.
In turn, personally recruited VIP affiliates must also pass up their first and second VIP affiliate recruitment commissions.
VIP affiliate membership also generates a position in a five-tier 4×2 matrix cycler.
A 4×2 matrix contains twenty positions, split over two levels.
The first level houses four positions. The second level is generated by splitting those four positions into another four positions each (16 positions).
When a VIP affiliate signs up, they enter a Bronze 4×2 matrix.
Once all sixteen positions in the matrix are filled, a commission is generated and the position "cycles" into the next tier of the cycler.
Cycle commissions generated across Health Wealth Club's five cycler tiers are as follows:
Bronze (positions cost $38) – $100 commission and cycles into Silver
Silver – $500 commission and cycles into Gold
Gold – $2000 commission and cycles into Platinum
Platinum – $5000 commission and cycles into Diamond
Diamond – $50,000 commission and generates a new Diamond matrix position
Note that a 100% matching bonus on the above cycle commission amounts are paid to the first upline VIP affiliate.
The VIP Shop Level Bonus sees all VIP affiliates placed into a 4×7 matrix.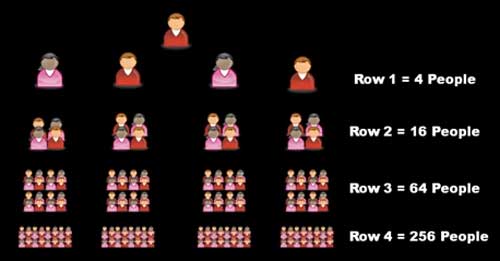 A 4×7 matrix is similar to a 4×2 matrix, the only difference being the number of levels is extended to seven (four shown above).
In addition to VIP affiliate recruitment, cycler and VIP Shop Level Bonus commissions, Health Wealth Club VIP affiliates also earn a 10% commission on product purchases by personally recruited affiliates.
Joining Health Wealth Club
Health Wealth Club affiliate membership is either free or $38 for a VIP position.
The primary difference between the two affiliate memberships is income potential via the Health Wealth Club compensation plan.
Conclusion
The major compliance issue in Health Wealth Club is a lack of retail sales activity.
Retail is impossible, with only affiliates able to purchase products.
This means 100% of commissions paid out are sourced from affiliates, which when combined with recruitment commissions makes Health Wealth Club a pyramid scheme.
On top of that you've got the VIP cycler, which is a combination of pyramid and Ponzi fraud.
Health Wealth Club VIP affiliates sign up for $38 and through the matrix cycler, are able to receive a $57,600 ROI.
ROI revenue is sourced from subsequent VIP affiliate memberships, meaning the cycler operates as a Ponzi scheme.
Recruitment is required to fill cycler matrix positions, adding a pyramid element.
With respect to Health Wealth Club's products, they don't strike me as anything you wouldn't find in a local health food store.
Price comparison will vary based on location, but bear in mind that's secondary to the pyramid/Ponzi nature of the MLM opportunity.
My Global Negocio was a similar concept, using a binary compensation plan instead of a matrix cycler.
The other major difference was My Global Negocio was pretty much marketed exclusively in the Philippines.
My Global Negocio's pairing of third-party supplements with a dodgy compensation plan didn't last more than a few months, which doesn't bode well for the longevity of Health Wealth Club.