Goldmine369 Review: TeraHash Power Block securities fraud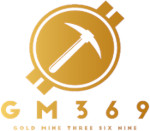 Goldmine369 operates in the bitcoin mining MLM niche. The company represents it is based out of Manchester in the UK.
Heading up Goldmine369 is founder Jay Locke, who for some reason has deleted his previously public Facebook account.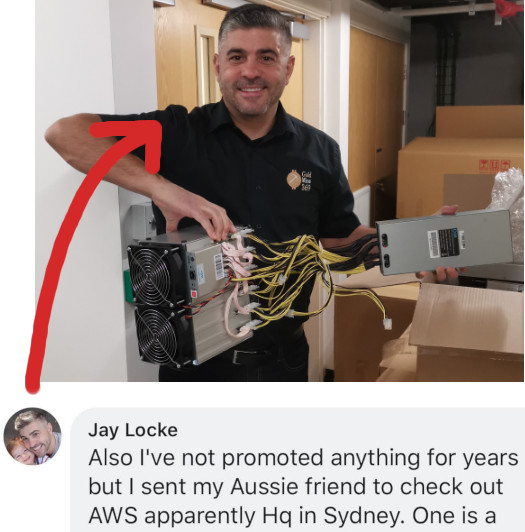 Outside of Facebook Locke has no digital footprint I could find. Meaning his MLM history is unknown.
Not a good start.
In Goldmine369's website terms and conditions, the company provides a Companies House incorporation number.
This corresponds with "GOLDMINE369.COM LIMITED", which was incorporated in August 2019.
UK incorporation is dirt cheap and for the most part unregulated. It is a favored jurisdiction for scammers looking to incorporate dodgy companies.
Read on for a full review of Goldmine369's MLM business opportunity.
Goldmine369's Products
Goldmine369 has no retailable products or services, with affiliates only able to market Goldmine369 affiliate membership itself.
Goldmine369's Compensation Plan
Goldmine369 affiliates invest in £250 GBP "TeraHash Power Block" positions.
Investment in made on the representation of cryptocurrency returns, paid out over twelve months.
Goldmine369 do state however that after twelve months
if (a) contract has expired and it's still profitable to operate, GM369 will continue to pay you out!
During a Goldmine369 investment contract, additional investment positions are created: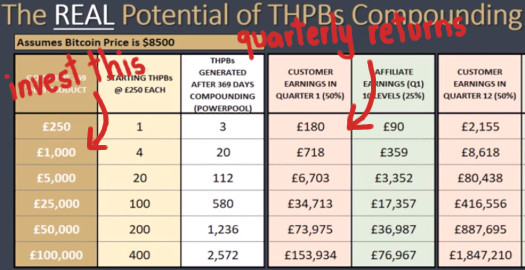 As per the above example, with bitcoin at $8500 Goldmine369 investors can expect to be paid around £180 off a £250 investment each quarter.
Scaled up, Goldmine369 markets a £806,539 quarterly return off a £500,000 investment.
Note that in order to continue receiving returns, Goldmine369 affiliates must pay monthly "mining license" fees.
Referral Commissions
Goldmine369 pays referral commissions via a unilevel compensation structure.
A unilevel compensation structure places an affiliate at the top of a unilevel team, with every personally recruited affiliate placed directly under them (level 1):

If any level 1 affiliates recruit new affiliates, they are placed on level 2 of the original affiliate's unilevel team.
If any level 2 affiliates recruit new affiliates, they are placed on level 3 and so on and so forth down a theoretical infinite number of levels.
Goldmine369 caps payable unilevel team levels at ten.
Referral commissions are paid out as a percentage of funds invested across these ten levels as follows:
level 1 (personally recruited affiliates, must recruit one affiliate) – 8%
level 2 (must recruit two affiliates) – 2%
level 3 (must recruit three affiliates) – 1%
level 4 (must recruit four affiliates) – 1%
level 5 (must recruit five affiliates) – 0.5%
level 6 (must recruit six affiliates) – 0.5%
level 7 (must recruit seven affiliates) – 0.5%
level 8 (must recruit eight affiliates) – 0.5%
level 9 (must recruit nine affiliates) – 0.5%
level 10 (must recruit ten affiliates) – 0.5%
Note that in order to count towards the above qualification criteria, recruited affiliates must have invested in at at least one £250 TeraHash Power Block position.
ROI Commissions
At the end of a twelve month TeraHash Power Block investment contract, Goldmine369 pays a match on returns paid out.
The ROI match is paid out using the same ten-level deep unilevel team as referral commissions.
level 1 – 8%
level 2 – 5%
level 3 – 4%
level 4 – 3%
level 5 – 2%
level 6 – 1%
levels 7 to 10 – 0.5%
Mining License Fee Commsisions
In order to continue receiving returns, Goldmine369 charges each affiliate a monthly "mining license" fee.
Goldmine369 takes this fee and uses it to pay commissions.
Mining License Fee commissions are paid using the same ten-level deep unilevel team as referral commissions.
level 1 – 10%
level 2 – 12%
level 3 – 8%
levels 4 to 6 – 2%
levels 7 to 10 – 1%
Note that the exact monthly mining fee charges is not disclosed.
Joining Goldmine369
Goldmine369 affiliate membership is tied to a minimum £250 GBP investment.
Monthly mining fees are also charged, however specific amounts are not disclosed.
Conclusion
Goldmine369 solicits £250 investments on the promise of passive returns.
This constitutes a security, which in the UK is regulated by the FCA.
Rather than register their passive investment opportunity with the FCA and operate legally, Goldmine369 instead hedges its bets on the UK's notorious track record of MLM securities non-regulation.
Because Goldmine369.com offers a credit-free environment, and because it deals in the absolute ownership of hash power blocks acquired on the crypto market, and not paper-based contractual rights extending beyond the normal settlement period of the crypto market, it falls outside the defined scope of formal financial services regulation and by the United Kingdom's Financial Services Authority.
ProTip: If you're going to come up with bullshit about why your securities offering doesn't need to be registered, at least get the name of the regulator right.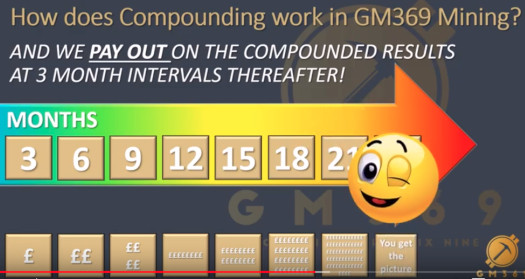 Despite Goldmine369's representations above, securities via any vehicle are in fact regulated by the FCA and require registration.
On its website Goldmine369 states:
Our journey started in August 2019 when over 130 entrepreneurs travelled to Manchester from as far afield as Australia, Dubai, North America, Singapore, India and all corners of Europe, to share our Vision and see our Data Centre first hand.

Since then we've been travelling around the world – China, Hong Kong, Norway, Ukraine, Poland… sourcing and verifying partnerships with energy and hardware suppliers and now we're ready to go!
Goldmine369 isn't registered to offer securities in any of the above jurisdictions either. Most notably the US, which just recently went after BitClub Network for wire fraud.
One thing that struck me as odd was the inclusion of the ORME Ponzi coin in Goldmine369's official marketing presentation video:
ORME was part of John Barksdale's Ormeus Global Ponzi scheme.
Last we heard Ormeus Global was rebooted for a third time in  late 2018. Thai authorities finally caught up with Barksdale and arrested him in mid 2019.
Whether ORME's inclusion in Goldmine369's marketing material reveals Jay Locke was an investor or is just a coincidence is unclear.
In any event, at best Goldmine369 is actually paying returns exclusively via mining operations.
If it was though, they'd have no issue registering with the FCA, SEC and everyone else. Doing so would of course require Goldmine369 to file evidence it is in fact using external revenue to pay affiliates.
Irrespective of the source or return revenue, as it stands Goldmine369 is committing securities fraud.
At worse it's a Ponzi scheme just like BitClub Network.
Not excusable in either scenario are referral commissions, which are tied to recruitment and constitute a pyramid scheme.
Twelve months is a long-time to come up excuses if new investment runs dry or the authorities come knocking.
You know how this ends.
Update 14th September 2021 – Goldmine has collapsed. As of September 2021 the company's website is no longer accessible.