GoBig7 Review: Penny Matrix with advertising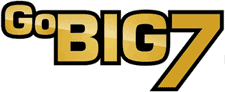 There is no specific information about who owns or operates GoBig7 on their website, but it is possible to work out with a little research.
As per the GoBig7 Terms and Conditions;
This offering is a contract between you the buyer and our business, the seller.

The seller is located in Nashville, Tennessee, U.S.A. and by doing business with us you agree that this offering is made from Nashville, Tennessee, U.S.A. and shall be governed by the laws of the State of Tennessee and the U.S.A..
Alrighty, so whoever is running GoBig7 is located in Tennessee.
But then the footer of the GoBig7 T&C states this:
Copyright 2003-2015 InternetMarketingLawProducts.com for World Light Ltd Direct all correspondence to World Light LLC, a public relations firm for World Light Ltd. in Seychelles.
So uh what? GoBig7 is copyright another website called "InternetMarketingLawProducts", with any correspondence to be sent to a PR firm with an almost identical name to the client it claims to represent, who are based out of Seychelles?
Riiiiiiiiiiiight.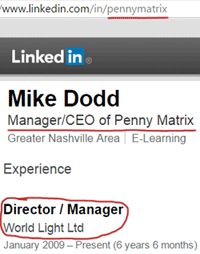 Further research reveals World Light LLC operates out of Tennessee, with Michael Dodd (as Mike Dodd) listing himself as the Director and Manager of World Light Ltd on his LinkedIn profile.
What all this nonsense about being in Seychelles is I have no idea.
Other than association through World Light LLC however, Dodd  doesn't appear to want anyone to know he's involved in GoBig7.
The GoBig7 website domain is set to private (registered on the 24th of April 2015), and Dodd's name doesn't appear anywhere on the company's website.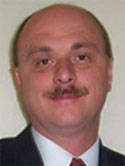 World Light LLC and Dodd (right) first appeared on BehindMLM's radar when we reviewed Penny Matrix back in 2012.
Penny Matrix was a $7 a month matrix-based recruitment scheme. The Penny Matrix website is still online today, but Alexa traffic estimates suggest there is little to no activity at the site.
But while the extent to which Penny Matrix has collapsed might not be clear, what is clear is that Dodd has moved on with GoBig7.
And the first thing you're probably going to notice is that GoBig7 is another matrix-based company.
Read on for a full review of the GoBig7 MLM business opportunity.
The GoBig7 Product Line
GoBig7 has no retailable products or services, with affiliates only able market affiliate membership with the opportunity itself.
There is apparently an advertising platform or some such on the GoBig7 website, through which affiliates are encouraged to advertise on:
Get just 2 companies (Restaurants, Bars, Car Washes, Construction etc …) to advertise with you!

Charge them, for example $20 (or whatever amount you believe your services are worth), for their advertisement.

You can do this over and over and make lots of "extra money"!
But this doesn't appear to have anything to do with the GoBig7 MLM business opportunity.
The GoBig7 Compensation Plan
The GoBig7 compensation plan revolves around affiliates purchase $7 matrix positions, with commissions paid out when recruited affiliates do the same.
GoBig7 use a 2×14 matrix, which places an affiliate at the top of the matrix with two positions directly under them: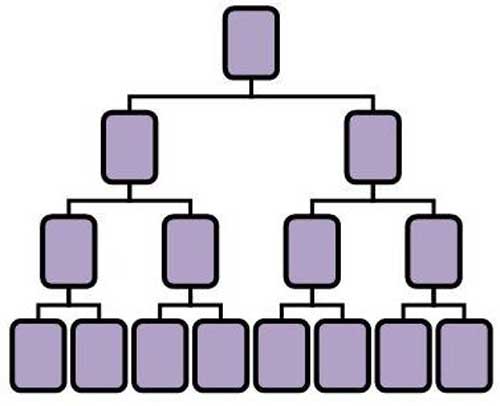 These two positions form the first level of the matrix, with level 2 generated by splitting both level 1 positions into two additional positions each (four levels).
The third level of the matrix is generated by splitting level 2 positions into two new positions, and so on and so forth down a total of fourteen levels.
Commissions are paid out on even levels in the matrix (2, 4, 6, 8, 10, 12 and 14), with a flat 30 cent commission paid per position filled on these levels.
Note that as GoBig7 matrix positions cost $7 a month, the 30 cent commission paid out on filled positions are also monthly recurring.
A reminder that positions are filled when new affiliates are recruited and purchase $7 matrix positions.
Finally a 100% matching bonus is also available on the matrix earnings of personally recruited affiliates.
This match is paid out on whatever personally recruited affiliates earn in matrix commissions each month, but does not cover their own matching bonus payouts.
Joining GoBig7
Affiliate membership with GoBig7 is free, however affiliates must "upgrade" and pay a $7 a month fee if they with to participate in the MLM opportunity.
This $7 upgrade fee and ongoing payment purchases and maintains a GoBig7 affiliate a position in a 2×14 matrix.
Conclusion
First off the elephant in the room: Quite obviously GoBig7 is just a reboot of Penny Matrix.
Penny Matrix matrix positions cost $7 a month, so too do positions in GoBig7.
Penny Matrix used a 2×14 matrix that paid out on alternative levels, so does GoBig7.
Penny Matrix pays a 100% matching bonus on matrix commissions earned by personally recruited affiliates, so does GoBig7.
Infact the only difference between Penny Matrix and GoBig7 is that whereas Penny Matrix was bundled with access to a useless ebook library, GoBig7 bundles itself with an advertising platform.
Which, let's face it is unlikely to be used by anyone but affiliates – if at all.
The reason being that pricing for the platform seems completely arbitrary, reflecting the importance of the platform within the GoBig7 business model.
So what's important within the GoBig7 opportunity?
Get 2 people signed up in 2 days! Get them to do the same in 2 days and so on – AND – in 28 Days, Voila… $19,659.60 PER MONTH is your income now!
Michael Dodd makes it sound so easy, but what he isn't telling you is that at $7 a pop each, it'll take thousands of recruited affiliates under you to get anywhere near a $19,659 a month commission.
Leave alone the fact that these are commissions derived entirely via the recruitment of new affiliates into the company, squarely placing GoBig7 in pyramid scheme territory.

The GoBig7 advertising platform is neither here nor there, with the sustainability of GoBig7 tied to never-ending recruitment of new affiliates and their purchase of $7 matrix positions.
Once recruitment slows down or dries up completely, affiliates in the bottom of the company-wide matrix stop getting paid.
This means that they'll stop paying their $7 a month position fee, which in turn means those above them stop getting paid.
This effect slowly trickles up the GoBig7 affiliate genealogy, until it reaches the upper levels of the company-wide matrix and an irreversible collapse is triggered.
Reboot schemes rarely last as long as their predecessors, so don't expect a repeat performance of Penny Matrix here.