GluTech Review: BSC smart-contract Ponzi scheme
GluTech fails to provide ownership or executive information on its website.
GluTech's official website domain ("glutech.io"), was privately registered on May 29th, 2023.
Over on GluTech's official YouTube channel, we find marketing presentations hosted by "Grant … from our marketing department at GluTech."
Grant Holmes is an American actor and voice over artist.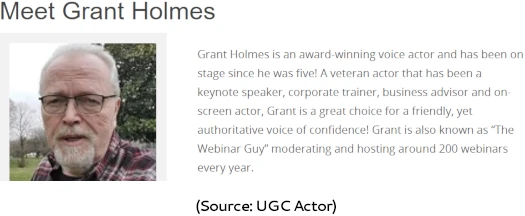 Online Grant markets himself as "The Webinar Guy":
As a full-time voice over actor, I use over 25 years of experience in marketing, sales, and advancing profitability to make your work stellar.

I have significant career experience in marketing, fundraising, strategic planning, team building, business analysis, and finding appropriate solutions for my clients.

My superpower is making you and your business look and sound good.
At time of publication Holmes has hosted two GluTech marketing presentations; one on July 27th and one on July 29th.
On August 2nd, GluTech uploaded a new "business presentation" featuring a different host:
I don't have a name but, based on what I was able to find, I believe this person works as a virtual assistance from the Philippines.
As always, if an MLM company is not openly upfront about who is running or owns it, think long and hard about joining and/or handing over any money.
GluTech's Products
GluTech has no retailable products or services.
Affiliates are only able to market GluTech affiliate membership itself.
GluTech's Compensation Plan
GluTech affiliates invest $10 or more in Binance Coin (BNB).
This is done on the promise of advertised passive returns:
invest 10 BNB or more for 7 days and receive 2% a day
invest 10 BNB or more for 30 days and receive 2.5% a day
invest 60 BNB or more for 60 days and receive 3% a day
If a GluTech affiliates wishes to withdraw before the end of their contract, GluTech charges a 25% penalty fee.
Note that while USD is quoted in GluTech's compensation plan, all payments and withdrawals are made in BNB.
The MLM side of GluTech pays on recruitment of affiliate investors.
GluTech Affiliate Ranks
There are eight affiliate ranks within GluTech's compensation plan.
Along with their respective qualification criteria, they are as follows:
Affiliate – sign up as a GluTech affiliate
Bronze – invest at least $100, recruit five affiliates and generate $5000 in total downline investment volume
Gold – maintain a minimum $100 investment, recruit seven affiliates and generate $10,000 in total downline investment volume
Ruby – invest $500, recruit ten affiliates and generate $20,000 in total downline investment volume
Sapphire – invest $1000, recruit twenty affiliates and generate $50,000 in total downline investment volume
Diamond – invest $3000, maintain twenty personally recruited affiliates and generate $100,000 in total downline investment volume
Blue Diamond – invest $5000, maintain twenty personally recruited affiliates and generate $250,000 in total downline investment volume
Ambassador – invest $10,000, maintain twenty personally recruited affiliates and generate $1,000,000 in total downline investment volume
Note that to count towards rank qualification criteria:
required investment amounts must be active and
recruited affiliates must have an active investment
An active investment is an investment earning in one of GluTech's offered investment plans.
ROI Match
GluTech pays a ROI Match via a unilevel compensation structure.
A unilevel compensation structure places an affiliate at the top of a unilevel team, with every personally recruited affiliate placed directly under them (level 1):

If any level 1 affiliates recruit new affiliates, they are placed on level 2 of the original affiliate's unilevel team.
If any level 2 affiliates recruit new affiliates, they are placed on level 3 and so on and so forth down a theoretical infinite number of levels.
GluTech caps the ROI Match at ten unilevel team levels.
The ROI Match is paid as a percentage of the daily ROI paid out across these ten levels as follows:
level 1 (personally recruited affiliates) – 10%
level 2 – 7%
level 3 – 5%
level 4 – 3%
levels 5 to 7 – 2%
levels 8 to 10 – 0.5%
Rank Achievement Bonus
GluTech calculates rank qualification criteria weekly.
Bronze and higher ranked affiliates receive a weekly Rank Achievement Bonus as follows:
qualify at Bronze and receive $50 a week
qualify at Gold and receive $100 a week
qualify at Ruby and receive $250 a week
qualify at Sapphire and receive $500 a week
qualify at Diamond and receive $2000 a week
qualify at Blue Diamond and receive $5000 a week
qualify at Ambassador and receive $10,000 a week
Joining GluTech
GluTech affiliate membership is free.
Full participation in the attached income opportunity requires a minimum $100 investment in BNB.
GluTech Conclusion
GluTech is a simple smart-contract Ponzi scheme with an AI trading bot marketing ruse.
No evidence of GluTech's AI trading bot exists. Furthermore, GluTech's business model fails the Ponzi logic test.
If whoever is running GluTech actually had an AI trading bot capable of legitimately generating 3% a day on a consistent basis, they certainly wouldn't be providing you free access.
More importantly, what does GluTech need your money for then?
The answer to that lies in GluTech's withdrawals simply being recycled invested BNB.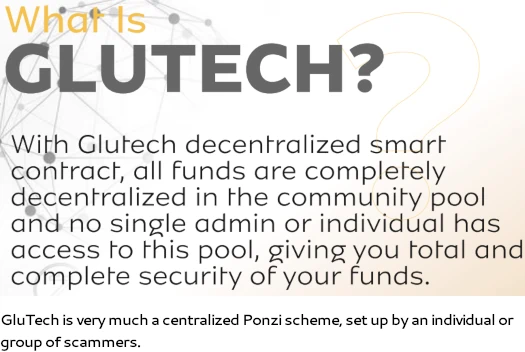 With nothing marketed or sold to retail customers, the MLM side of GluTech functions as a pyramid scheme.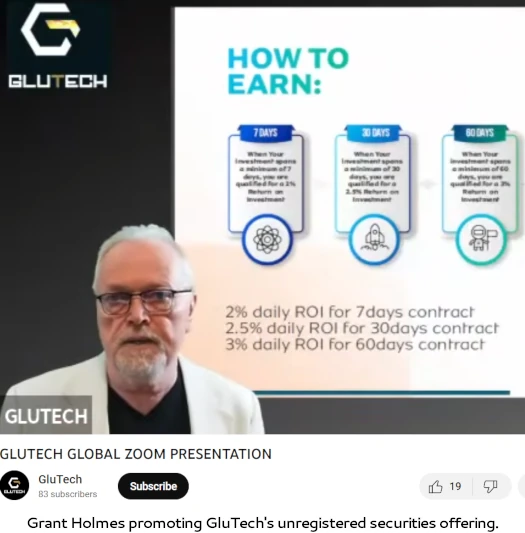 As with all MLM Ponzi schemes, once affiliate recruitment dries up so too will new investment.
This will starve GluTech of ROI revenue, eventually prompting a collapse.
The math behind Ponzi schemes guarantees that when they collapse, the majority of participants lose money.