Globaliz Biz Review: $50 web hosting & revenue share

There is no information on the GLobaliz Biz website indicating who owns or runs the business.
Globaliz Biz does have an "About Us' section on their website, but only the following vague marketing copy is provided:
Globaliz Biz™ is one of the Top Web Hosting Companies in India. We are always committed to providing professional quality and best web hosting services with superior support and affordable pricing to businesses and individuals seeking web hosting packages.
Globaliz Biz marketing on social media suggests that the company is owned by Sujan Valand.

In his LinkedIn profile, Valand lists his location as Wapi (Vapi?) in India.
Prior to the launch of Globaliz Biz earlier this month, Valand was an investor in Banners Broker and Profitable Sunrise: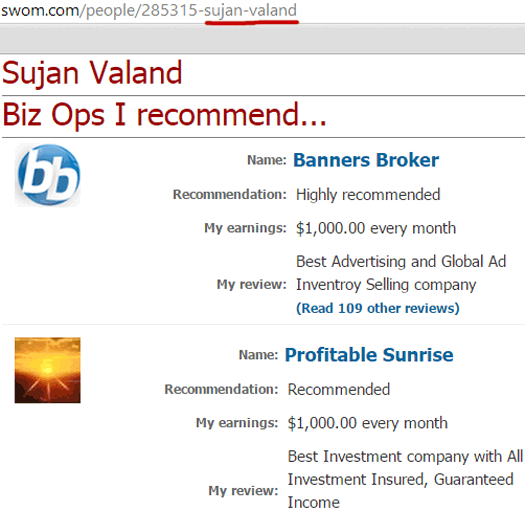 Both Ponzi schemes, Profitable Sunrise was shut down by the SEC in April 2013. Banners Broker was more of an organic collapse, with the scheme continuing to re-invent itself over the past few years as new investor funds dried up.
Earlier this month details of a Canadian regulatory investigation into the scheme and owner Christopher George "Chris" Smith were revealed.
Read on for a full review of the Globaliz Biz MLM business opportunity.
The Globaliz Biz Product Line
Despite having only just launched, Globaliz Biz claim to be "one of the Top Web Hosting Companies in India".
The company markets a $50 a year hosting package that comes with 1GB disk space and a domain. Advertising credits are also bundled with each package.
Reverse-engineering the name-servers used for the Globaliz Biz website reveals the company appears to be using hosting company CtrlS to provide their hosting.
Based out of India, CtrlS claim to be "Asia's largest tier 4 datacenter". On their website the company advertises a "partner" program, which pays out a "10% referral bonus".
The Globaliz Biz Compensation Plan
The Globaliz Biz compensation plan revolves around the sale of $50 web hosting package subscriptions (annual).
Direct Commissions
Globaliz Biz pay out a 10% direct commission on the sale of a $50 web hosting package ($5).
Binary Commissions
Residual commissions in Globaliz Biz are paid out using a binary compensation structure.
A binary compensation structure places an affiliate at the top of a binary team, with two positions directly under them: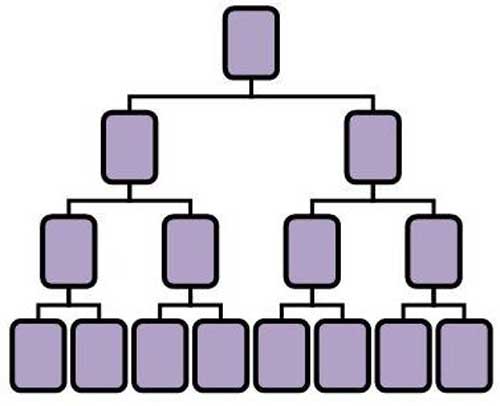 These two positions from the start of two teams (left and right), with positions in the binary filled via the purchase of web hosting packages.
Commissions are calculated using a 1:1 pairing ratio, matching the sale of a package on either side of the binary.
Filled binary positions can only be matched once, with each pair paying out a 20% commission ($10).
Profit Pool
The Profit Pool is made up of incoming revenue from the sale of web hosting packages. Globaliz Biz don't specify how much of this revenue is put into the pool, but do that they will 'deduct 5% to ensure the ongoing sustainability of our program'.
To qualify for a share in the Profit Pool a Globaliz Biz affiliate must purchase a web hosting package and recruit at least two affiliates who do the same.
Level Bonuses
Globaliz Biz do not specify how one qualifies for any of the levels below, but they do provide the various awards given at specific levels obtained:
level 5 – $500
level 10 – $1000
level 15 – $2000
level 20 – $5000
level 30 – $10,000
Joining Globaliz Biz
Affiliate membership with Globaliz Biz is free. It does however appear that the purchase of a web hosting package ($50 annually) is required to participate in the Profit Pool:
You can join for free and still receive up to 10% direct and 20% binary commissions of every member's purchase that you personally sponsor into Globalizbiz.

You can then use your account balance to purchase your own Package to earn even more!
Conclusion
In order to guarantee fast returns, we obviously rely on our members to help spread the word by advertising our banners and/or their referral link! The more people promote, the more new members will come aboard and help giving everybody much faster returns.
The danger with Globaliz Biz lies in affiliates only purchasing their web hosting packages.
If this were to be the case, then effectively the company would be defacto paying out on recruitment. With the Profit Pool they would also be recycling new affiliate funds among existing affiliates and engaging in the offering unregistered securities ($50 buy-in on the expectation of an eventual >100% ROI).
The lack of refunds available certainly would seem to suggest that retailing of Globaliz Biz's hosting packages is not viable:
Due to the REAL TIME earnings nature of our program there can be NO REFUNDS after your payment.
The easiest way to ascertain whether or not retail activity is taking place within the company would be to ask a potential upline how many retail customers (non-affiliates) they have sold web hosting packages to.
If the answer falls well short of recruited affiliates they've sold packages to, this is evidence of Globaliz Biz operating as a pyramid scheme.
It also reveals that you too would likely have to focus on recruitment to earn commissions should you join the company.