Global Domains International Review: .WS domains and recruitment

Global Domains International, also known as GDI, operate in the technology MLM niche.
The company launched in 2000 and is based in the US state of California.
Further research reveals the corporate address provided on the GDI website belongs to Regus. Whether GDI actually have a physical presence in California is unclear.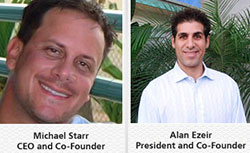 Heading up GDI are co-founders Michael Starr (CEO) and Alan Ezeir (President).
At least that's according to the GDI website.
On his LinkedIn profile Alan Ezeir cites his time at GDI coming to an end as of September, 2016.
In addition to getting involved in cryptocurrency, Ezeir founded Circle Square Capital in November, 2016.
Circle Square targets technology,manufacturing, distribution and service businesses with $3 million to $50 million in annual revenue with cash operating earnings ("EBITDA") in excess of $1 million.
Michael Starr is still involved in GDI and presumed to be running the show.
Prior to co-founding GDI Ezeir and Starr co-founded Freedomstarr Communications,
which currently maintains licenses in most of the United States for certified telecommunications services, and supports thousands of users in each state.
As far as I can tell GDI is Ezeir and Starr's first MLM venture as executives.
Read on for a full review of the Global Domains International MLM opportunity.
Global Domains International Products
Global Domains International market .WS domains, which belong to Western Samoa.
GDI claim they are
are working in cooperation with the government of Western Samoa as the official registry of the .WS top-level domain.
As per an account titled "The Big Trip" on the GDI website, Alan Ezeir and Michael Starr pitched their business idea to the Prime Minister of Samoa in 1999.
With the correct marketing idea behind it, there was no reason why the .WS extension could not be recognized as the major alternative to dot com.
Their original proposal was rejected. A few months later however Michael Starr formed a partnership with the country's government-owned technology company.
The Nation of Samoa now receives a percentage of all .WS domain sales that GDI generates, and is delighted with our success.
According to the GDI website;
Our product is an incredible $10 per month package that includes your own domain name, hosting accounts, and up to ten email accounts, plus an easy-to-use online web site builder that will allow you to get a professional looking web site on the web as quickly as possible.
This includes GDI affiliate membership and so it appears GDI do not have a retailable product or service.
The Global Domains International Compensation Plan
GDI affiliates pay $10 a month and are paid to recruit other affiliates who do the same.
GDI pay recruitment commissions through a unilevel compensation structure.
A unilevel compensation structure places an affiliate at the top of a unilevel team, with every personally recruited affiliate placed directly under them (level 1):
(unilevel)
If any level 1 affiliates recruit new affiliates, they are placed on level 2 of the original affiliate's unilevel team.
If any level 2 affiliates recruit new affiliates, they are placed on level 3 and so on and so forth down a theoretical infinite number of levels.
GDI cap payable unilevel levels at five, with affiliates paid 10% of monthly fees paid by recruited affiliates in their unilevel team.
Infinity Override
The Infinity Override allows a GDI affiliate to earn beyond the first five levels of their unilevel team.
The Infinity Override is a 10% bonus commission, paid from level 6 onward in each unilevel leg.
The Infinity Override commission pays out on each unilevel leg until another Infinity Override qualified affiliate is found in that leg.
If no such affiliate exists, the Infinity Override is paid down the full depth of the leg.
To qualify for the Infinity Override a GDI affiliate must have ten or more active personally recruited affiliates and have a total downline of at least five thousand active affiliates.
An active GDI affiliate is one who continues to pay $10 a month.
Recruitment Bonus
If a GDI affiliate recruits five new affiliates within a week, they receive a $100 Recruitment Bonus.
Heavy Hitter Bonus
If a GDI affiliate recruits one thousand or more affiliates in a consecutive four-week period, they receive a $5000 Heavy Hitter Bonus.
Joining Global Domains International
Global Domains International affiliate membership is $10 a month.
Conclusion
Visit a .WS domain websites regularly? Know any well-known websites hosted on a .WS domain?
Yeah, me neither.
When I see a country-specific domain I assume the content of the site I'm visiting in targeted toward that country.
Whereas Western Samoa's population of just under 200,000 are unlikely to utilize .WS to the extent other countries utilize their local domains, it still doesn't make much sense to host a general website on a .WS domain.
GDI attempt to navigate this issue by suggesting the "WS in .WS could stand for "website" instead. Trouble is ".website" has been available since early 2014 (~$24.99 a year).
In any event, I'm typically highly suspicious of any website I visit that's hosted on a country domain but I know has nothing to do with that country. And I can't be the only one.
From a website perspective, there's no escaping that .WS is designated to Western Samoa and it makes little sense for anyone else to host a website using a .WS domain.
The evident lack of retail viability of .WS domains is likely behind GDI's recruitment driven compensation plan.
GDI do sell .WS domains starting at $35 a year on their website, however this appears to have nothing to do with the MLM opportunity.
That is presented as a simple $10 a month affiliate fee, with commissions paid on recruitment of new affiliates who pay the same.
A handy-dandy income potential calculator provided on the GDI website allows visitors to plug in how many affiliates they're going to recruit.
Hit enter and the calculator tells you exactly how much you stand to make each month: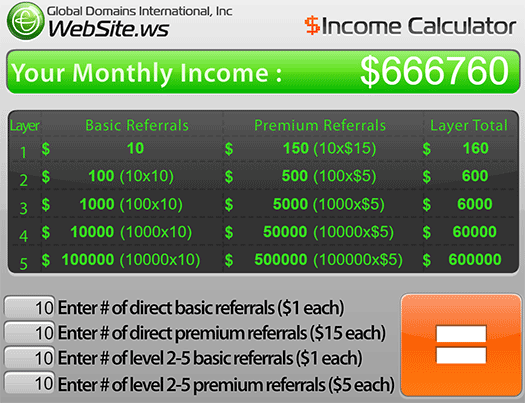 Note the calculator mentions "basic" and "premium" referrals (recruited affiliates).
I presume this is some sort of upsell on the affiliate side, but the GDI website makes no differentiation between basic and premium affiliates. Only the $10 a month option is presented.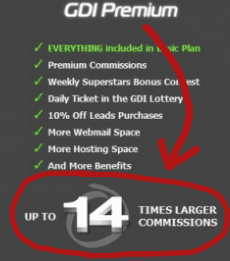 Further research reveals GDI premium affiliate membership is $40 a month.
The primary difference between GDI basic and premium affiliate membership seems to be increased commission rates.
This reduces GDI premium affiliate membership to "pay to play". In MLM commission rates should primarily be determined by sales performance, not how much an affiliate pays each month.
Not sure what GDI lottery is, as there's no mention of that on the GDI website either.
If GDI is indeed running a lottery for affiliates, one would hope they are appropriately registered with the relevant authority.
And I didn't miss "leads purchases" either, I just feel GDI has far bigger compliance problems to deal with over selling leads to affiliates.
Getting back to the MLM opportunity, whereas Michael Starr and Alan Ezeir might have gotten away with launching a recruitment heavy MLM company in 2000, today the lack of retail puts GDI dead-center of regulatory cross-hairs.
The FTC have made it very clear MLM companies operating with little to no retail are pyramid schemes, so it seems GDI is long overdue for a compensation overhaul.
Will that work though? With over a thousand alternative domains to choose from, there's nothing inherently desirable about a .WS domain.
Without the recruitment opportunity attached, I can't imagine the demand for .WS domains is even remotely large enough to keep an MLM company afloat.
And I suspect most GDI affiliates with .WS domains are in turn using them to promote GDI as an income opportunity itself.
What all of this means for you is that, as a GDI affiliate, you're primarily going to be earning commissions via recruitment.
Whereas GDI might have been around for years, an individual MLM business built on recruitment is unlikely to last any significant length of time.