GetMyAds Review: $50 investments & a boatload of suss

Upon initial inspection, GetMyAds doesn't pass the sniff test.
The GetMyAds website domain was anonymously registered on the 4th of December 2015, with the opportunity officially launching earlier this year.
According to the GetMyAds website, Frank Hanson is the CEO and Founder of the company.
Hanson lists his location as the US Virgin Islands on his Facebook profile, which is presumably where GetMyAds is being run out of.
Hanson's GetMyAdsAs corporate bio is little more than a marketing spiel, but his Facebook profile does provide some actual information.
Frank Hanson is the CEO and founder of 'GetMyAds' Online Business, a multi-million business enterprise who was crafted from scratch by this very young visionary-entrepreneur.

This 33-year old budding entrepreneur transformed a meager borrowed capital into a corporate wonder with global reach.

This business prodigy, named Morgan Lewis, was just an unassuming business savvy individual who got what it takes to make a big splash in the 'uncharted waters' of the online ads business.

No one have had an inkling that this son of a Venezuelan vagabond and an ordinary factory worker would soon become one of the most sought-after business wizard in the ads business particularly in the online world.

A school drop-out at a tender young age of eight years old only, he worked his way to survival by joining the ranks of beggars in downtown Los Angeles.

Notwithstanding his mendicancy, he worked as a part-time assistant to a famed computer graphic artist in downtown LA.

He burned the midnight oil until he became an expert in such field under the guidance of such tech-wizard.

Soon it became evident that his talents have surpassed the expectations of his mentor. Their amazing tandem of talents and self-determination brought them to a computer talents exhibition show where it showcased the best talents in the business.

Their exhibit caught the eye of a visionary billionaire who soon funded their proposed enterprise with just a meager capital to jump-start their fledgling business and transformed it into what it is today, one of the giants in the highly-competitive online ads industry.
Really? Since the GetMyAds domain was registered two months ago, the company is now "a giant" in the online ad industry?
On their website, GetMyAds claim to have paid out 14 million dollars in commissions.
Again, really? This thing isn't even two months old yet…
In case you missed it, Hanson's Facebook bio appears to have been originally written for someone called "Morgan Lewis".
As per Google cache's records dating back to January 16th, here's how the original "Frank Hanson" GetMyAds bio looked: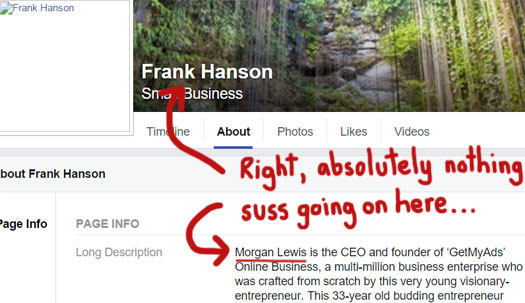 So who's Morgan Lewis? No idea. His name doesn't appear in conjunction with GetMyAds outside of Hanson's suspicious bio.
Furthermore, Hanson's Facebook profile itself looks pretty suss. Upon initial perusal it looks above-board. A few thousands friends, relatively regular postings containing motivational messages MLM marketers like to spam and multiple profile photos.
The thing that stuck out to me though was all but two friends on Hanson's account were only added this year. That's 2,269 friends in less than 60 days, whereas prior to 2016 Hanson's account was dead.
I'm not saying Hanson's Facebook account is outright fake, but that's pretty indicative of someone trying to make an otherwise dormant account look active.
It could also just be related to the launch of GetMyAds, but that begs the question of what Hanson's history in MLM was prior to 2016.
Between the fudged Morgan Lewis bio, claims of millions of dollars in commissions paid and being an advertising giant despite having only launched last month, nothing so far related to GetMyAds adds up.
One possibility is that all of this might just be a cover for a Euro scam, with Alexa currently estimating that 42% of all traffic to the GetMyAds domain originates out of Germany.
The European-looking stock photo models on the GetMyAds website would appear to somewhat support this.
Oh, and did I mention the corporate address provided on the GetMyAds website belongs to "Linaro Holdings Limited", based out of Seychelles?
Yeah, and the GetMyAds Terms and Conditions cite Philippine law:
This Agreement shall be governed by and construed in accordance with the laws of the Republic of the Philippines.
Evidently I'm not the only one who figures all of this is pretty bogus. Burren Blog took a closer look at the GetMyAds website and discovered the company initially offered up a Norwegian corporate address.
They're of the opinion that GetMyAds is a "fraudulent scam" being run by Martin Schranz & Thomas Wos.
While not conclusive, I have to say that makes far more sense than some guy from the US Virgin Islands nobody's ever heard of.
As always, if an MLM company is not openly upfront about who is running or owns it, think long and hard about joining and/or handing over any money.
The GetMyAds Product Line
GetMyAds has no retailable products or services, with affiliates only able to market GetMyAds affiliate membership itself.
The GetMyAds Compensation Plan
The GetMyAds compensation plan sees affiliates invest $50 in "tokens". Token investment is made on the implication of an eventual greater than 100% ROI.
GetMyAds don't specifiy the exact ROI paid out on each $50 token investment, but do state 'it has always been approximately 1% or more per day'.
A $6 Referral commissions is paid out on investments made by recruited affiliates, paid out down two levels of recruitment (unilevel).
GetMyAds also mention a "Mentor Bonus" in their compensation plan. This appears to be a cash bonus based on how much an affiliate and their recruits have invested, however specific bonus payouts are not disclosed.
Joining GetMyAds
Affiliate membership with GetMyAds is free, however affiliates must invest at least $50 to participate in the offered MLM opportunity.
Conclusion
On their website, GetMyAds are pretty blase about their operation of a Ponzi scheme.
40% of the value of a token goes into our PayBack pool where every customer will benefit from.

The PayBack Pool is dynamic but since we've founded GetMyAds it has always been approximately 1% or more per day that we have paid for every Token.

The size of the Pool depends on the amount of Tokens we've sold recently.
tokens = affiliate investment
payback pool = ROI fund
"tokens sold recently" = new affiliate investment.
As per their own words, GetMyAds take 40% of all newly invested funds and use it to payoff existing investors. ROIs paid out are "1% or more per day", subject to the rate of new investment into the scheme.
This makes GetMyAds a Ponzi scheme. And that's on top of all the nonsense pertaining to who is running GetMyAds and from where.
A Ponzi scheme collapses once newly invested funds run out, with GetMyAds being no different. Mathematically most investors are guaranteed to lose funds in a Ponzi scheme, with the GetMyAdz admin walking away with the majority of funds invested.
Sans referral commissions, guess where the remaining 60% of invested funds winds up…