Fundsz Review: Crypto "staking" weekly ROI Ponzi scheme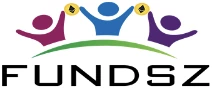 Fundsz provides no information on its website about who owns or runs the company.
Fundsz's website domain ("fundsz.com"), was first registered in 2020. The private registration was last updated on May 5th, 2022.

Fundsz's official FaceBook Group has two moderators; Kim Diaz and Rene Larralde (right).
Kim Diaz is a fake profile represented by a stock photo. Rene Larralde's FaceBook profile places him in the US state of Florida.
Prior to Fundsz Larralde ran Maxous: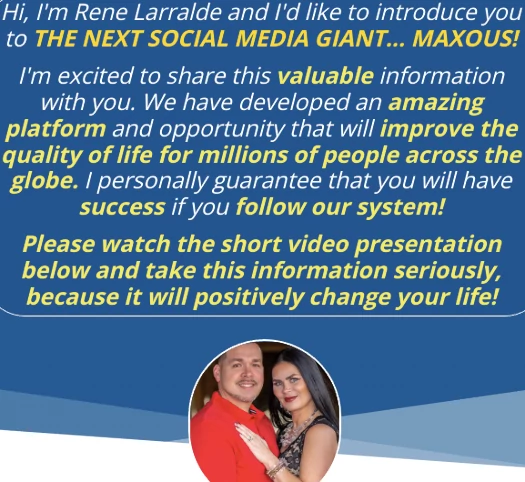 As per the marketing slide above, Maxous was a membership based pyramid scheme.
The other five Fundsz admins are revealed in an official marketing presentation: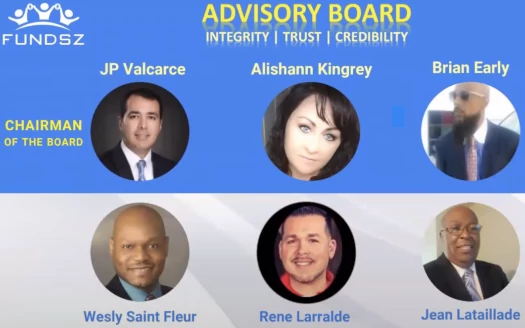 JP Valcarce appears to head up Fundsz as Chairman of the Board.

Juan Pablo Valcarce (right) is also based out of Florida. I wasn't able to establish whether Valcarce has an MLM history under either of his aliases.
According to his LinkedIn profile, Valcarce was Vice President of Sales as an industrial products firm from Feb 2019 to June 2021. He then accepted his current position, as Marketing Liason for Encompass Health.
Read on for a full review of Fundsz MLM opportunity.
Fundsz's Products
Fundsz has no retailable products or services.
Affiliates are only able to market Fundsz affiliate membership itself.
Fundsz's Compensation Plan
Fundsz affiliate pay a monthly fee, either $10 for Silver or $30 for Gold membership.
Paying more for Gold membership qualifies Fundsz affiliates for additional bonuses.
Payment of this fee allows them to invest $10 to $10,000. This is done on the promise of a perpetual passive weekly ROI.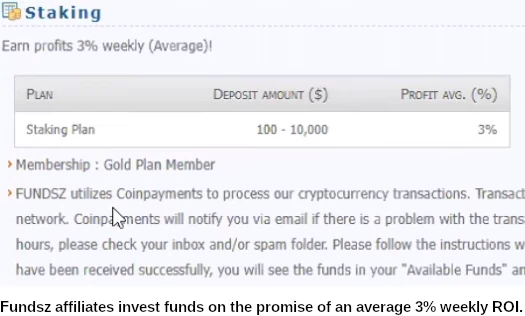 The MLM side of Fundsz pays on recruitment of affiliate investors.
Recruitment Commissions
Fundsz affiliates pay either $10 or $30 a month in membership fees.
Fundsz pays a 13% commission on membership fees paid by personally recruited affiliates.
Referral Commissions
Fundsz affiliates receive 10% of ROI payments made to personally recruited affiliates.
There appears to be a residual commission paid out on ROI payments down eight levels of recruitment. Fundsz's official marketing presentation does not provide specifics.
Residual Commissions
Fundsz uses monthly membership fees to fund residual commissions.
Fundsz pays residual commissions via a 4×8 matrix.
A 4×8 matrix places a Fundsz affiliate at the top of a matrix, with four positions directly under them: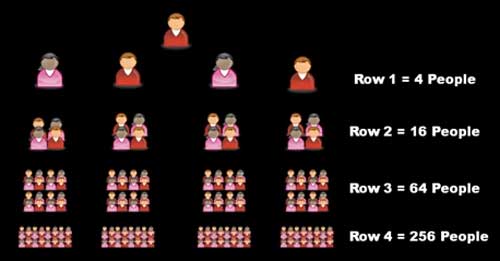 These four positions form the first level of the matrix. The second level of the matrix is generated by splitting these four positions into another four positions each (16 positions).
Levels three to eight of the matrix are generated in the same manner, with each new level housing four times as many positions as the previous level.
Positions in the matrix are filled via direct and indirect recruitment of Fundsz affiliates.
A 7% residual commission is paid on fees paid by affiliates recruited into your matrix.
Matching Bonus (Car Bonus)
Gold membership Fundsz affiliates qualify for a 25% Matching Bonus on income earned by personally recruited affiliates.
Whether this excludes any commissions or bonuses is unclear.
House Bonus
Gold membership Fundsz affiliates qualify for a 4% House Bonus "paid down to infinity".
What the House Bonus is actually paid out on isn't specified.
Joining Fundsz
Fundsz affiliate membership is either $10 a month for Silver or $30 a month for Gold.
To qualify for everything in Fundsz compensation plan Gold membership is required.
Fundsz Conclusion
Fundsz appears to have started off as a gifting scheme hiding behind charity.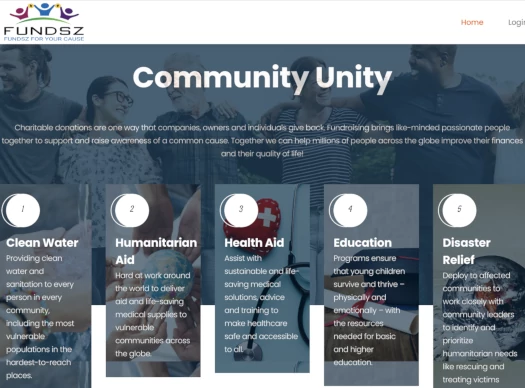 Charitable donations are one way that companies, owners and individuals give back.

Fundraising brings like-minded passionate people together to support and raise awareness of a common cause.

Together we can help millions of people across the globe improve their finances and their quality of life!
The company originally pitched "peer-to-peer donation payments". That business appears to have collapsed.
While the pyramid aspect of cash gifting remains, Fundsz today operates a cryptocurrency Ponzi scheme.
The ruse behind Fundsz' Ponzi scheme is "staking". That is investing in a coin, parking it with a company and collecting a passive ROI.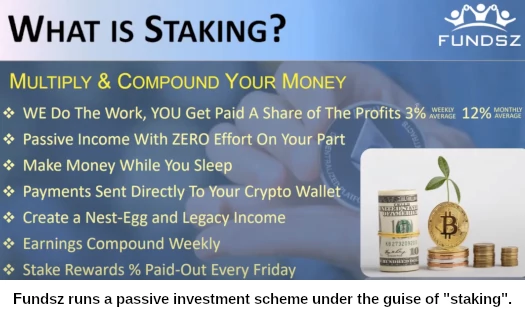 Fundsz represents it does this for its investors but no specific details are provided.
Regardless, the only verifiable source of revenue entering Fundsz is affiliate investment.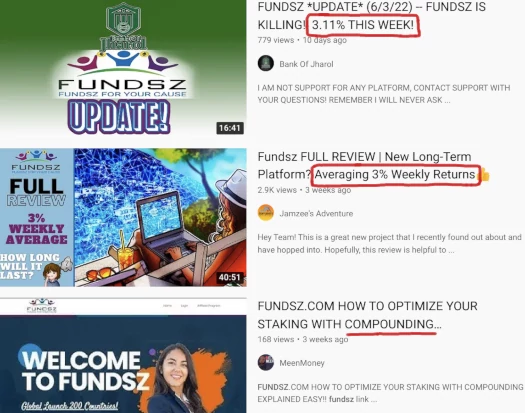 Irrespective of what they are or aren't doing on the backend, Fundsz's passive investment opportunity constitutes a securities offering.
From what I've been able to tell the majority of Fundsz admins and leaders are based out of Florida.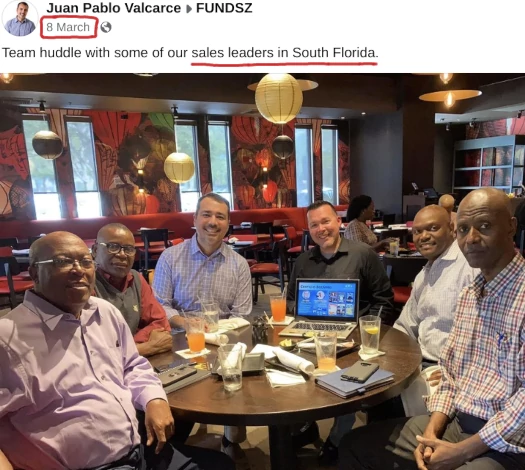 According to current estimates by SimilarWeb, 61% of Fundsz's website traffic originates from the US.
Securities in the US are regulated by the SEC. Neither Fundsz or Juan Pablo Valcarce are registered with the SEC.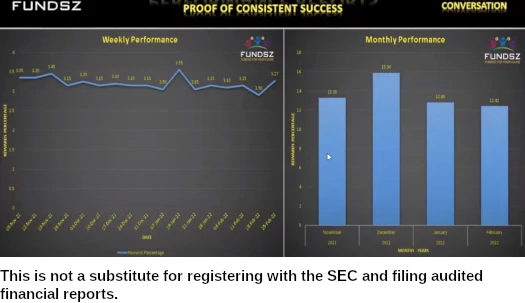 At best, Fundsz is committing securities fraud and operating illegally.
At worst, Fundsz is committing securities fraud, running a 3% a week Ponzi scheme and committing securities and wire fraud.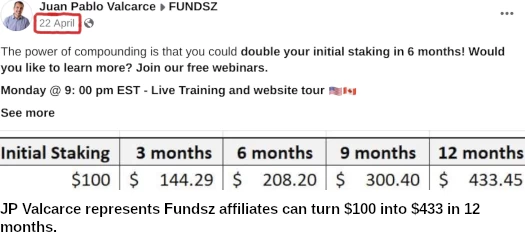 The pyramid aspect of Fundsz MLM compensation plan is also a violation of the FTC Act.
Attached to Fundsz is "wealth academy training" and a FaceBook marketplace clone: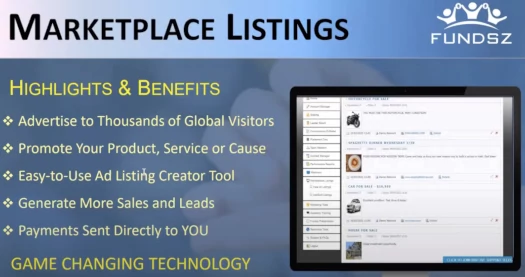 Attaching things to a Ponzi scheme doesn't legitimize securities and/or wire fraud.
As with all MLM Ponzi schemes, once affiliate recruitment inevitably dries up so too will new investment.
This will starve Fundsz of ROI revenue, eventually prompting a collapse.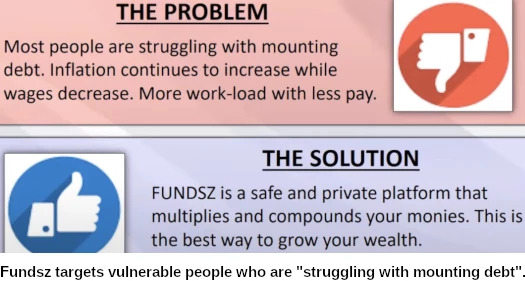 The math behind Ponzi schemes guarantees that when they collapse, the majority of participants lose money.