Fast Cash Matrix Review: $5 4×4 matrix gifting scheme
Somebody's getting bank for their buck. Fast Cash Matrix is the third MLM opportunity launch to use the same design template in as many months.
The red on yellow design with cringy stock group photograph was first used by 1MillionFast in December, 2015. Last month saw 3to600 resurrect the template and now Fast Cash Matrix has done it again.
There is no information on the Fast Cash Matrix website disclosing who owns or runs the business.
The Fast Cash Matrix website domain ("fastcashmatrix.com") was registered on the 22nd of February 2016, however the domain registration is set to private.
Of note is that Fast Cash Matrix sounds pretty similar to Fast Money Matrix, a matrix cycler scheme we reviewed last week. Despite the similarities in naming however, I was unable to find any definitive link between the two companies.
As always, if an MLM company is not openly upfront about who is running or owns it, think long and hard about joining and/or handing over any money.
The Fast Cash Matrix Product Line
Fast Cash Matrix has no retailable products or services, with affiliates only able to market Fast Cash Matrix affiliate membership itself.
Once signed up, affiliates can purchase matrix positions to participate in the Fast Cash Matrix income opportunity.
Bundled with each position purchase are a series of advertising credits, which can be used to display advertising on the Fast Cash Matrix website.
The Fast Cash Matrix Compensation Plan
The Fast Cash Matrix sees affiliates purchase positions in a 4×4 matrix.
A 4×4 matrix places an affiliate at the top of the matrix, with four positions directly under them: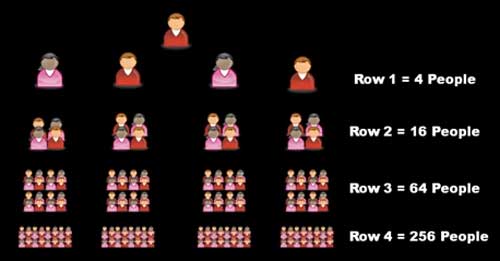 These initial four positions form the first level of the matrix, with the second level generated by splitting each of the four positions into another four positions each (16 positions).
The third level of the matrix is generated by splitting the level 2 positions (64 positions), and again to generate the fourth and final level of the matrix (256 positions).
In total a 4×4 matrix has 340 positions to fill, with positions filled via the recruitment of new Fast Cash Matrix affiliates.
Commissions are paid out as positions in the matrix are filled left to right as follows:
level 1 (positions cost $10) – pays out $10 and unlocks level 2 once all four positions are filled
level 2 – pays out $130 and cycles into level 3 once all sixteen positions are filled
level 3 – pays out $1860 and cycles into level 4 once all sixty-four positions are filled
level 4 – pays out $15,360
Note that an affiliate can directly unlock levels 2 to 4 of their matrix, by paying $10 (level 2), $30 (level 3) and/or $60 (level 4).
Joining Fast Cash Matrix
Affiliate membership with Fast Cash Matrix is free, however affiliates must purchase at least one $5 matrix position in order to participate in the Fast Cash Matrix MLM opportunity.
The company also charges a "processor fee" on each $5 payment, however the exact fee amount is not disclosed.
Conclusion
If you do the math on Fast Cash Matrix's matrix commissions, it's evident that affiliates are paying affiliates.
Most of the money paid in is a direct transfer to existing affiliates, however some funds are withheld as "fees" to unlock the next level of the matrix. These fees are also paid to existing affiliates but are not done so in a linear manner.
Either way it's still cash gifting, as nothing is being marketed to or sold to retail customers.
The only source of revenue is affiliate payments, which are directly paid to other affiliates. This, irrespective of ad-credits or whatever else Fast Cash Matrix bundled with the payments makes it a cash gifting scheme.
As with all cash gifting schemes once recruitment of new Fast Cash Matrix affiliates dies down, so too will gifting payments.
Given the recycled use of Fast Cash Matrix's website theme (and likely the script powering the website), it's evident that it has been set up on the cheap.
These sorts of schemes are quick to set up and consequently, quick to collapse. Don't expect anyone except the anonymous admin and perhaps a few of their friends to make any money here.
Everyone else pays in and loses out, such is the way the cash gifting cookie crumbles.