Fair Play BTC Review: Six-tier matrix bitcoin gifting
Fair Play BTC provide no information on their website about who owns or runs the business.
The Fair Play BTC website domain ("fairplaybtc.com") was privately registered on October 11th, 2016.
Whoever is running Fair Play BTC is likely based out of Europe.
The Fair Play BTC website itself is hosted in Italy. Alexa currently estimate that Germany accounts for 75% of traffic to the Fair PLay BTC website. Austria is the second largest source of traffic at 15%.
As always, if an MLM company is not openly upfront about who is running or owns it, think long and hard about joining and/or handing over any money.
Fair Play BTC Products
Fair Play BTC has no retailable products or services, with affiliates only able to market Fair Play BTC affiliate membership itself.
The Fair Play BTC Compensation Plan
Fair Play BTC affiliates gift bitcoin to each other via a 3×6 matrix.
A 3×6 matrix places a Fair Play BTC affiliate at the top of a matrix, with three positions directly under them: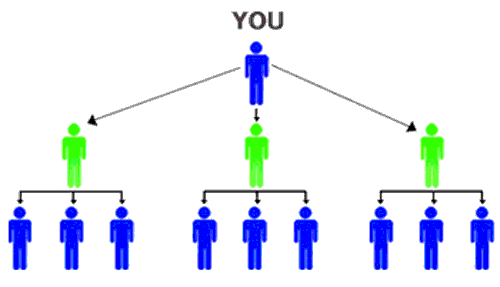 These three positions form the first level of the matrix. The second level of the matrix is generated by splitting these first three positions into another three positions each (9 positions).
Levels three to six of the matrix are generated in the same manner, with each new level housing three times as many positions as the previous level.
A Fair Play BTC affiliates signs up and gifts 0.2 BTC to the affiliate who recruited them.
This payment in turn qualifies the affiliate to receive 0.2 BTC from three affiliates recruited into the first level of their matrix.
Higher levels of the matrix operate in the same manner, the only difference being an increase in the amount gifted at each level.
level 1 – gift 0.2 BTC to the affiliate who recruited you and receive 0.2 BTC from two subsequently recruited affiliates
level 2 – gift 0.4 BTC and receive 0.4 BTC from nine affiliates
level 3 – gift 0.8 BTC and receive 0.8 BTC from twenty-seven affiliates
level 4 – gift 1.6 BTC and receive 1.6 BTC from eighty-one affiliates
level 5 – gift 3.2 BTC and receive 3.2 BTC from two hundred and forty-three affiliates
level 6 – gift 6.4 BTC and receive 6.4 BTC from seven hundred and twenty-nine affiliates
Joining Fair Play BC
Fair Play BTC affiliate membership is tied to a 0.2 BTC gifting payment.
Full participation in the Fair Play BC MLM opportunity costs 12.6 BTC.
The Fair Play BTC website suggests gifting payments across each matrix level are payable annually.
Conclusion
Under the guise of giving and receiving donations, Fair Play BTC promise affiliates a "100 % Guaranteed profit lifetime income."
The reality is Fair Play BTC are operating a six-tier matrix gifting scheme.
What differentiates Fair Play BC gifting payments from legitimate donations is that donations aren't made with the expectation return donations will be received.
As with all gifting schemes, once affiliate recruitment dies down so too will new gifting payments. This will see affiliates at the bottom of the company-wide Fair Play BTC matrix lose money when the scheme collapses.
Matrix-based bitcoin schemes typically only benefit those that run them and a few early adopters.
Through pre-loaded matrix positions and funds passed up at each matrix level, the admin collects most of the money deposited into the scheme.
The use of bitcoin meanwhile means fund recovery for Fair Play BTC victims will be next to impossible.