EXnGlory Review: Daily returns ASIC investment fraud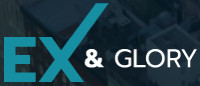 EXnGlory claims it's 'an Australian trading company that has been present on market since 2015'.
I ran ABN and ACN searches for "EXnGlory" and "Ex&Glory". Nothing came up for an ABN but ExnGlory PTY LTD was registered with ASIC on September 9th, 2019.
EXnGlory's official YouTube channel was created on September 13th, 2019 – which is around the time the company launched.
EXnGlory's claim it has been around since 2015 appears to be a lie.
Supposedly running EXnGlory is CEO Christopher Allison.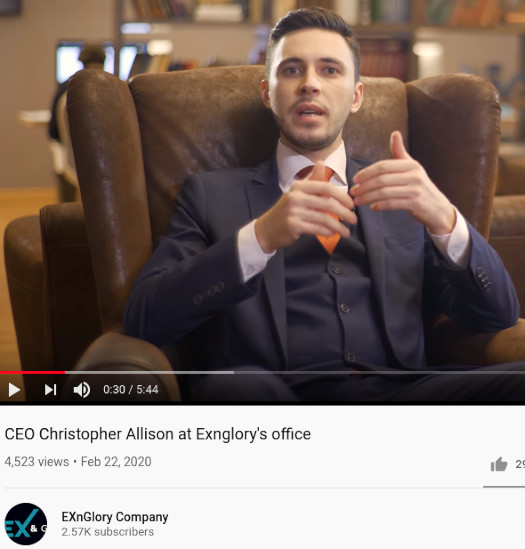 Allison has a distinct eastern European accent, and his CEO video is shot in an obviously rented space.
Given this, it's highly likely an actor is playing Allison.
Whoever is actually running EXnGlory is probably from Europe, with any ties to Australia being superficial (shell companies).
As always, if an MLM company is not openly upfront about who is running or owns it, think long and hard about joining and/or handing over any money.
EXnGlory's Products
EXnGlory has no retailable products or services, with affiliates only able to market EXnGlory affiliate membership itself.
EXnGlory's Compensation Plan
EXnGlory affiliates invest $100 or more on the promise of a 118% to 121.6% ROI, paid in eighteen days.
Referral commissions are paid via a unilevel compensation structure.
A unilevel compensation structure places an affiliate at the top of a unilevel team, with every personally recruited affiliate placed directly under them (level 1):

If any level 1 affiliates recruit new affiliates, they are placed on level 2 of the original affiliate's unilevel team.
If any level 2 affiliates recruit new affiliates, they are placed on level 3 and so on and so forth down a theoretical infinite number of levels.
EXnGlory caps payable unilevel team levels at ten.
Referral commissions are paid out as a percentage of funds invested across these levels as follows:
level 1 (personally recruited affiliates) – 7%
level 2 – 5%
level 3 – 3%
level 4 – 2%
levels 5 to 7 – 1%
levels 8 to 10 – 0.5%
Joining EXnGlory
EXnGlory affiliate membership is free.
Participation in the attached income opportunity however requires a minimum $100 investment.
Conclusion
EXnGlory claims to generate external revenue via… well, I'll let you try to figure it out.
The company governs its own business using the most advanced technologies in artificial intelligence, latest results in marketing techniques and finance online management as well stock exchange and cryptocurrency assets.
The above is taken from EXnGlory's website and obviously not written by a native English speaker.
EXnGlory mashes together the typical MLM Ponzi cliches. None of which actually exist.
EXnGlory's ASIC registration is meaningless, as to date the only document filed is a 201C Application For Registration as a Proprietary Company.
A 201C filing costs $495 and is done online. It is a basic proprietary company registration.
Like Companies House in the UK, you can put any bogus information down. By the time ASIC investigates, if at all, EXnGlory will be long gone.
An ABN is a bit more meaningful, which is probably why EXnGlory doesn't have one.
In any event, EXnGlory are running a passive investment scheme. This is a securities offering.
Even if you were gullible enough to take EXnGlory's ASIC registration at face value, it only covers Australia.
At the time of publication Alexa estimates the US (34%), Iran (14%) and Russia (10%) are the top three sources of traffic to EXnGlory's website.
Russia is the wild west but securities are regulated in both the US and Iran.
EXnGlory is not registered to offer securities in either jurisdiction, and thus operates illegally.
As it stands the only verifiable source of revenue entering EXnGlory is new investment.
Using new investment to pay existing investors a daily return makes EXnGlory a Ponzi scheme.
As with all MLM Ponzi schemes, once affiliate recruitment dies off so too will new investment.
This will starve EXnGlory of ROI revenue, eventually prompting a collapse.
The math behind Ponzi schemes guarantees that when they collapse, the majority of investors lose money.