Excallit Review: Veros cryptocurrency pump & dump altcoin scheme

On their website, Excallit claims to be a Delaware corporation established in July of 2012.
This is questionable, as the Excallit website domain was only registered in May of 2014.
A Delaware address is listed on the Excallit website domain registration. The address however belongs to Delaware Registry LTD, who provide Delaware incorporation services.
As far as I can tell Excallit has no physical presence in the United States.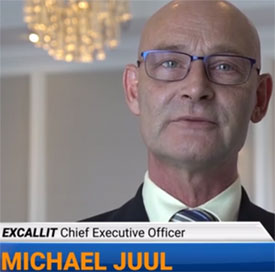 The Excallit website identifies Michael Juul (right) as CEO of the company.
In 2001 Juul co-founded the GII Corp pyramid scheme. The same scammers behind GII Corp seem to have morphed into a gaming platform (T6 Poker) at some point.
To what extent, if any, Juul was involved in T6 Poker is unclear.
As per his Facebook profile, Juul is from Denmark but currently lives in Singapore. This is presumably from where Excallit is actually being operated from.
Excallit marketing material suggests the company is primarily pitched to a Chinese audience. A secondary market appears to be emerging in Romania.
Read on for a full review of the Excallit MLM opportunity.
The Excallit Product Line
Excallit has no retailable products or services, with affiliates only able to market Excallit affiliate membership itself.

Excallit affiliates invest in packages, which come with tokens. These tokens can be converted into the Veros cryptocurrency.
The Veros cryptocurrency is publicly traded and has a current value of 3.8 cents.
The Excallit Compensation Plan
The Excallit compensation plan sees affiliates invest in tokens.
Intro (€100 EUR) – €40 EUR in tokens
Starter (€250 EUR) – €100 EUR in tokens
Elementary (€850 EUR) – €300 EUR in tokens
Apprentice (€1350 EUR) – €500 EUR in tokens
Business (€2600 EUR) – €1500 EUR in tokens
Professional (€5600 EUR) – €4500 EUR in tokens
Premium (€16,800 EUR) – €5000 EUR in tokens
Elite (€39,200 EUR) – €5000 EUR in tokens
Tokens can be converted into the Veros cryptocurrency. The current rate of tokens required to purchase Veros from Excallit is not disclosed on the Excallit website.
Mandatory Reinvestment
Excallit affiliates are required to reinvest funds back into new tokens.
Each affiliate package sets aside a specific amount that is required to be reinvested:
Intro – €40 EUR
Starter – €100 EUR
Elementary – €300 EUR
Apprentice and higher – €500 EUR
Additionally 30% of binary commissions and the residual matching bonus must also be reinvested into new Veros tokens.
Recruitment Commissions
Excallit affiliates are paid a 10% commission on binary points generated when they recruit a new affiliate who invests (see binary point values in "residual commissions" below).
Residual Commissions
Residual commissions in Excallit are paid via a binary compensation structure.
A binary compensation structure places an affiliate at the top of a binary team, split into two sides (left and right):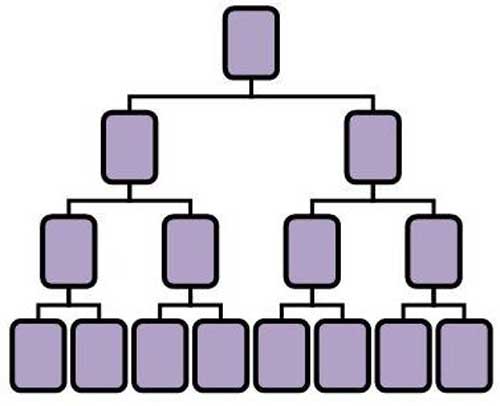 The first level of the binary team houses two positions. The second level of the binary team is generated by splitting the first two positions into another two positions each.
Subsequent levels of the binary team are generated in the same manner, with each new level housing twice as many positions as the previous level.
There is no limit as to how deep a binary team can grow.
Each Excallit affiliate package corresponds to a set number of points:
Intro – 80 points
Starter – 200 points
Elementary – 600 points
Apprentice – 1000 points
Business – 2000 points
Professional – 5000 points
Premium – 15,000 points
Elite – 25,000 points
At the end of each week Excallit tally up new investment volume on both sides of the binary team.
Affiliates are paid a percentage of matched volume on their weaker binary side, based on how much they have invested:
Intro – 5% matched volume (capped at €2000 EUR a week)
Starter – 6% matched volume (capped at €5000 EUR a week)
Elementary – 8% matched volume (capped at €7500 EUR a week)
Apprentice – 8% matched volume (capped at €10,000 EUR a week)
Business – 10% matched volume (capped at €15,000 EUR a week)
Professional – 12% matched volume (capped at €25,000 EUR a week)
Platinum – 12% matched volume (capped at €30,000 EUR a week)
Elite – 12% matched volume (capped at €35,000 EUR a week)
Residual Matching Bonus
A binary earnings matching bonus of 3% on up to 8 levels of recruitment is payable, subject to the following recruitment criteria:
recruit two affiliates (one on either side of the binary) and earn a 3% matching bonus down two levels of recruitment
recruit four affiliates and earn a 3% matching bonus down four levels of recruitment
recruit six affiliates and earn a 3% matching bonus down six levels of recruitment
recruit eight affiliates and earn a 3% matching bonus down eight levels of recruitment
Career Bonus
As an Excallit affiliate generates accumulated investment point volume in their weaker binary side, the following bonuses are rewarded:
25,000 binary volume = €250 EUR
50,000 binary volume = €500 EUR
100,000 binary volume = €1000 EUR
250,000 binary volume = €2500 EUR
500,000 binary volume = €5000 EUR
1,000,000 binary volume =€10,000 EUR
2,500,000 binary volume = €25,000 EUR
5,000,000 binary volume = €50,000 EUR and an "apartment holiday"
10,000,000 binary volume = €100,000 EUR and two "apartment holidays"
25,000,000 binary volume = €250,000 EUR and five "apartment holidays"
50,000,000 binary volume = €500,000 EUR and a villa holiday
Business Centers
Excallit affiliates who invest at the Premium and Elite levels receive three and seven additional business centers respectively.
Although not explicitly clarified in the Excallit compensation plan, I believe these are additional binary positions.
Joining Excallit
Excallit affiliate membership is tied to investment in one of the following
Intro – €100 EUR
Starter – €250 EUR
Elementary – €850 EUR
Apprentice – €1350 EUR
Business – €2600 EUR
Professional – €5600 EUR
Premium – €16,800 EUR
Elite – €39,200 EUR
The more an Excallit affiliate invests the higher their income potential through the compensation plan.
Conclusion
Excallit is your typical MLM altcoin pump and dump scheme.
The Veros cryptocurrency has no practical application outside of the Excallit income opportunity. And even then, it's merely a vehicle to pay recruitment commissions to affiliates who invest.
There is no reason to convert real money into Veros, other than it qualifies you to earn commissions when you recruit others who do the same.
The Excallit business model is a pyramid scheme. Affiliates are paid to recruit new investors and there is nothing marketed or sold to retail customers.
The business opportunity alone is what is being invested in, as evidenced by access to the same education packages at the Premium (€16,800 EUR) and Elite (€39,200 EUR) levels.
Aside from increased income potential through the binary, the only other difference between these two packages is an additional seven binary positions over three.
That's what Excallit affiliates who buy in at the Elite level are actually purchasing. The education packages are simply a ruse.
Further research reveals Excallit was originally attached to ReeCoin:
ReeCoin is another worthless altcoin, the price of which crashed last year. It is currently worth 0.6 cents.
ReeCoin appears to have declined in value around the time Excallit switched over to Veros.
No doubt Excallit affiliates were fed the same cock and bull pitch about how ReeCoin was also going to explode in value. You know, the usual yada yada "we're going to be the next bitcoin" spiel.
Here's where things get murky though.

At one point the Excallit and ReeCoin websites were hosted on the same machine:
"Gcccoin" and "the.gcccoin" refers to Global Currency Coin, a Ponzi points opportunity launched in 2015. They've since abandoned the "gcccoin.com" domain and now use "thegcccoin.com".
Beyond being hosted on the same server at one point, to what extent Global Currency Coin and Excallit are linked is unclear.
Update 8th May 2017 – Excallit and Global Currency Coin are likely linked through their respective CEOs.
The undated photo below was taken at a GII Corp event: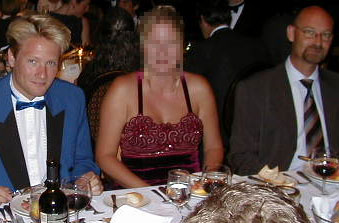 On the left there you have Jan Pasboel, CEO and founder of Global Currency Coin. On the right is Excallit CEO Michael Juul. /end update
What we do know is that once affiliate recruitment dies down, Excallit will collapse and the value of Veros with it.
Recruitment commissions alone are not enough to sustain a cryptocurrency, it needs to have some practical use.
All that happens in these altcoin MLM scams is the admin(s) get rich selling worthless pre-mined coins to unsuspecting victims at a vastly inflated price.
The price of the coin collapses, the admins keep the real money invested and the holders of the coin are left with a worthless altcoin.
This scenario has played out time and time again in the MLM cryptocurrency niche. Excallit won't be any different.