Dot Dot Smile Review: LuLaRoe for kids?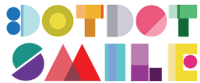 Dot Dot Smile are based out of California and operate in the MLM clothing niche.
According to Dot Dot Smile's website, the company initially launched in 2013. The MLM model was adopted in July 2017.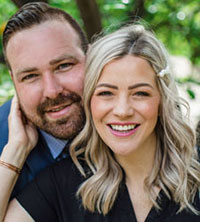 Heading up Dot Dot Smile is founder Nicole Thompson.
Thompson's husband Jeff is sometimes credited as a co-founder, but creation of Dot Dot Smile is mostly credited to Nicole (right with Jeff).
That said although it's not publicized on Dot Dot Smile's website, Jeff Thompson is CEO of the company.
According to Dot Dot Smile's "about us" page on their website, Thompson came up with the business idea while living with her parents.
Nicole Thompson is the daughter of DeAnne Stidham, co-founder of LuLaRoe.
I wasn't able to ascertain whether Thompson was involved in LuLaRoe prior to launching Dot Dot Smile.
In any event, Dot Dot Smile appears to be Thompson's first run as an MLM executive.
Read on for a full review of Dot Dot Smile's MLM business opportunity.
Dot Dot Smile's Products
Dot Dot Smile markets a range of children's clothing for girls.
This includes dresses, swimwear, tshirts, backpacks and a set of pens.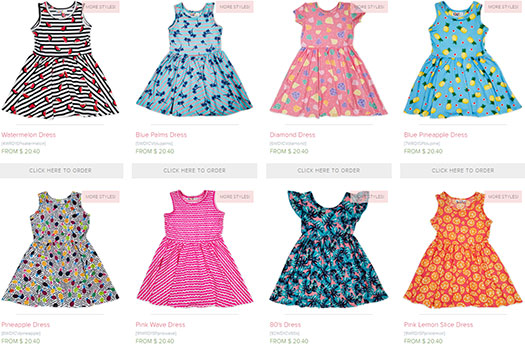 Dot Dot Smile's online catalogue doesn't appear to be ordered. Instead products are presented in an unorganized manner.
With slight pricing fluctuations based on sizing, most of Dot Dot Smile's dresses come in at the $20 to $21 mark. Swimwear is about the same.
Update 8th November 2019 – When I initially published this review it appears the Dot Dot Smile collection I was looking at was on sale.
Regular pricing, as per a reader in the comments below is roughly $34 to $42.
Backpacks are currently on sale from $39.99 down to $23.99, and a fifteen pack of Dot Dot Smile branded pens will set you back $5.99 down from $9.99. /end update
According to Dot Dot Smile's affiliate agreement, there's a "limited run of each print and style".
Finally, free shipping is offered on all $75 or higher customer orders.
Dot Dot Smile's Compensation Plan
Dot Dot Smile's compensation plan combines a low-barrier of entry with retail commissions, first-order recruitment commissions.
Residual commissions are paid out via a five-level deep unilevel team. And there are also rank-based bonuses available.
Retail Commissions
Dot Dot Smile affiliates earn a 40% commission on products sold to retail customers.
Recruitment Commissions
Dot Dot Smile affiliates earn recruitment commissions down two levels of recruitment:
10% of the first product order made by personally recruited affiliates
5% of the first product order made by level 2 recruited affiliates (those recruited by your personally recruited affiliates)
Achiever Maker Bonus
A $50 Achiever Maker Bonus is paid out each time a personally recruited affiliate qualifies at the Achiever rank.
Residual Commissions
Dot Dot Smile pays residual commissions via a unilevel compensation structure.
A unilevel compensation structure places an affiliate at the top of a unilevel team, with every personally recruited affiliate placed directly under them (level 1):

If any level 1 affiliates recruit new affiliates, they are placed on level 2 of the original affiliate's unilevel team.
If any level 2 affiliates recruit new affiliates, they are placed on level 3 and so on and so forth down a theoretical infinite number of levels.
Dot Dot Smile caps payable unilevel levels at five.
Residual commissions are paid out as a percentage of sales volume generated across these five levels, based on an affiliate's own monthly PV:
generate 50 PV a month and earn 5% on level 1 (personally recruited affiliates)
generate 75 PV a month and earn 5% on level 1 and 4% on level 2
generate 100 PV a month and earn 5% on level 1, 4% on level 2 and 3% on level 3
generate 125 PV a month and earn 5% on level 1, 4% on level 2, 3% on level 3 and 2% on level 4
generate 175 PV a month and earn 5% on level 1, 4% on level 2, 3% on level 3, 2% on level 4 and 1% on level 5
Leadership Check Bonus
The Leadership Check Bonus is a rank-based bonus paid out upon qualification of the following criteria:
Achiever (recruit and maintain two active affiliates, and generate and maintain 50 PV and 300 GV a month) = $100 Leadership Check Bonus
Believer (recruit and maintain four active affiliates (at least two Achievers), and generate and maintain 75 PV and 750 GV a month) = $1000
Creator (recruit and maintain six active affiliates (two Achievers and two Believers or higher), and generate and maintain 100 PV and 2000 GV a month) = $5000 paid out over two months
Dreamer (recruit and maintain eight active affiliates (two Achievers, two Believers and two Creators or higher), and generate and maintain 125 PV and 6500 GV a month) = $10,000 paid out over four months
Executive (recruit and maintain ten active affiliates (two Achievers, three Beleivers, three Creatros and two Dreamers or higher), and generate 175 PV and 30,000 GV a month) = $50,000 paid out over five months
Note that from Creator, qualification is required to be maintained for two consecutive months.
Joining Dot Dot Smile
Dot Dot Smile affiliate membership is $50 annually plus an initial minimum $149 order of products.
Conclusion
Whatever disconnection I felt reviewing personal care products, Dot Dot Smile took that to a whole other level.
Yeah, so I know nothing about literally nothing about girl's clothing. ~$21 seems decent enough for a dress but I have nothing to benchmark Dot Dot Smile's products against.
In this instance I'm not really comfortable firing up Amazon and what not, because I'm not 100% sure I'd be comparing apples with apples.
Anyway, that aside Dot Dot Smile hasn't fallen that far from the LuLaRoe tree.
The "leggings lottery" model from LuLaRoe has been applied to girl's clothes and, from an affiliate perspective, that's Dot Dot Smile's biggest weakness.
You will be sent a blind box with different print varieties included! First, let us know how many of each size and style you want below!
Outside of retail sales made via their replicated website, Dot Dot Smile affiliates are expected to pay for "blind inventory". That is beyond what type of clothing and size, they have no input into what designs they will get.
This is a terrible method of distribution for affiliates, as it assumes retail customers will buy anything.
As with LuLaRoe, Dot Dot Smile is incentivized to keep this model. It gives the company a convenient out if a product line flops, as opposed to have to own up to creating designs that nobody wants.
You can't sell the random patterns we sent you? Well obviously you're just not trying hard enough.
The good news is that beyond the initial $149 order, Dot Dot Smile don't force their affiliates to purchase products.
The bad news is MLM commission qualification is tied to PV which, when you consider the probability of a Dot Dot Smile affiliate receiving dud patterns, might drive them to self-purchase to meet PV requirements.
In LuLaRoe I referred to this as a "leggings lottery". The same principal applies in Dot Dot Smile.
As with any lottery, if a Dot Dot Smile affiliates believes they've received inventory they can't sell, they can simply buy a new ticket.
That ticket is a Dot Dot Smile product order, and the objective is to receive favorable inventory.
Unfortunately the odds are stacked against the affiliate, as they have no say in what patterns they receive.
Did I mention this is a terrible business model?
One can perhaps attempt to justify this by way of 50 PV being the minimum requirement for MLM commissions.
But again, selling 50 PV worth of product to someone who wants said product is one thing.
When was the last time you walked into a store, gave them your size and paid for a bag containing a random item of clothing?
The online store is of course there, but if you just focus on that you're eliminating a potentially large source of retail sales.
Something Dot Dot Smile themselves readily acknowledge;
Selling DotDotSmile Merchandise directly to your customer base is the first pillar of a solid foundation for your business.
If we ignore the lottery aspect of Dot Dot Designs supply-chain, the comp plan is pretty straight forward.
Hell it's even affordable (LuLaRoe demand $5000 to enter their lottery).
But I just can't in good conscience look past affiliates paying for products and receiving completely randoms designs they or their customers may or may not want.
One last thing I want to touch on is Dot Dot Smile's corporate "about us" story.
One evening, Nicole was sitting on the couch late at night with time to reflect on life and her current situation.

At the time, she and her husband, Jeff, were living with her parents as they had chosen to save money for a down payment on what would be their first home.

As she sat there quietly, she pulled out her gratitude journal, which was something Nicole had committed to doing as a New Year's resolution.

As she quietly wrote in the journal, she was filled with gratitude for all the many blessings she had been given.

Somewhere between her pen touching the paper and closing the journal before bed, she had received inspiration from God.

She felt prompted to start a children's clothing line with the intention of creating something that would bring further joy to children by the clothing they wear every day.

Since Jeff had already gone to bed as he had to get up early for work, Nicole did not have the time to discuss the inspiration with him but was determined to see it through.

Deciding to act on her prompting, she headed for LA the very next day.

Taking all the cash savings she and Jeff had built up until that point, she arrived in LA and gathered as many cute and unique textiles she could find.

On her way home, she called Jeff and informed him of her dream and inspiration. Jeff was thrilled to hear it.

He had always believed in her and was eager to hear more about it that evening.

Nicole was filled with remorse and even questioned what she was doing for a split second, but Jeff was there to reassure her and express belief in what she had felt and the path on which they were about to embark.
Seriously? This reads more like something you'd find in a trashy romance novel.
So let me get this straight. Nicole and hubby are staying with her parents and saving every dollar they can to put towards a house.
One day Nicole, without consulting her partner, decides to up to LA and blow their entire life savings on a business idea.
And Jeff isn't angry about this. In fact he's "thrilled" and can't wait to hear more about it "that evening".
Puh-leeeze!
Look, some parts of that story are probably accurate but there's obviously a whole lotta PR spin in there also.
Considering LuLaRoe was founded mere months prior to Dot Dot Smile, it's not likely the business idea was some random journal-inspired whim as presented.
What I will point out though is despite the apparent connections, there does appear to be some separation between LuLaRoe and Dot Dot Smile.
According to mommy blogger and Dot Dot Smile affiliate Kate Symons;
DotDotSmile is an entirely different company, with a separate mission statement, different set of products, all separate factories and production team.
Getting back to Dot Dot Smile's origin story; the cynic in me can't also help but point out it doubles as coaching.
Dot Dot Smile's website backstory is basically preemptive coaching on how to tackle a spouse angry at savings being blown up on inventory lottery orders.
Nicole's husband supported her without any questions, and look how that worked out for them.
WHY CAN'T YOU BLINDLY SUPPORT MY BUSINESS?!?
Keep in mind this doesn't have anything to do with Dot Dot Smile's MLM opportunity or you working it – I just felt it was something that needed to be pointed out.
What you want to find out from your perspective Dot Dot Smile upline is how much in raw dollars they've purchased since signing up, versus what they've been able to sell.
Above all else, that's the key to Dot Dot Smile due-diligence.
Take any hesitation as confirmation that particular affiliate has probably purchased more than they've been able to sell – which translates into them losing the inventory lottery.
Unless you want to gamble on the high probability you'll wind up just like them, choose how to proceed accordingly.
Update 7th September 2022 – After canning MLM operations at the end of June, Dot Dot Smile has filed for Chapter 11 bankruptcy.