Digimond Group Review: DMD Group Ponzi scheme

Digimond Group operates in the forex and cryptocurrency trading MLM niches. The company doesn't provide a corporate address on its website.
Digimond Group claims it's a European based consulting firm in the arena of sales and marketing for the past 23 years".
In reality Digimond Group's website domain was only registered a few months ago.
The domain "digimondmnc.com" was registered on February 2nd, 2022.
Elisa Solon Torrevillas is listed as the owner, through an incomplete address in Cebu, Philippines.
Digimond Group's website tech contact is "Rajesh R", through an incomplete address in India.
Heading up Digimond Group is co-founder "Ronald Roque".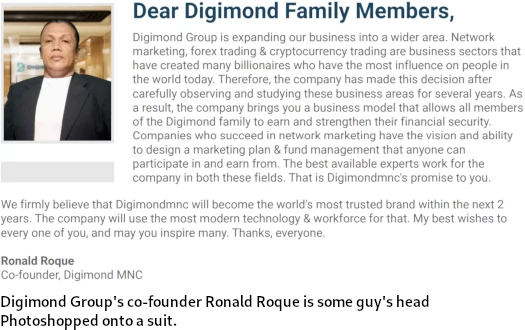 Roque is represented by a head Photoshopped onto a suit.
DigiMond Group's website also features Roque in a photoshopped office photo: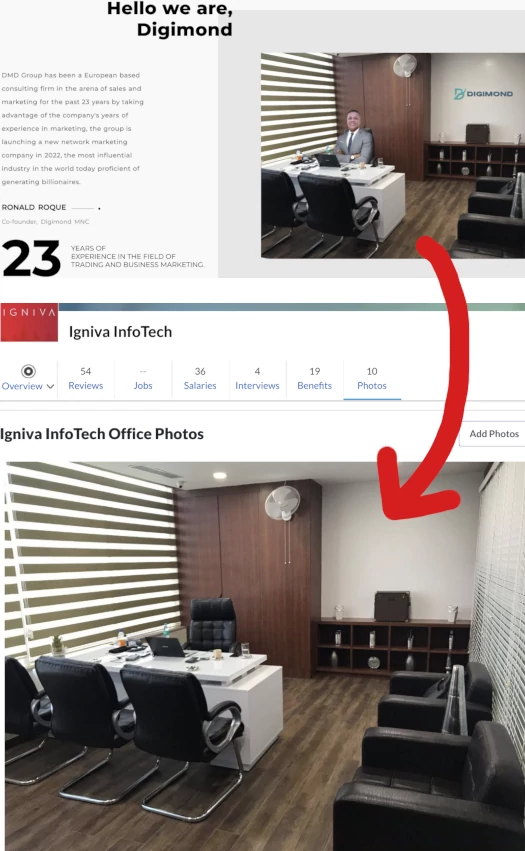 Needless to say Ronald Roque doesn't exist. Digimond Group's faceless CEO, Eric Jerome Miguel, also doesn't appear to exist.
As always, if an MLM company is not openly upfront about who is running or owns it, think long and hard about joining and/or handing over any money.
Digimond Group's Products
Digimond Group has no retailable products or services.
Affiliates are only able to market Digimond Group affiliate membership itself.
Digimond Group's Compensation Plan
Digimond Group affiliates invest funds on the promise of a monthly or annual ROI:
Plan 1 – invest $62.50 and receive a 10% a month for 12 months
Plan 2 – invest $125 and receive 5% after a month, or 7% a month for a 3 months, 9% a month for 6 months or 12% a month for 12 months
Plan 3 – invest $375 and receive 7% after a month, or 9% a month for a 3 months, 12% a month for 6 months or 16% a month for 12 months
Plan 4 – invest $1125 and receive 9% after a month, or 11% a month for a 3 months, 14% a month for 6 months or 21% a month for 12 months
Plan 5 – invest $3375 and receive 12% after a month, or 14% a month for a 3 months, 17% a month for 6 months or 28% a month for 12 months
Plan 6 – invest $10,125 and receive 15% after a month, or 17% a month for a 3 months, 20% a month for 6 months or 35% a month for 12 months
Note that funds are locked up for the duration of the investment term chosen (1 month, 3 months, 6 months or 12 months).
Note that Digimond appears to charge a 20% fee on all withdrawal requests.
The MLM side of Digimond Group pays on recruitment of affiliate investors.
Digimond Group Affiliate Ranks
There are twelve affiliate ranks within Digimond Group's compensation plan.
Along with their respective qualification criteria, they are as follows:
Affiliate – sign up as a Digimond Group affiliate and invest
Topaz – earn $5000
Sapphire – earn $10,000
Ruby – earn $25,000
Pearl – earn $50,000
Onyx – earn $100,000
Jade – earn $250,000
Emerald – earn $500,000
White Diamond – earn $1,000,000
Blue Diamond – earn $2,500,000
Black Diamond – earn $5,000,000
Diamond Crown – earn $10,000,000
Digimond Group doesn't explicitly specify, but I believe these earnings amounts include ROI payments and earned commissions.
Referral Commissions
Digimond Group pays a 5% referral commission on funds invested by personally recruited affiliates.
Residual Commissions
Digimond Group pays residual commissions via a binary compensation structure.
A binary compensation structure places an affiliate at the top of a binary team, split into two sides (left and right):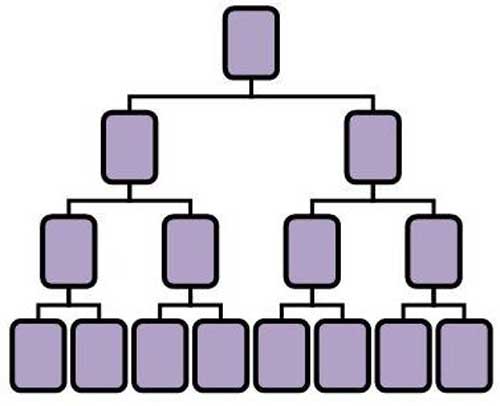 The first level of the binary team houses two positions. The second level of the binary team is generated by splitting these first two positions into another two positions each (4 positions).
Subsequent levels of the binary team are generated as required, with each new level housing twice as many positions as the previous level.
Positions in the binary team are filled via direct and indirect recruitment of affiliates. Note there is no limit to how deep a binary team can grow.
At the end of each week Digimond Group tallies up new investment volume on both sides of the binary team.
Residual commissions are paid as 10% of funds invested on the weaker binary team side.
Once paid out on, investment volume is matched against the stronger binary team side and flushed.
Any leftover volume carries over into the following week.
Rank Achievement Bonus
Digimond Group rewards affiliates for qualifying at Topaz and higher with one-time Rank Achievement Bonuses:
qualify at Topaz and receive $1000
qualify at Sapphire and receive $2000
qualify at Ruby and receive $5000
qualify at Pearl and receive $10,000
qualify at Onyx and receive $20,000
qualify at Jade and receive $50,000
qualify at Emerald and receive $100,000
qualify at White Diamond and receive $200,000
qualify at Blue Diamond and receive $500,000
qualify at Black Diamond and receive $1,000,000
qualify at Diamond Crown and receive 2,000,000
Joining Digimond Group
Digimond Group affiliate membership is free.
Full participation in the attached income opportunity requires a minimum $62.50 investment.
Digimond Group Conclusion
Digimond represents it generates external revenue via AI trading of forex and cryptocurrency.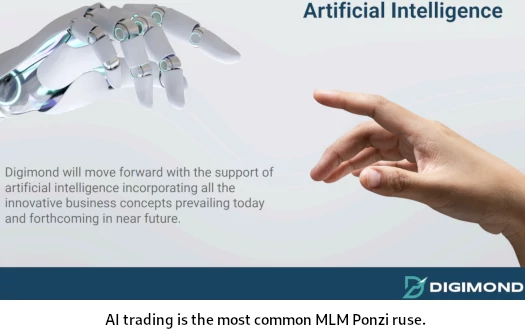 Digimond Group provides no evidence it is using trading or external revenue of any kind to pay affiliate withdrawals.
In addition to that, Digimond Group's passive returns clearly constitutes a securities offering.
Be it the Philippines, India or wherever else, Digimond Group fails to provide evidence it has registered with financial regulators.
Failing to do so means that, at a minimum, Digimond Group is committing securities fraud.
As it stands, the only verifiable revenue entering Digimond Group is new investment.
Using new investment to pay returns makes Digimond Group a Ponzi scheme. With nothing marketed or sold to retail customers, the MLM side of Digimond Group adds an additional pyramid layer to the scheme.
As with all MLM Ponzi schemes, once affiliate recruitment dries up so too will new investment.
This will starve Digimond Group of ROI revenue, eventually prompting a collapse.
The math behind Ponzi schemes guarantees that when they collapse, the majority of participants lose money.
Good luck getting your money back from Photoshopped Digimond Group executives that don't exist.