Daxio adds SportsBot to its securities fraud offering

A reader recently tipped me off to an update to Daxio's MLM offering.
Daxio, as reviewed on BehindMLM in May 2020, is the fourth reboot of the Global Game Arena Ponzi scheme.
Six months or thereabouts after that review was published, Daxio added "SportsBot" to its unregistered securities offering.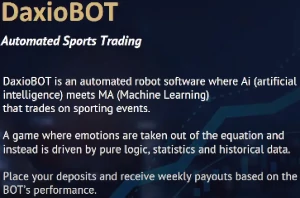 SportsBot, originally going by "DaxioBot", is your typical trading bot Ponzi ruse.
Whereas most trading bots are attached to forex or cryptocurrency, Daxio represents SportsBot "trades odds on several sports exchanges multiple times daily".
This is otherwise known as arbitrage.
You don't need any knowledge of sports, teams, results or statistics.

Make your deposit, push a button, and let the SportsBot do the job!
The above is from an official Daxio marketing presentation. It clearly spells out an securities offering.
Access to SportsBot is tied to Daxio membership, spanning €99 to €1999 EUR.
Starter – €99 EUR to sign up and can invest up to €999 EUR in SportsBot
Business – €599 EUR to sign up and can invest up to €4999 EUR in SportsBot
Business Pro – €1999 EUR to sign up and can invest up to €10,000 EUR in SportsBot
Funds invested into SportsBot are tied up for 26 weeks.
Returns, purportedly derived from bot activity, are paid weekly.
How much of a return is paid out is tied to how much a Daxio affiliate has invested into SportsBot:
invest €10 to €999 EUR and receive 25% of the purported SportsBot daily revenue amount
invest €1000 to €4999 EUR and receive 50% of the purported SportsBot daily revenue amount
invest €5000 EUR or more and receive 70% of the purported SportsBot daily revenue amount
SportsBot promoter Janos Lucsik claims SportsBot has "made about nine percent profit in every single week".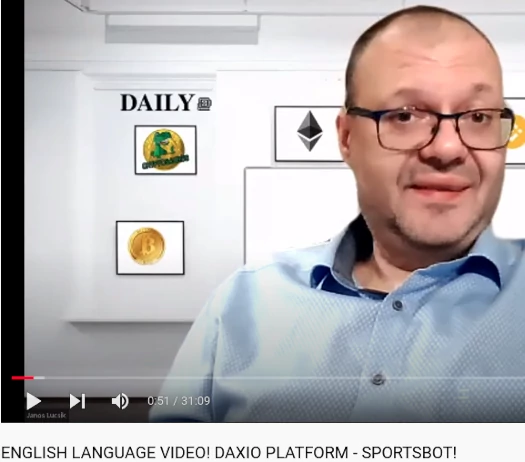 Lucsik also claims SportsBot has not generated a single loss day over the past year.

On the MLM side of things, Daxio pays a matching commission on returns paid to downline affiliates.
These commissions are paid via a unilevel compensation structure.
A unilevel compensation structure places an affiliate at the top of a unilevel team, with every personally recruited affiliate placed directly under them (level 1):

If any level 1 affiliates recruit new affiliates, they are placed on level 2 of the original affiliate's unilevel team.
If any level 2 affiliates recruit new affiliates, they are placed on level 3 and so on and so forth down a theoretical infinite number of levels.
Daxio caps payable unilevel team commissions at five:
level 1 (personally recruited affiliates) – 5%
level 2 – 4%
level 3 – 3%
level 4 – 2%
level 5 – 1%
Note that while fees and investment amounts are quoted in euro, Daxio solicits investment in bitcoin. Returns and commission payments are made in tether.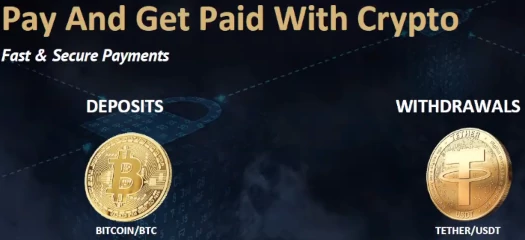 From a surface level regulatory perspective, Daxio is committing securities fraud. This is illegal in practically every country on the planet.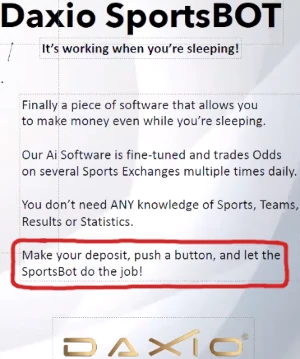 Given SportsBot is technically the fifth reboot of Global Game Arena, it's also likely a Ponzi scheme.
Daxio's launch model was a straight continuation of BetPlay365, the third Global Game Arena reboot.
That model had already flopped, prompting SportsBot's introduction ~6 months into Daxio.
With heavy payout restrictions and funds locked up for half a year, SportsBot hasn't unravelled yet.
Even if you take the claims at face value; a trading bot generating ~9% a week that hasn't generated a loss in a year, soon adds up to infinity money.
In any event it's certainly not something you'd sell access to for a couple of euro.
The only name publicly attached to Daxio is co-founder Frode Jorgensen.

Jorgensen, originally from Norway, relocated to Thailand some years ago.
Update 25th August 2022 – Daxio has rebranded its securities fraud offering around NFT gaming.