CryptoMaxx Review: Crypto Mafia reboots after collapse

There is no information on the CryptoMaxx website indicating who owns or runs the business.
The CryptoMaxx website domain ("cryptomaxx.com") was privately registered on February 10th, 2017.
The CryptoMaxx website domain currently uses name-servers hosted on the Crypto Mafia server. This requires admin permissions, meaning CryptoMaxx is being run by the same people behind Crypto Mafia:


This is further confirmed by a visit to the Crypto Mafia website, which now redirects to CryptoMaxx.
Crypto Mafia was a bitcoin gifting scheme launched in early January. Facebook postings connected it to "Millionaire Mafia", a company owned by Ben Oberg (right).
Oberg was still personally promoting Crypto Mafia up until early February, at which point it was relaunched as CryptoMaxx.
Read on for a full review of the CryptoMaxx MLM opportunity.
The CryptoMaxx Product Line
CryptoMaxx has no retailable products or services, with affiliates only able to market CryptoMaxx affiliate membership itself.
The CryptoMaxx Compensation Plan
CryptoMaxx affiliates gifit bitcoin to eachother via a 3×7 matrix.
A 3×7 matrix places an affiliate at the top of a matrix, with three positions directly under them: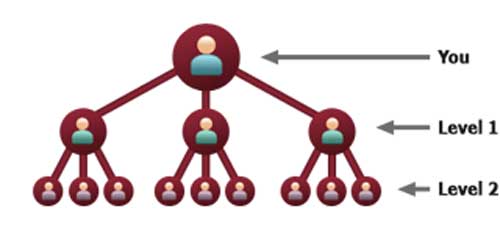 These three positions form the first level of the matrix. The second level of the matrix is generated by splitting these first three positions into another three positions each (9 positions).
Levels three to seven of the matrix are generated in the same manner, with each new level housing three times as many positions as the previous level.
A CryptoMaxx affiliate begins by signing up and gifting 0.002 BTC to the affiliate who recruited them. This qualifies the affiliate to receive 0.002 BTC from three affiliates recruited into the first level of their matrix.
Levels two to seven of the matrix operate in the same manner, the only difference being the amounts gifted.
level 1 – gift 0.002 BTC to the affiliate who recruited you and receive 0.002 BTC from three subsequently recruited affiliates
level 2 – gift 0.005 BTC and receive 0.005 BTC from nine affiliates
level 3 – gift 0.02 BTC and receive 0.02 BTC from twenty-seven affiliates
level 4 – gift 0.08 BTC and receive 0.08 BTC from eighty-one affiliates
level 5 – gift 0.2 BTC and receive 0.2 BTC from two hundred and forty-three affiliates
level 6 – gift 0.5 BTC and receive 0.5 BTC from seven hundred and twenty-nine affiliates
level 7 – gift 1 BTC and receive 1 BTC from two thousand one hundred and eighty-seven affiliates
Note that all gifting payments in CryptoMaxx are monthly recurring (both paid and received).
Joining CryptoMaxx
CryptoMaxx affiliate membership is tied to a minimum monthly 0.002 BTC gifting payment.
Full participation in the CryptoMaxx income opportunity costs 1.807 BTC a month.
Conclusion
Even down to the amounts gifted and matrix size, CryptoMaxx is the exact same scam as Crypto Mafia.
Crypto Mafia lasted a few weeks, so don't expect any different the second time around. Infact reload schemes rarely last as long as the original scams they're modeled on, so CryptoMaxx might even collapse sooner.
As with all gifting schemes, that collapse will be brought on by affiliate recruitment dying off.
No new affiliates sees payments funneled into the bottom of the company-wide matrix, meaning those at the bottom don't get paid.
They stop paying and before you know so has everyone above them.
Bitcoing gifting schemes are put together on the cheap and primarily benefit the scammers running them.
This is due to a combination of pre-loaded positions and pass-ups at each matrix level.
CryptoMaxx is no different, with a February 23rd Facebook post by Ben Oberg confirming the top earners in CryptoMaxx are all part of the admin team: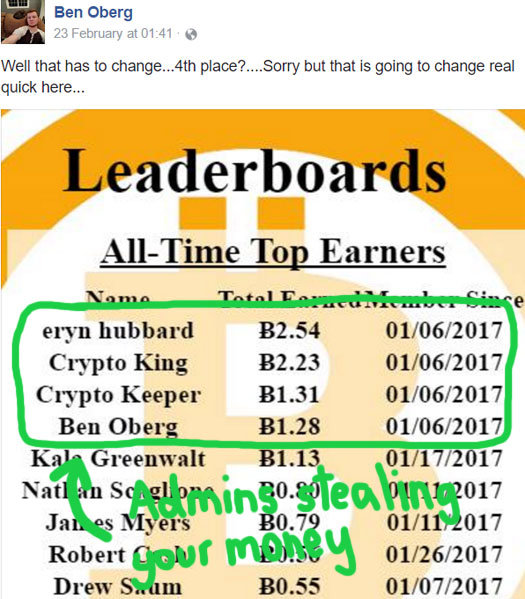 Eryn Hubbard is one of three admins of the official CryptoMaxx Facebook group (Oberg is keeping a low-profile this time around and isn't one of them).
CryptoKing and CryptoKeeper are dummy admin accounts and Oberg rounds out the top four earners. You can tell they are all preloaded accounts by the date they were created (Crypto Mafia's launch date).
Will we see a third gifting scheme launched next month? Stay tuned…