Cryptolon Review: Crypto mining daily returns Ponzi

Cryptolon provides no information on its website about who owns or runs the company.
Cryptolon's website domain ("cryptolon.co") was privately registered on September 24th, 2020.
In an attempt to appear legitimate, Cryptolon provides several "certificates" on its website.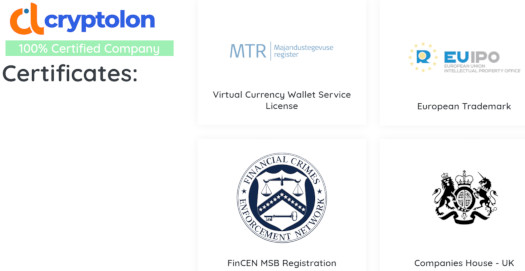 As far as I can tell, all the provided certificates have nothing to do with Cryptolon.
The MTR certificate is backdated February 2018 and is for "Crylon LTD". This is thirty-one months prior to Cryptolon registering its website and is a suspected forgery.
The European Trademark is also backdated February 2018 and is again for Crylon LTD.
The UK certificate should be dismissed outright as meaningless, but for the record is for Crylon LTD and dated Feb 2018.
The FinCEN certificate is dated February 2019 and is for ExFinance OU.
Cryptolon does mention Crylon on its website as Crylon Holdings Limited. As far as I can tell they just picked a similar sounding company that had some registrations and appropriated them.
Cryptolon, as represented on the company's website today, didn't exist in any capacity prior to September 2020.
A Google search for the company name returns nothing related for "Cryptolon" until the website launch in September 2020
Cryptolon has attempted to backdate some pages on its website to 2019 but they didn't exist until 2020.
As always, if an MLM company is not openly upfront about who is running or owns it, think long and hard about joining and/or handing over any money.
Cryptolon's Products
Cryptolon has no retailable products or services, with affiliates only able to market Cryptolon affiliate membership itself.
Cryptolon's Compensation Plan
Cryptolon affiliates invest funds on the promise of advertised returns:
Basic – invest $25 or more and receive a 122.4% after 7 days
Standard – invest $300 or more and receive 156% after 14 days
VIP – invest $3000 or more and receive 170% after 14 days
Special – invest $6000 or more and receive 198% after 14 days
Cryptolon pays referral commissions on invested funds down three levels of recruitment (unilevel):

4% on level 1 (personally recruited affiliates)
5% on level 2
7% on level 3
Joining Cryptolon
Cryptolon affiliate membership is free.
Full participation in the attached income opportunity requires a minimum $25 investment.
Note that all payments in Cryptolon are made in bitcoin litecoin, bitcoin cash and ethereum.
Conclusion
Cryptolon claims to generate external revenue from a "cloud mining farm" that consists of "over 3000 antiminer s9 plants".
No verifiable evidence of Cryptolon engaging in crypto mining activities is provided. Nor is there any evidence of external revenue being used to pay advertised returns.
Even if one were to stupidly take Cryptolon's provided certificates at face value, none of them are issued by a securities regulator. This is because Cryptolon doesn't have any audited financial reports to prove their claims.
The only verifiable source of revenue entering Cryptolon is new investment.
Using new investment to pay affiliates a daily return makes Cryptolon a Ponzi scheme.
As with all MLM Ponzi schemes, once affiliate recruitment dries up so too will new investment.
This will starve Cryptolon of new investment, eventually prompting a collapse.
The math behind Ponzi schemes guarantees that when they collapse, the majority of participants lose money.