Crypto Societi Review: From the ashes of BitClub Network?

Crypto Societi at present doesn't have a website. Anything online to do with the company was recently pulled offline.
At the time of publication Crypto Societi's website domain is parked, but that doesn't mean there's no information out there.
What I wasn't able to establish is who's behind Crypto Societi. I've received intel that BitClub Network co-founder CEO Russ Medlin is connected, but wasn't able to independently verify.
If true though, Crypto Societi is DOA.

Medlin (right) is believed to be wanted wanted by US authorities for his role in running BitClub Network, a $722 million dollar Ponzi scheme.
That might explain why Crypto Societi's once functioning website was abruptly pulled.
In any event, here's what we know so far.
When Crypto Societi's website was functional, a January 5th 2020 launch date was touted. This now appears to have been pushed back to January 20th.
Based on copy on Crypto Societi's website, the scheme intends to use cryptocurrency to offer access to "lotto jackpots, raffles, and many fun contests".
Basically an illegal crypto casino. Oh and there's the usual claims of trading too.
Rather than use an established cryptocurrency, Crypto Societi intends to launch "Societi Token".
Societi Token will be flogged as a "stable coin" for 1 EUR a flop. It's basically a virtual currency that only exists within Crypto Societi.
This platform will be the backbone we use to run all trivia games, lotteries, and future contests and it will include our own blockchain and a new crypto currency called Societi Token.
With respect to the compensation plan, commissions are paid on Crypto Societi investment.
I don't have specifics but an MLM style compensation plan was detailed on Crypto Societi's website before it was pulled.
We have put together a very cutting edge compensation structure that includes a Unilevel front end with a Binary and Matching Bonus structure on the backend.

We also have many other Bonuses with a Rank advancement system that will allow you earn quickly and provide you with deep payouts as you climb the ranks.
Over the last twenty-four hours two promotional videos were uploaded to a YouTube channel bearing the name "Crypto Societi Global Leaders".
The description of these videos is where the updated January 20th launch date comes from.
Apologies about the caps in advance, some knuckledragger in Crypto Societi hasn't yet figured out how to use the caps key (bold emphasis is mine).
PRE LAUNCHING – CRYPTO SOCIETI – JANUARY 20 – 2020

* HAVE YOUR OWN MINI MALL WITH DISCOUNTS – GAMES- ADVERTISING – TRADING- DEBIT CARDS THAT PAY YOU EVERY TIME YOU USE THEM!

* A SIZZLING HOT NEW WALLET – WITH VERY WELL ESTABLISHED COMPANIES WORLDWIDE – WHAT'S IN THIS WALLET?

YOUR OWN PRIVATE SHOPPING MALL – WHICH PAYS YOU BACK % TO USE IN MANY DIFFERENT WAYS!

YOU CAN ENROLL YOUR OWN COMPANY – ENROLL YOUR EMPLOYEE'S – EVERYONE IS WELCOME TO JOIN AND PARTICIPATE IN THIS REVOLUTIONARY NEW BLOCKCHAIN TECHNOLOGY – AND IF YOUR A BUSINESS YOU WILL LOVE THIS – (NO CHARGE BACKS EVER)

DON'T BE RIPPED OFF EVER AGAIN!

YOU DON'T EVEN HAVE TO KNOW ABOUT BLOCKCHAIN- IF YOU HAVE HEARD ABOUT DEBIT CARDS AND USE THEM YOU ARE ALREADY HOME!
There's a provided Zoom webinar link but there's no playback, it only plays at a certain time.
Featured prominently in the two videos Crypto Societi Global Leaders have uploaded is Salus Alpha Direct.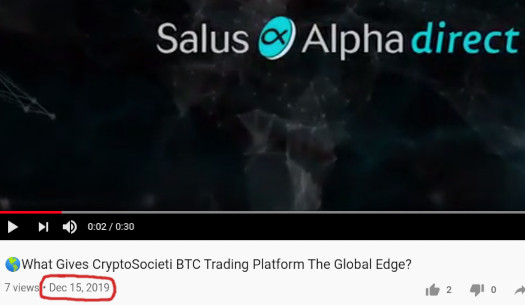 Salus Alpha Direct is supposedly headed up by CEO Oliver Prock.
Crypto Societi Global Leaders cite Salus Alpha Direct as having been founded in 2002 and owning "unique trading software".
Supposedly Salus Alpha Direct has been "successfully trading" bitcoin since 2017.
You know the deal, hand over money to Crypto Societi and you too can have access to omgwtfballz returns.
According to one description of the company I came across (ICO Rating), Salus Alpah Direct generated a 400% ROI in the first year it began trading bitcoin.

Salus Alpha Direct has its own website and its remained unchanged for a number of years. I don't know if it dates back to 2002, but 2017 is certainly plausible.
A contact address in Liechtenstein is provided, although Salus Alpha Direct's website domain was registered through an Austrian address.
Brock states in one video that he's from Austria so, at least on the surface, the Lichtenstein address appears to be that of a shell company.
Note that I couldn't find anything linking Salus Alpha Direct or Oliver Brock to Crypto Societi, outside of Crypto Societi Global Leaders' two marketing videos.
In any event Crypto Societi is shaping up to be another fraudulent entry into the MLM crypto niche.
Is Crypto Societi registered to offer securities or lottery games anywhere? Not a chance.
And that makes the entire offering illegal before it's even launched.
Not withstanding Russ Medlin's going to have a hell of a time getting Crypto Societi off the ground.
For now though, whoever is behind Crypto Societi would rather you not know who they are.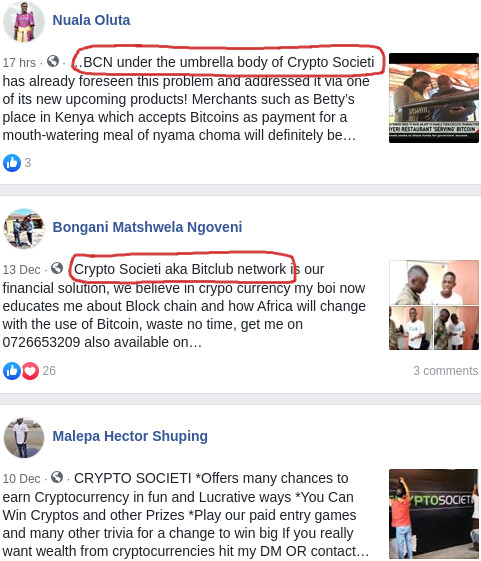 As above, for now promotion of Crypto Societi appears localized within Africa and possibly Malaysia.
BitClub Network season two? Stay tuned…