Credit Star Funding Review: Borrow $250K to invest in Ponzi schemes

Credit Star Funding is owned and operated by CEO Riccardo Ferrari, who claims to be based out of California in the US.
Credit Star Funding's business model is simple; the company pitches a promise to get its affiliates funded.
Once funded, Credit Star Funding affiliates are expected to plough their loan into "non-collateral funding and Artificial Intelligence income systems."
And by that Credit Star Funding is referring to Ponzi schemes. More on that later.
What's important now is that Credit Star Funding appears to withhold the true nature of the loan is assists its affiliates with obtaining.
Or in other words, Credit Star Funding assists its affiliates with obtaining loans via deception – which is obviously illegal.

Illegal… but hardly surprising given Riccardo Ferrari's past.
Prior to launching Credit Star Funding, Ferrari (right) was promoting the BitClub Network Ponzi scheme.
In late 2017 Richard Brooke cited Ferrari as an example of "outright lying, stupid illegal claims and cheeseball videos about how cool it is to be rich".
At the time Ferrari boasted he was making $150,000 a week recruiting people into BitClub Network.

By early 2019 BitClub Network appeared to be on its last legs, prompting Ferrari to launch Credit Star Funding.
In a nutshell, Ferrari "helps" people obtain $50,000 to $250,000 loans through deception, and then instructs recipients of loans to invest that money into fraudulent investment schemes.
As per Credit Star Funding's marketing material, specifically a presentation hosted by Ferrari himself roughly two weeks ago, if you have a garbage credit score then you need to repair it.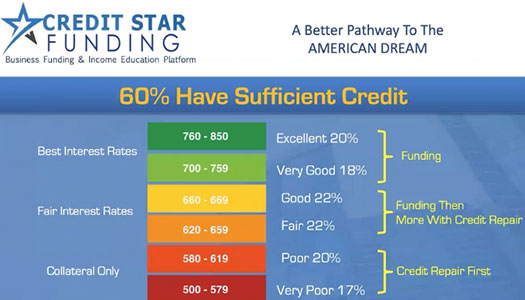 Naturally Credit Star Funding and Ferrari can't wait to bend over backwards to get you out of debt.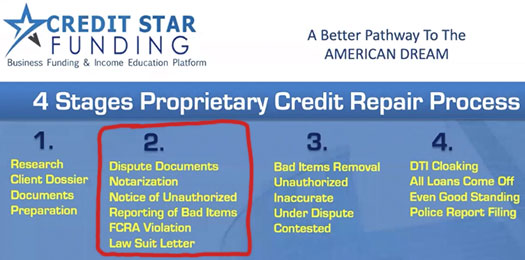 So that nobody can accuse us of misrepresenting Credit Star Funding's business model, I'll be supplementing my own research with quotes from Ferrari himself (anything in a green box is Ferrari's own words).
One of the reasons of our success is we have a patented software.

We are connected to large networks of banks. There are 6400 banks in America. Six to seven thousand banks.

But you cannot file an application with too many banks at the same time, because it'll crash your credit score.

We can take your application and put it through, say um, maybe ten banks, fifteen, sometimes even twenty, until we find one, maybe two or three, that are willing to give you money. Right?

So that's how we fund people that maybe can only qualify for $10,000.

We can get it out of five different banks. There's the $50,000.
If you're orange and higher tier, you can apply for a loan through Credit Star Funding, and then use that money to fix your credit score.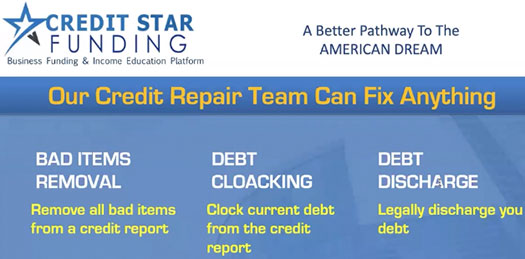 Once your credit is repaired you're expected to get another loan, to pump into various investment schemes.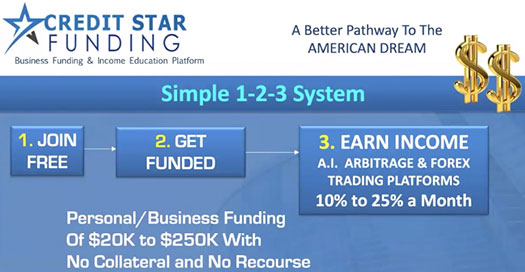 Here's an example of Credit Star Funding's provided loan terms and conditions:
To start the process, there is a $​199 ​commitment fee charged to each client per application. It will be invoiced on the first unsecured loan or credit line if you are approved.

A loan generation fee of 22% will be invoiced to you after the loan is funded to you. This is considered a low fee for non-collateral, signature-only loans.

The interest rates are standard rates for non-collateral, non-recourse loans. May vary from 9% to 18% or higher depending on your credit conditions.
Alternatively if you get a green tier loan, you just jump straight into investment fraud.
Before we get into that though, here's the MLM side of Credit Star Funding's own business model.
Credit Star Funding offers referral commissions on recruited affiliate loans, paid down two levels of recruitment: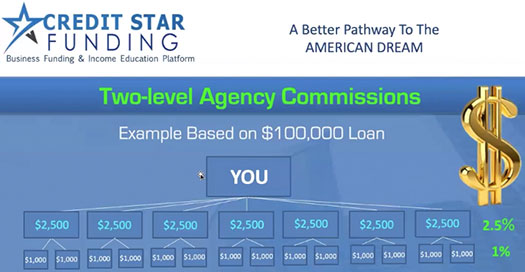 2.5% on loans obtained by personally recruited affiliates (level 1) and
1% on loans obtained by any affiliates your level 1 affiliates recruit (your level 2)
These commissions are paid out of the obtained loans which, if you remember, are obtained by obscuring the true nature of the loan to lenders.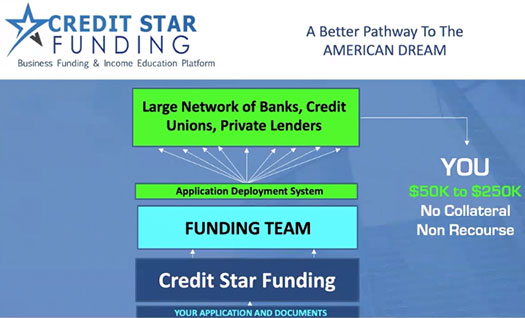 Alright so you've obtained a $50,000 to $250,000 loan via deception, funded Credit Star Funding referral commissions out of the loan – what now?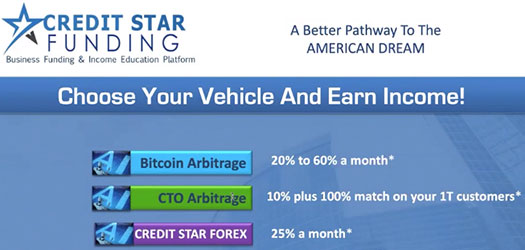 Choose your vehicle and earn income!
Unfortunately the first "bitcoin arbitrate" option Credit Star Funding provides is not available.
According to Ferrari, whatever the scheme was it's already pulled the "we got hacked" exit-scam.
This platform has made me and some of you uh, a lot of money.

Unfortunately (though) they ran into some security breaches.

The platform is on hold right now, we're not gonna spend a lot of time on this.
The second "CTO Arbitrage" option Credit Star Funding provides is the Cloud Token Ponzi scheme.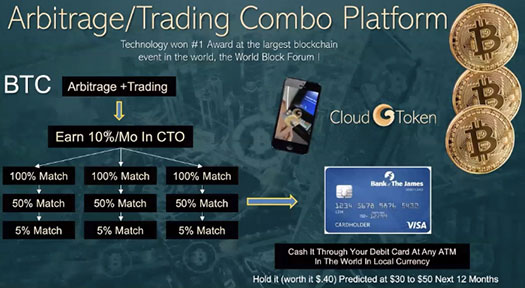 Cloud Token sees affiliates invest funds on the promise of a passive return, purportedly generated via a trading bot.
Not being registered to offer securities anywhere on the planet, Cloud Token operates out of Malaysia illegally.
In addition to securities fraud, Cloud Token also provides no evidence external revenue (derived via bot trading or otherwise) is used to pay affiliate withdrawal requests.
Ferrari advertises a 10% monthly return on Cloud Token investment.
His incentive is a referral commission (Cloud Token's own MLM compensation plan), paid on investment by anyone who joins Cloud Token through Credit Star Funding.
The third "credit star forex" option is an in house investment opportunity, through which Riccardo Ferrari advertises a 25% a month "done for you" return.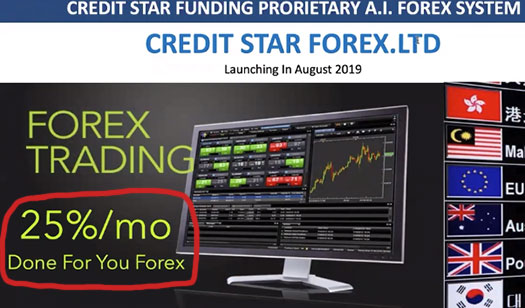 This is Credit Star Forex LTD. This is the actual name of a company that we have incorporated in a British Commonwealth country.

And uh, this is the Jewel of the Nile as far as I'm concerned.
Ferrari had originally intended to solicit investment of $25,000 or more a pop, but he advises that plan has since been scrapped.
While obtaining loans via deception is illegal for what should be obvious reasons, the rest of Credit Star Funding's business model is no better.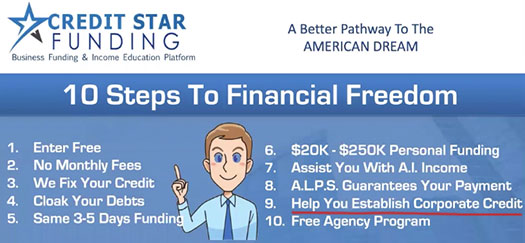 Neither Credit Star Funding or Riccardo Ferrari are registered with the SEC.  This means that both parties are committing securities fraud via promotion of unregistered securities.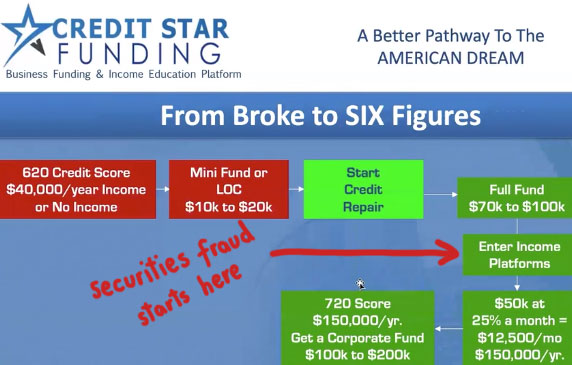 And while Ferrari regulatory liability extends only to promotion of Cloud Token, the Credit Star Forex 25% a month investment opportunity is in house.
That means Ferrari and anyone he's working with will be legally liable should the SEC investigate and pursue a case against the company.
Obviously Credit Star Funding affiliates leave themselves liable should the promote the opportunity.
That's on top of the financial risk when the Ponzi schemes Ferrari pushes through Credit Star Funding inevitably collapse.
Update 10th August 2019 – Within 24 hours of this article being published, Riccardo Ferrari deleted all of his recent Credit Star Funding videos from his Ferrari Media Vimeo channel.
This includes the Credit Star Funding marketing video referenced in this article.