Community Collect Review: Crowdfunding International gifting reboot

Community Collect provides no information on their website about who owns or runs the business.
The Community Collect website domain ("community-collect.com") was initially registered in December 2017.
The registration details were recently updated on May 8th, which is likely when the current owners took possession of the domain.
This is supported by Alexa reporting a traffic increase to the Community Collect website starting earlier this month.
In the footer of the Community Collect website is the following copyright text;
© 2015 – 2018 CFI Euro S.L.
CFI Euro S.L. is incorporated in Barcelona, Spain.
It is the same shell company used to operate the Crowdfunding International gifting scheme.
Further supporting this is a "sublicense" document hosted on the Community Collect domain, which references the commonly used "CFI" abbreviation;

Crowdfunding International was a gifting scheme launched in late 2015.
As per our original Crowdfunding International review from 2016, it appears Crowdfunding International is being run by a group of scammers operating out of the Netherlands.
First time visitors to the Community Collect website are shown a message that suggests Crowdfunding International was having banking issues;
Welcome to the all new Community Collect!

Dear Project Manager,

As you know we're always working on improving and restricting our platform.

During the last year our advisors, lawyers, legislators, Project Managers and the courts advised us and we kept on communicating on what maybe could be bettered or should be more customer friendly.

All these aspects resulted in a new concept: Community Collect.

Community Collect will make it easier for the company to find partners, like Payment Service Providers, because over the last years the name crowdfunding got a bad image.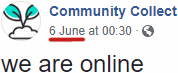 While banking issues for a scam aren't unheard of, Alexa traffic statistics for the Crowdfunding International website show a steady decline in traffic from July 2017.
It is far more likely that Crowdfunding International's pending collapse is the reason it was rebooted.
Read on for a full review of the Community Collect MLM opportunity.
Community Collect Products
Community Collect has no retailable products or services, with affiliates only able to market Community Collect affiliate membership itself.
The Community Collect Compensation Plan
Whereas Crowdfunding International had affiliates gift €200 EUR, Community Collect has seen the minimum buy-in slashed to just €50 EUR.
A higher €100 EUR gifting tier is also available.
Crowdfunding International tracked gifting payments through a 2×7 matrix.
Community Collect appears to also use a matrix, however the size is not disclosed on the company's website or in its marketing material.
A percentage of gifting payments received must be re-gifted back into Community Collect.
Figures cited are "57/57" at the €50 EUR tier and "30/30" at the €100 EUR tier.
Whether these are percentages of euro amounts is unclear.
Joining Community Collect
Community Collect affiliate membership is tied to a €50 or €100 EUR gifting payment, on top of a €15 EUR admin fee.
Conclusion
With nobody left to scam €200 EUR out of, Crowdfunding International's scammers have lowered the bar in the hope new suckers will sign up.
This your classic fraudulent scheme reboot.
New company name, lower hanging fruit, a scapegoat story blaming "crowdfunding" – same scammers running the show.
Reboots rarely last as long as their predecessors, so while Crowdfunding International managed to limp along for a year and a half or so, Community Collect will likely collapse much quicker.
Why?
Same reason Crowdfunding International collapsed. No new suckers signing up and losing money.